Christmas gift guide: best presents for car lovers
Our pick of 20 big-budget gifts for car lovers this Christmas
Everyone knows a car enthusiast they'll need to buy for this Christmas – and if money is no object, there's a whole world of fantastic gifts out there. Read on for our pick of the greatest gifts to buy the car-lover who has everything.
There's something for everyone, from modern, stylish gifts to classic presents. There are racing-themed presents, home gifts, wardrobe 'essentials' and office paraphernalia. There are even items direct from the top manufacturers. It's a great selection.
Classic Tool Bag
Price: £260 Contact: www.tbcmainsite.co.uk
The aptly named Toolbag Company produces this beautiful leather tool bag, ready to be filled with what's needed to keep a classic on the road. It comes empty, but it's ready and waiting for the highest-quality spanners, sockets and screwdrivers. There's even a box for spares like bulbs and fuses. It's a craftsman-made bag for the classic-car owner with style.
Richbrook Ford Tailor-Made Car Covers
Price: From £99 Contact: www.richbrook.com
Any Ford owner needing to protect their motor could do worse than this tailor-made cover from Richbrook. It's approved by Ford, so any Consul, Cortina, Cougar or Capri would be happy to get tucked up safe and sound inside the lightweight UV-reflecting fabric. It's mainly an outdoor cover, but the breathable membrane means it's just as useful indoors.
F1 Gear Ratio Clock
Price: £129 Contact: www.momentoexclusives.com
Jazz up your desk with this beautifully crafted clock. It features a gear that's seen race action with the Lotus F1 team, then been polished up and engraved with a unique identification number. They're mounted onto an acrylic base, then the hands and numbers are added. The final touch is a Lotus F1 certificate of authenticity. A great addition to the office of a racing fan.
Gtechniq Essential Maintenance Kit
Price: £75 Contact: www.techniq.com
Anyone who loves to clean and polish their motor will love this kit, which features everything necessary to keep a car sparkling. The handy carry case includes 500ml of Gwash, W6 Iron and General Fallout Remover for cleaning wheels. After cleaning, add 250ml of T2 Tyre Dressing, then shine up the bodywork with 500ml Quick Detailer and 500ml G6 Perfect Glass. Should suicidal flies take residence on the number plate, there's even W8 Bug Remover. A great kit to keep a car in tip-top shape.
Historic & Classic Car Hirers Guild voucher
Price: From £200 Contact: www.classiccarhire.co.uk
It's a sad fact that lots of people want to own a classic car, but simply can't – and for those people a voucher for classic-car hire is a perfect gift. The HCHG represents classic fleets all over the country, with a huge array of cars to choose from – running from a humble Morris Minor to a gorgeous Jaguar E-Type. Around £200 should give the classic enthusiast a day in most of the cars on offer.
Porsche GT3 Cup shelf
Price: £3,000 Contact: shop3.porsche.com
This rear spoiler is not all it seems – it's actually a practical shelf to hold items like race trophies. It's taken from a Porsche 911 GT3 Cup racer, with black carbon-fibre fins, black aluminium brackets and the original race screws. It weighs less than 5kg but will support up to 120kg – perfect for the heaviest library of Porsche memorabilia.
MINI Cooper S Convertible electric ride-on car
Price: £172 Contact: www.amazon.co.uk
The youngest petrolheads in your life need some love, too – and what better for a miniature car lover than a MINI? This ride-on electric version is aimed at three to five-year-olds, who'll love driving it around at its top speed of 5kph. It even has working lights. MINI sells it through its own Amazon store.
Solid Silver Steering Wheel Cufflinks
Price: £240 Contact: www.meandmycar.co.uk
The final touch for an event like a motoring dinner would be these solid silver cufflinks. They're styled after old-fashioned wooden steering wheels and are hand-enamelled, with drilled spokes. They're made in England and come in a presentation box – perfect to wrap up and leave under the tree. A sharp addition to any suit.
TomTom GO 5100
Price: £259.99 Contact: www.tomtom.com
The best gift for someone with no sense of direction is a sat nav and this TomTom unit should be at the top of your list. The GO 5100 has a sleek design but works brilliantly, with the large, bright display showing you the best route to take, as well as traffic updates. Lifetime worldwide maps make this our favourite sat nav.
Jaguar E-Type Sculpture
Price: £495 Contact: www.retroclassiccarparts.com
The greatest British car ever is also one of the most beautiful, so it's fitting that sculptors would choose to create art out of the classic shape of the Jaguar E-Type. Dave Clark Designs makes this 1:10-scale model to order and mounts it on a beautiful slab of wood. The simple cut panels distil the essence of the car, making for a great piece of automotive art.
Ferrari folding bike
Price: £415 Contact: store.ferrari.com
Lop two wheels off a 458 and you're basically left with this – a folding bike, made from state-of-the-art components for lightness and performance. Tektro, Shimano, SRAM and FSB parts all feature on perhaps the flashiest city commuter we've ever seen. It won't quite hit the 200mph some Ferraris are capable of, but it can slot through MUCH smaller gaps.
BMW Motorsport Tent
Price: £119.06 Contact: www.amazon.co.uk
The festival ground or race meeting can be an unforgiving place in the rain, but BMW enthusiasts can keep themselves dry with this motorsport tent. With practice it can be put up in less time than it takes to lap Hockenheim, while taped seams and a waterproof coating ensure it's weatherproof. It packs away into a bag just 70cm long. One to keep in the boot of your Beemer for some wild camping, perhaps!
Original Fiat 500 with lighting
Price: £690.49 Contact: store.fiat.com
For lighting with Italian flair, forget Murano lampshades – you need the nose of a Fiat 500 hanging from your wall. It includes headlights, indicators, a chromed bumper and the iconic chrome nose. The 8kg weight shouldn't trouble most walls and the soft light it provides will make any workshop or garage look great.
Tamiya Monster Beetle
Price: £129.99 Contact: www.hobbyco.net
Tamiya makes some of the best remote-control cars around and this Monster Beetle is sure to bring back memories – it's a throwback to a 1986 original. The rugged chassis and go-anywhere tyres mean it's a true off-roader, too. You'll need to provide your own controller and battery, but everything else is included.
Meistersinger Cream Cracker – MG Watch
Price: £1,406 Contact: www.motoringclassics.co.uk
MG may be alive and kicking, but the cars it's producing now are a far cry from the classics that once rolled off the production line – and this watch evokes the spirit of the greats. It's named after the classic MG Cream Cracker, and the brown-and-cream colour scheme matches that car. It's a beautiful watch and should be on any MG lover's wish list.
Speed 998 Office Racing Chair
Price: £779.99 Contact: shop.classicheroes.co.uk
Racing seats aren't just for racing – you can lounge in style while working away in your office with this Promech Racing-designed chair. It's a genuine competition seat bolted to a chromed castor base, while the arms are inspired by alloy wheels. The different options mix leather and Alcantara for the authentic look. A must for fast workers.
Lifestatix Lewis Hamilton's F1 W06 Hybrid
Price: $99 (approx £66) Contact: www.lifestatix.com
Any F1 fan would like these vinyl wall graphics, celebrating Lewis Hamilton's third F1 title. They're officially licensed by the Mercedes AMG team, too. The car measures just under 40 inches wide, and arrives in a tube with mounting instructions. You can even add a life-size version of Lewis for the same price. You'll have to order quickly though, as they need to be shipped from America.
Storm Kids Racing Car Bed
Price: £269.90 Contact: www.toyzworld.co.uk
Deep down, nearly every child wants a racing-car bed. Make their dreams come true with this moulded plastic version, suitable for two to seven-year-olds weighing up to 40kg. Working lights and a personalised number plate make this perfect for any young car fan. The mattress is included, too.
Tibaldi for Bentley GT Series Pen
Price: £400 Contact: shop.bentleymotors.com
Sign the papers for your new car with this beautiful Bentley rollerball pen. It's offered in classic Bentley colours of Beluga Black, Silver Lake Blue and St James Red. The cap even reflects the engine cam covers. But if this isn't exclusive enough, a fountain pen is available for £675.
Halfords Advanced Professional 200-Piece Socket and Ratchet Spanner Set
Price: £150 Contact: www.halfords.com
If you need to fill up the tool bag further up the page, take a look at this comprehensive DIY car kit. It includes nearly every conceivable item: 1/4, 3/8 and half-inch drive wrenches combine with metric, imperial and deep sockets. There are extension bars, adaptors to mix and match drives, plus metric ratchet spanners. There are even hex, torx and screwdriver bits. Unless your car is glued together, you'll be able to work on it with this kit.
Car dashboard warning lights: the complete guide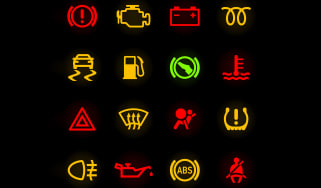 Car dashboard warning lights: the complete guide
New Volkswagen Golf GTI Clubsport gets 296bhp and racetrack mode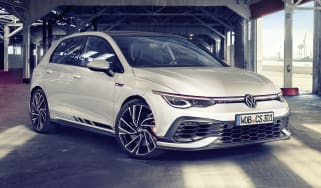 New Volkswagen Golf GTI Clubsport gets 296bhp and racetrack mode
2020 scrappage schemes: the complete guide
2020 scrappage schemes: the complete guide