Watchdog: Mercedes gives up on A-Class' radio problem
Mercedes "unable to assist" after owner visits dealer 16 times due to poor radio reception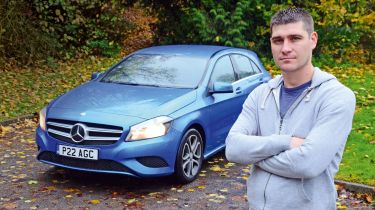 A decent stereo may be a desirable optional extra on your new car – but don't underestimate its value. It's responsible for providing the soundtrack to all your future car journeys, epic or otherwise, and can make the difference between loving or loathing your time behind the wheel.
So we sympathised when reader Paul Cotton of Basingstoke, Hants, told us of his struggles with the consistently poor or non-existent radio signal in his new Mercedes A-Class. After 16 visits to local dealer Sandown Mercedes, and with various 'fixes' carried out by technicians at Mercedes HQ, Paul said the company effectively gave up.
"The dealer told me I might have to put up with it, and that's when I got annoyed. That's not good enough for a supposedly premium-badged car," he said.
We called Mercedes to find out what more could be done, but its spokesman said it had already replaced the aerial amplifiers, the aerial receiver, co-axial leads and the radio head unit, adding: "We can't replicate the fault." He concluded that "there may be a geographical or an external influence" in Paul's own home that was causing the problem.
But Paul had already explained he travels extensively with work, and loses signal all over the country. He said: "It's not like I'm listening to obscure stations. We're talking about Radio 4 here. It's used to broadcast the shipping forecast, so it can be heard in the middle of the Atlantic!"
He also rightly argued that, if the problem was geographical, the other A-Classes in Sandown Basingstoke's fleet should be suffering from the same signal problems. Yet Mercedes claimed: "Our retailer has driven these vehicles extensively and has not experienced the issue in these cars."
Paul said: "That doesn't add up. If it was the area, the other cars should be doing it. If they're not, there's clearly something wrong with my car."
We agreed, but Mercedes has told us it is "regrettably currently unable to assist further". So Paul will have to take his case to industry arbitrator Motor Codes if he wants to continue to battle it out, or abandon using his car's radio altogether.