Things you need to know today: Wednesday 13th January 2015
Infiniti and Lexus star at Detroit Motor Show; police to buy 1,000 Fords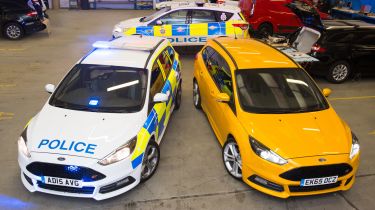 1. New Infiniti Q60 coupe unveiled
Infiniti – the luxury arm of Nissan –has revealed its new Q60 at the Detroit Motor Show. The new car is set to replace the current Infiniti Q60 coupe that's sold in the US. Although no launch date is set, we expect it to be available from this summer. With a sophisticated and handsome design, Infiniti hopes the Q60 coupe will continue to cement Infiniti's somewhat niche position in the UK car market, and tempt buyers away from the BMW 4 Series, Mercedes C-Class Coupe and Audi A5. Engines have yet to be announced, but a six-cylinder petrol engine, a diesel engine and a hybrid are all contenders.
2. Lexus LC500 coupe wows Detroit
More news from Detroit as luxury carmaker Lexus revealed its flagship Lexus LC 500 coupe at the Detroit Motor Show yesterday to universal acclaim. The coupe – set to rival the Mercedes SL for refinement and outright performance – will be fitted with the same 5.0-litre V8 as the potent Lexus RC F and should at least match that car's 467bhp, reaching 62mph in 4.5 seconds or less. The dramatic Lexus LC 500 coupe's angular, aggressive lines carry over many design elements from the LF-LC concept car that inspired it, while showcasing Lexus' new 'spindle' grille to great effect.
3. Police to get Ford Kuga and Mondeo patrol cars
While many of us would be more than happy to get a ride in a new Ford, that prospect is set to become slightly less appealing for some: police forces across the UK are set to acquire 1,100 new Kuga SUVs, Mondeo estates and hatchbacks and Transit vans, together with a smattering of Ranger pick-up trucks. Some 22 police forces across the country - including British Transport Police and South Wales Police - will use the vehicles for a variety of purposes, ranging from specialist dog patrols and criminal transport vans to patrol cars and traffic vehicles.
4. VW emissions scandal – more gloom from Sweden and US
The Volkswagen 'Dieselgate' emissions scandal continues to rumble on, with Swedish prosecutors opening preliminary fraud inquiries into the company. Anti-corruption officials in Sweden have told Reuters news agency that the initial investigations will focus on false record-keeping and could result in serious fines for Volkswagen. Meanwhile, Reuters also report that Californian environment officials have rejected Volkswagen's initial fix for affected diesel cars as not being good enough for California's strict emission laws. Volkswagen's CEO Matthias Mueller announced that the company had set aside over £5 billion to fix American vehicles affected by the scandal.
5. Skoda continues to set records
Some more welcome news for the Volkswagen group came in the shape of sales figures from sister manufacturer Skoda, which reported selling more than 1 million cars in 2015 - a number which Skoda achieved for the first time ever in 2014. Skoda said Europe was the key driver in these figures – which are an increase of 1.8% on 2014 – and helped offset declining sales figures from China. 2016 should be another bumper year for Skoda, with the forthcoming launch of a new SUV model widely expected.
6. Jaguar XF to get all-wheel-drive
The Forthcoming Jaguar F-Pace SUV may be due in April this year, but Jaguar shows no signs of ignoring its other models: the luxury carmaker has announced that their popular XF executive saloon will be soon be available with Intelligent Driveline Dynamics system. This is the same four-wheel drive system fitted to the all-wheel-drive Jaguar F-Type S AWD and will drive the XF AWD via the rear wheels by default, sending power to the front wheels if it detects any loss of grip. The system should give added control and confidence to the XF, while maintaining the rear-wheel-drive handling characteristics Jaguar drivers have come to expect.