Things you need to know today: Tuesday 19 January
Ford Focus RS launches; Renault recalls cars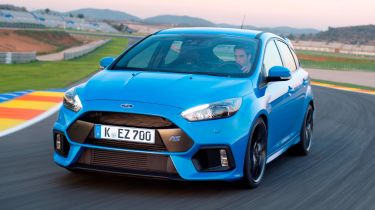 1. Ford launches eagerly awaited Focus RS
Ford has announced it has begun production of its new 345bhp Focus RS, with customers expected to take delivery in the next few weeks. The new Focus RS has made good on its promises to be a seriously swift hatchback – the car will hit 62mph from rest in 4.7 seconds and reach a top speed of 165mph. The Focus RS has a 2.3-litre turbocharged engine, comes with four-wheel-drive as standard and will cost under £30,000. If the driving experience of the Focus RS lives up to those impressive performance figures, then rivals like the Audi RS3 – which has similar performance yet costs significantly more – are going to have a fight on their hands.
2. Renault recalls 15,000 vehicles
French carmaker Renault is to recall 15,000 vehicles before they go on sale. French transport minister Segolene Royal said the cars were being checked to ensure that their 'filtration system works in all temperatures', according to the BBC. Renault maintains it has done no wrong and wants to distance itself from Volkswagen's recent emissions scandal. This less-than-welcome news comes after Renault's Technical Department was visited by French police last week. Renault had a bumper 2015: the firm sold almost three million vehicles during the year, with a 50% increase in sales of electric vehicles like the Renault ZOE.
3. Black-cab drivers turn to crowdfunding in fight against Uber
The relationship between traditional London cabbies and minicab drivers has never been particularly cordial, but things have soured further with the advent of Uber. The app-based taxi service has met with resistance from London's black-cab drivers since 2012, when it gained a licence to operate in London. Cab drivers have listed several concerns about Uber in the past, including claims it doesn't make adequate provision for disabled passengers or perform rigorous enough checks on its drivers. Now, a group of black-cab supporters called Action for Cabbies has turned to crowdfunding for support. The campaign aims to drum up enough cash to secure a judicial review into Transport for London's original decision to grant a licence to Uber.
4. New Mercedes E-Class goes on sale
The eagerly awaited Mercedes E-Class executive saloon has gone on sale in Britain. Mercedes has wisely kept initial choices limited at launch, with two trim levels and two engines available. Buyers can specify their new E-Class in either SE or AMG Line trim and choose from either a four or six-cylinder diesel engine. The most popular model will be the entry-level four-cylinder E 220d,which will return 72.4mpg and emit 102g/km of CO2, for only £20-a-year road tax. Standard equipment includes leather upholstery, a self-parking system and autonomous braking, while the AMG Line brings upgraded upholstery as well as unique AMG alloy wheels, side skirts and bumpers. The new Mercedes E-Class is priced from £35,935, with first deliveries expected in May.
5. Rumours continue to surround Top Gear
The new BBC series of Top Gear isn't due to hit TV screens until May this year, but the production of the hit car show continues to be dogged with unfavourable rumours. The Sun reported new presenter Chris Evans getting out of an Audi R8 mid-lap looking rather travel sick. Evans – a keen car collector and one of the show's new hosts – was apparently being driven around a track at high speed when the incident occurred. The report follows a number of other stories, suggesting production of the new series hasn't been plain sailing.
6. Potholes damage record number of cars
More than 25,000 cars had their wheels, suspension or shock absorbers damaged by potholes last year, according to the RAC. This figure – an increase of 25% on 2014 – has been blamed on cuts to road repairs in light of austerity measures, with smaller local roads considered the worst affected. Last year, the government conceded more needed to be done, and set aside £6bn specifically for pothole and local road repair. While this will be too late for motorists already affected by poorly maintained roads, it's hoped that the number of cars damaged by potholes will decrease significantly in 2016.