New small SEAT Ibiza SUV on the way
A SEAT Ibiza-based SUV is planned as part of an SUV range expansion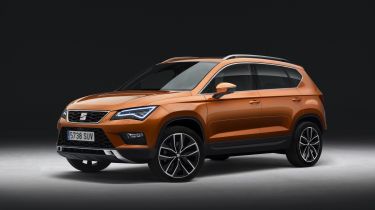 A small SEAT SUV will be on sale within the next 18 months. The brand has confirmed the new model will sit below the new SEAT Ateca SUV in its range and compete with rivals such as the Nissan Juke and Vauxhall Mokka.
Rumours of a range of new SEAT SUVs have been circulating for some time, with models larger and smaller than the SEAT Leon-based Ateca (pictured) rumoured. But at a press conference earlier today, SEAT's boss Luca de Meo confirmed a smaller model will be introduced first.
The new car, which has no name yet, will be based on the SEAT Ibiza supermini and be built alongside the thar car at SEAT's Martorell factory near Barcelona.
It'll go on sale early in 2017 and is widely expected to make its public debut at the Geneva Motor Show next March.
It's likely the new small SUV will use the same chassis technology as other SEAT, Volkswagen and Skoda models. The new SUV's design will also introduce the styling of the next-generation Ibiza, which is slated for launch in late 2017 or early 2018.
De Meo said: "This is excellent news for both the brand and our main factory, because it is the fastest-growing segment and symbolises a major step forward in making it the third pillar of the company, alongside the Ibiza and Leon families."
SEAT has also reiterated its desire to be seen as a market leader for in-car technology thanks to alliances with companies such as Samsung.