Audi extends mobile wi-fi service to new models
More Audi models to get in-car, Europe-wide wi-fi connectivity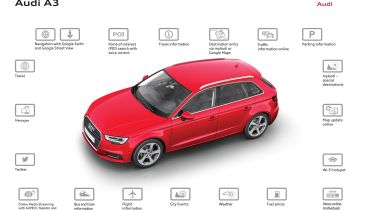 Audi has announced that more models will now come with what it calls the 'Audi connect SIM' as standard. This allows occupants to access 4G wi-fi across Europe for a standard flat rate per year, with up to eight devices being capable of connecting to the network.
The service will be extended to the Audi A3, the new A4, the upcoming Q2 and the new Q7 SUV. It's been developed with Irish communications company Cubic Telecom and is said to offer download speeds of up to 100 megabytes per second.
However, the SIM is not just for connecting your handheld devices (data for which will be charged at an additional rate). Instead, it's mostly for connecting the car's infotainment system to Audi Connect services such as Google Earth and Google Street View, as well as traffic and parking information.
There won't be any additional charges for using the data through the wi-fi-hotspot outside of your country of origin, either. When crossing from country to country in Europe, the SIM card will automatically access the native provider, eliminating both extortionate roaming charges and irritating notifications every time you cross from provider to provider.
In order to purchase and activate data packages for the wi-fi hotspot in their cars, owners can access Cubic Telecom's site with their myAudi account, or through the car's MMI infotainment system. Audi Connect services are included as standard for the first three months – or three years for an additional fee. To extend the service beyond this, you can purchase extra access from your local Audi dealership.
Currently, the service is available on the Audi A3, A4 and Q7, as well as the forthcoming Q2. The Audi TT, R8, A6 and A7 are not included, as they use a slightly different infotainment set-up.