New Skoda Karoq: prices, specs and release date revealed
Skoda's answer to the Nissan Qashqai starts at £20,875; Karoq offered with digital dashboard dials & broad engine range
Pricing and full specifications for the Skoda Karoq have been revealed. The new SUV is available to order from 3 October and priced from £20,875.
The new Karoq is Skoda's latest SUV and follows in the footsteps of its bigger brother, the hugely capable Kodiaq. But while the Kodiaq is available with seven seats, the smaller Karoq is strictly a five-seater – and one that's designed to compete with the Peugeot 3008, Nissan Qashqai and SEAT Ateca.
The Karoq is available with two petrol engines and two diesels, with power outputs ranging from 113 to 148bhp. A six-speed manual gearbox and front-wheel drive are standard, while a DSG twin-clutch automatic and four-wheel drive are offered further up the Karoq range.
That £20,875 starting price will get you a Karoq with a 113bhp three-cylinder 1.0-litre turbocharged petrol engine in SE trim. This specification includes 17-inch alloy wheels, rear parking sensors, tinted windows, LED rear lights and dual-zone climate control, as well as autonomous emergency braking and a driver fatigue warning system.
Stepping up to SE L costs roughly £2,200 and brings 18-inch alloys, keyless entry, LED headlights, heated front seats, a reversing camera, all-round parking sensors, Alcantara suede-effect upholstery and an improved eight-inch infotainment system with sat nav.
Top-spec Edition Karoqs start at £27,110 and come with 19-inch wheels, a panoramic sunroof, full leather seats, ambient interior lighting and a 9.2-inch infotainment sat-nav setup. This top-spec trim also brings blind-spot monitoring, lane-keeping assistance, traffic-sign recognition and a better engine, with a 148bhp 1.5-litre turbocharged petrol being the cheapest in the Edition stable.
With 113bhp 1.0-litre and 148bhp 1.5-litre engines catering for those after a petrol-powered Karoq, diesel buyers can have a 113bhp 1.6-litre or a 148bhp 2.0-litre engine – although a 187bhp diesel may arrive once the car has been on sale for a while.
The dual-clutch automatic gearbox is available with all four engines and costs roughly £1,300, while the 2.0-litre diesel comes exclusively with four-wheel drive. Full fuel economy figures are forthcoming, but the most company-car-friendly Karoq will be the SE model with the 1.0-litre petrol engine, which attracts a Benefit-in-Kind rating of 22%.
As we previously reported, Sportline and Scout versions are likely in 2018 and will be expected to boost the Karoq's appeal among two different sets of customers. While the Karoq Sportline should get a makeover to make it appear lower and faster, the Karoq Scout will be more rugged, with added kit and underbody protection designed to help it tackle rough terrain.
The Karoq could also benefit from Skoda's performance know-how and be turned into a vRS model to sit alongside the Skoda Octavia vRS and rival a hot SEAT Ateca Cupra. At the opposite end of the spectrum, a plug-in hybrid Karoq PHEV is also possible.
While no details have been confirmed, a Karoq PHEV could feature an evolution of the technology found in the Volkswagen Golf GTE, which has a 1.4-litre petrol engine coupled with an electric motor and battery pack, offering CO2 emissions below 40g/km.
Skoda Karoq: design
The Karoq has a high bonnet and tapered boot that are currently much in demand as consumers continue to flock towards SUVs. The larger Kodiaq took a similar tack when it launched, but the Karoq – at 438cm long by 184cm wide and 160cm tall – is about a foot shorter than the Kodiaq and aimed at those who don't need so large a car.
In some ways, the Karoq is a replacement for the distinctive Skoda Yeti, a hugely capable SUV with a loyal following. But the Karoq is substantially longer and wider than the Yeti, and Skoda may yet launch a smaller SUV to cater for Yeti fans.
Technology
The Karoq will be something of a standard-bearer for Skoda's technology ambitions, as it'll be the first model from the brand to be equipped with a digital dashboard display.
Audi pioneered this setup with its Virtual Cockpit, Volkswagen followed suit with its Active Info Display and the facelifted SEAT Leon has a similar system. It's Skoda's turn now, though, and the Karoq's digital instrument panel will allow owners to switch between navigation, media, economy and other displays at the flick of a button.
Speaking of flicks, a wave of the hand will control the Karoq's stereo, thanks to an optional gesture control system – although our experience with this in the Volkswagen Golf suggests it'll be better in theory than practice.
You'll need the top-spec infotainment option if you want gesture control though, and as Skoda offers three systems, it's worth knowing what each comprises:
The eight-inch Bolero infotainment system comes with SE trim.
The Amundsen is an upgraded Bolero system featuring sat nav and a wi-fi hot spot for eight devices; it's standard with SE L trim.
The Columbus infotainment system tops the range and comes with Edition trim. This setup can show DVDs on its 9.2-inch HD screen, features sat nav, offers a superfast internet option and is the only system for which gesture control is available.
The Karoq will also be available with full LED lights, wireless phone charging and Skoda's Care Connect system, which will help manage its servicing and maintenance requirements. And if you're letting someone else drive the Karoq, area and speed notification functions will inform you if the car strays into specific areas or exceeds a pre-set speed.
Available safety kit will include traffic-sign recognition, autonomous emergency braking, active cruise control, blind-spot monitoring and rear cross-traffic alert, which scans for obstacles when reversing. There's also an emergency assist function, which, in Karoqs fitted with active cruise control and lane-keeping assistance, will bring the car to a stop if the driver becomes incapacitated.
Interior space and storage
Skoda's reputation for building practical cars continues with the Karoq, which has a 521-litre boot, rising to 1,630 litres when the rear seats are folded. Order the Varioflex versions and you'll be able to slide these backwards and forwards, providing extra knee or luggage room as you do so, and growing the boot to 588 litres if you choose the latter priority. You can even remove the Varioflex rear seats completely for that pseudo-van effect.
New Skoda Karoq SUV: price & on-sale date
The Skoda Karoq is available to order from 3 October, priced from £20,875. The range tops out at £31,690, which will get you the 4x4 2.0-litre diesel engine, Edition trim and the DSG automatic gearbox.
Cupra Formentor SUV review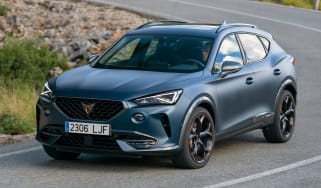 Cupra Formentor SUV review
2020 Volkswagen ID.3 hatchback: base model starts at under £30k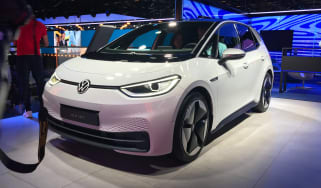 2020 Volkswagen ID.3 hatchback: base model starts at under £30k
Audi Q8 gains plug-in hybrid versions with 28-mile electric range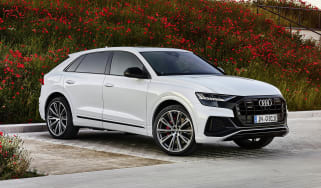 Audi Q8 gains plug-in hybrid versions with 28-mile electric range