DS plans four new SUVs and a supercar
New Crossback SUV models planned, alongside a 600bhp supercar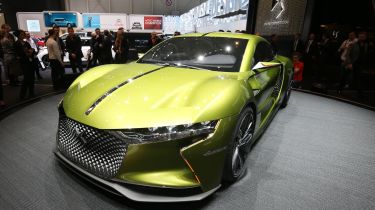 DS is planning an attack on upmarket brands like BMW with a range of SUVs and an all-new hybrid supercar.
The product offensive will start with the new DS 7 Crossback, which will be shown at the Geneva Motor Show next week, before going on sale in early 2018.
Next up will be a smaller SUV, expected to be called the DS 3 Crossback and tipped to arrive in 2019. It'll rival models like the Audi Q2 and Mercedes GLA and is expected to be based on the same underpinnings as the Peugeot 3008 SUV.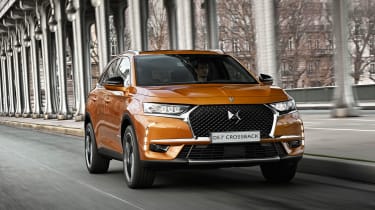 That'll be followed by the DS 5 Crossback, which will be positioned between the DS 3 Crossback and DS 7 Crossback in the range. That means it's likely to be a similar size to the Audi Q3 and some 55mm longer than the DS 3 Crossback.
In time, we understand an Audi Q7 rival will go on sale, likely to be badged DS 8 Crossback.
Each of these new models has been designed to accommodate electric power, and a plug-in hybrid version of the DS 7 Crossback will be the first to go on sale in 2019. The technology will be co-developed with two Canadian specialists, which is fuelling rumours of the DS brand launching in North America, possibly as part of a ride-sharing initiative rather than traditional sales.
An all-new DS hybrid supercar will deliver additional sparkle to the brand, too. This car will rival models like the BMW i8 and is likely to be influenced by the stunning DS E-Tense concept, which premiered at the 2016 Geneva Motor Show.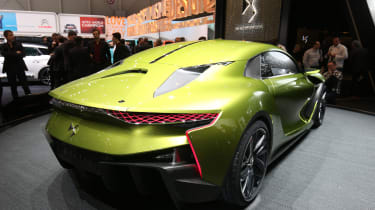 Carbuyer understands the sports car could feature plug-in hybrid technology, with a power output as high as 600bhp, as well as DS' latest safety, connectivity and autonomous driving technology.
Speaking exclusively to Carbuyer's sister title Auto Express, DS CEO Yves Bonnefont said with a smile: "This is a possibility, yes, but it's far too early to talk about anything."
DS vice-president of global sales and marketing, Arnaud Ribault, said: "If we have a sports car, it'll be unlike any other sports car in its design." However, while the E-Tense concept gives plenty of clues to how a DS supercar might look, we're unlikely to see anything until well into the next decade.