Nip and tuck for 2018 Lexus CT
Sportier styling and improved safety tech for Lexus' hybrid hatch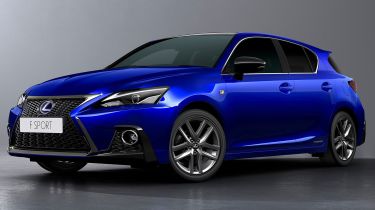 The Lexus CT has been spruced up, with some new aesthetic tweaks and more protective technologies to help keep its smallest model appealing.
These improvements are billed as "minor changes" by Lexus, but are actually fairly standard facelift fare, and definitely worth knowing about if you're in the market for a CT.
Read our full Lexus CT review
The 2018 Lexus CT will feature a new mash pattern to the front 'spindle' radiator grille, bringing the CT in-line with the firm's latest models. The CT's central bumper has been removed, meaning the front number plate now rests directly on the grille, for the one-piece front-end design made popular by Audi of late.
The CT's lights have also been redesigned, with the daytime running lights moved above the headlights, and the front foglights gaining a metallic grey bezel. The rear lights have also been refreshed to be wider and "more visible" while the rear bumper has been subtly fettled. Fresh alloy wheel designs are also available.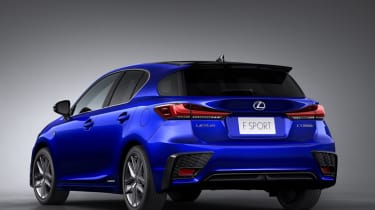 Inside, Lexus' new 10.3-inch sat nav system becomes available, while fresh colours and combinations will be offered when appointing the car's upholstery.
And while Lexus calls these changes "minor", it claims the updates for the dynamic F-Sport models are "dramatic". New Lexus CT F-Sport models will feature more black trim and exterior garnish, alongside further fresh interior colour combinations.
Buyers who value protective technologies will be pleased to learn 2018 CTs will be offered with Lexus Safety System+. This comprises adaptive cruise control, lane departure assist, auto-dipping headlights, traffic sign recognition and a pre-collision system, which warns of and mitigates against potential collisions.
This round of updates follows a facelift last year, when the CT's trim levels were simplified and more tech and colour options were added. All CTs feature a 1.8-litre petrol engine paired with an electric motor, and Lexus' Audi A3 and BMW 1 Series rival starts at around £22,500.
Best new car deals 2022: this week's top car offers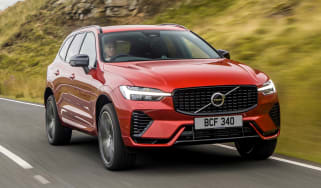 Best new car deals 2022: this week's top car offers
Engine management light: top 5 causes of amber engine warning light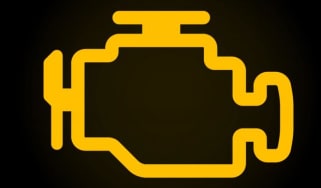 Engine management light: top 5 causes of amber engine warning light
Top 10 cheapest electric cars 2022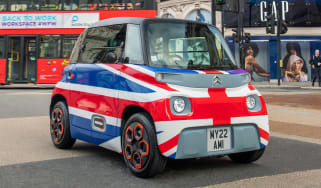 Top 10 cheapest electric cars 2022