Hyundai shows off hydrogen-powered NEXO SUV
New SUV revealed at CES in Las Vegas; claimed range of roughly 500 miles
With hybrids and electric vehicles (EVs) becoming ever-more popular, it's easy to forget that there's another alternative fuel for cars being developed by the world's car companies – hydrogen fuel-cell technology. The latest to flaunt its technical progress in this area is Hyundai, which has shown its production-ready, hydrogen-powered NEXO SUV at the International Consumer Electronics Show (CES) in Las Vegas.
Hyundai has also also shown new in-car technology at the show, including what it describes as an 'artificial intelligence-enhanced personal cockpit', which reads the driver's vital signs and uses AI to offer enhanced voice recognition. The NEXO is equipped with the system, which Hyundai calls Advanced Driver Assistance System (ADAS). There's a sophisticated blind-spot monitoring system that uses cameras to show the driver what's happening over his or her shoulders, too.
The NEXO also includes Hyundai's latest autonomous driving technology, which includes 'Lane Following Assist'. This can keep the car in-lane automatically at speeds of up to 90mph. 'Highway Driving Assist' lets the car effectively drive itself on certain roads with automatic braking and acceleration, while 'Remote Smart Parking Assist' parks the NEXO automatically. The car can also be summoned from its parking space autonomously.
Hyundai NEXO
The NEXO is powered by the latest generation of Hyundai's fuel-cell technology, delivering a maximum range of 800km – which is roughly 500 miles, around 134 more than that of the old Hyundai ix35 Fuel Cell.
Its hydrogen fuel cell (which produces electricity to charge the car's batteries) is more efficient than in any of Hyundai's previous efforts, while the company also reckons it has improved known issues with fuel-cell technology, including starting in cold weather and hydrogen storage. As with all hydrogen fuel-cell cars, the only waste product from its exhaust pipe is water, and while plug-in EVs can take a while to fully charge, fuelling a hydrogen vehicle does not take much longer than a traditional petrol or diesel fill-up.The NEXO's electric motor produces 161bhp and pushes the SUV to 60mph from rest in 9.5 seconds. Hyundai claims that the NEXO can start from cold within 30 seconds (a common issue with this sort of vehicle).
The new SUV paves the way for a range of eco-focused Hyundai models when it's unveiled properly next year. Hyundai has said it'll introduce 31 new eco-friendly models across the world by the year 2020 – a number that includes those built by its sister firm, Kia.
In the near future, Hyundai has confirmed that an EV version of the Hyundai Kona will arrive in 2018, with a range of 390km, while the Hyundai Genesis will have an electric version in 2021. There are also plans to release an electric vehicle with a range of 500km 'after 2021'.
As well as all this, Hyundai intends to develop its own architecture for electric vehicles, meaning it can more easily produce EVs of all sizes and with longer ranges.
Hyundai's latest concept is meant as a styling preview, too – its design has a more upmarket feel than current models, with new front and rear-end treatments and a simple, uncluttered interior that's likely to heavily influence future products in some way, SUV or otherwise.
Hyundai has a proud history in hydrogen fuel-cell technology: its ix35 Fuel Cell was the first production fuel-cell vehicle and it has been working to develop the technology ever since.
Meanwhile, the company is gaining a foothold in the popular hybrid and EV markets with its Ioniq, which is currently available as both a plug-in and non-plug-in hybrid, along with an all-electric version.
Nissan Ariya vs Volvo XC40 vs Volkswagen ID.4 - which is best?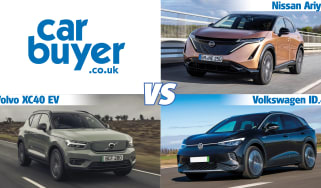 Nissan Ariya vs Volvo XC40 vs Volkswagen ID.4 - which is best?
Best new car deals 2022: this week's top car offers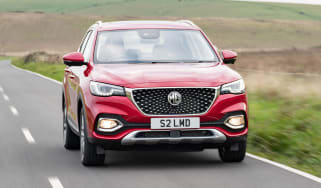 Best new car deals 2022: this week's top car offers
Kia Niro EV review