Toyota rolls out new scrappage scheme
Toyota scrappage scheme offers incentives for new car and van buyers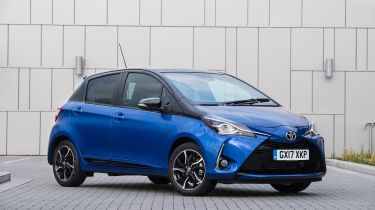 Toyota is to join the list of manufacturers introducing their own scrappage schemes, offering incentives towards a brand new car or van from its range.
Beginning 1 September, the scrappage scheme will run until 31 December and offers qualifying customers a saving of up to £4,000 against cars from the range – including low-emissions cars such as the Toyota Prius plug-in hybrid – when an older petrol or diesel car is traded in.
Toyota's offer joins scrappage schemes already announced by other carmakers in the absence of a government-backed official scheme to encourage drivers to remove higher-polluting cars from the road in favour of newer, lower-emissions cars.
Instead of a fixed incentive, the scrappage allowance provided varies across the range. Customers are entitled to £2,000 towards a Toyota Aygo or GT86, £2,500 towards a Toyota Yaris and £3,500 for Auris, Verso, RAV4 and Avensis models. For eligible commercial vehicles in the scheme, buyers are offered a £2,000 incentive.
Although the scheme is marketed as "helping more motorists make the move to cleaner cars", the £2,000 incentive offered to buyers of low-emissions models such as the Toyota Prius Hybrid range is far lower than the £4,000 allowance offered for the Toyota Land Cruiser SUV – Toyota's largest and most polluting model. Meanwhile, buyers of the recently launched Toyota CH-R – including low-emissions hybrid models –will receive just £1,000 for their trade-in car.
As far as the trade-in cars accepted under the scheme are concerned, Paul Van der Burgh, Toyota GB president and managing director, says that customers "can be assured their vehicle will be disposed of in an environmentally responsible fashion that maximises recycling opportunities".
What hasn't yet been revealed is which cars will be recycled, though. Scrappage and trade-in programmes from some other carmakers only promise to take traded-in cars permanently off the road if their emissions comply with Euro 1, 2 or 3 legislation. These cars could date from between 1991 and 2005. Some manufacturers are treating newer Euro 4-compliant vehicles the same as any other part-exchange.
For your car to qualify for the Toyota scrappage scheme, it must be over seven years old and registered to you for six months or longer. The deal cannot be combined with any other discounts offered and certain low-specification trim levels are excluded.