Nissan 'switch scheme' supports used EV buyers
Nissan offers incentives across range – including new cars and used Leaf EV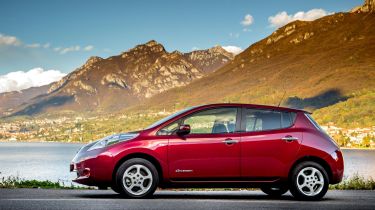 As carmakers clamour to introduce 'scrappage schemes', Nissan has unleashed its own programme of incentives – and buyers of used Nissan Leaf electric cars stand to benefit.
While the Nissan 'switch scheme' offers extra incentives for buyers of most new cars in the brand's range, it also extends to approved used Nissan Leafs, where a £2,000 discount is offered if you buy through Nissan finance – an incentive offered in addition to the trade-in value of your own car. The company says this makes it possible to finance a used Nissan Leaf electric car for less than £100 a month. Brand-new Leafs are excluded, though.
New car buyers will receive a £2,000 allowance across most models in the range, although variants in the Acenta trim level receive just £1,000 and Visia or Visia+ models receive no subsidy at all.
The switch scheme can be combined with existing retail offers on new Nissan models. Under the scheme, the Nissan Micra can receive up to £3,600 in total support, the Juke is eligible for up to £4,500 in incentives, while the latest Nissan X-Trail receives £4,000 of support.
An important distinction between the switch scheme and other current trade-in programmes is that Nissan's is not a 'scrappage' scheme. The company makes no mention of cars traded in under the scheme being permanently removed from the road. However, qualifying trade-in cars must still be registered on 31 December 2009 or earlier.
The Nissan switch scheme will run until 2 April 2018, for retail customers only.