Ford B-MAX dropped from range
Fiesta-based Ford B-MAX MPV dropped from the range; plans still in place for an all-electric SUV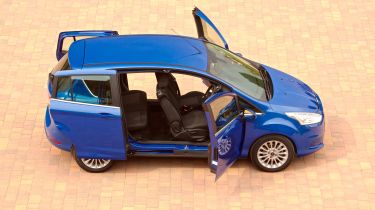 The Ford B-MAX is no more. The Fiesta-based MPV has been dropped from the range in favour of the recently refreshed Ford EcoSport SUV.
Speaking to Carbuyer at the Frankfurt Motor Show, Ford of Europe's boss Steve Armstrong said: "We are in the middle of a really strong product changeover phase. We've now finished production of the B-MAX and that has now been replaced with the EcoSport.
"That segment is declining and we need to stay relevant. We've taken the opportunity to bring [EcoSport] production to Europe."
The move follows pressure on the MPV market, which is contracting as the SUV market continues to grow. According to the Society of Motor Manufacturers and Traders, registrations of new SUVs grew by 7.9% last month, which was in stark contrast to a market that has contracted by 6.4% compared to August 2016.
Last year, Ford announced it was evaluating its model range and would "eliminate less profitable vehicles over time" in order to focus on "more profitable vehicles such as crossovers and SUVs." The Ford C-MAX could be the next model to face the axe as buyers choose models such as the Ford Kuga SUV.
Ford's new CEO Jim Hackett, who took up office in May, will announce further details on Ford's product strategy. Armstrong said plans are still on track for an all-new, fully electric small SUV to launch in 2020. That as-yet-unnamed model will boast a range of "at least" 300 miles and will be sold across North America, Europe and Asia.
This will be joined by a hybrid version of the Ford Mustang and a plug-in hybrid Ford Transit.