New naming strategy for Jaguar Land Rover models
All new JLR models will sport badges signifying fuel and power output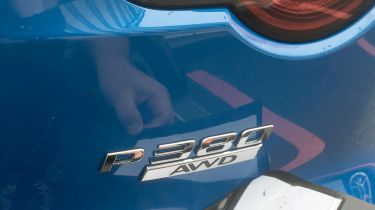 Jaguar Land Rover is poised to roll out a new naming strategy for its models. The new digits will appear on new cars over the coming months, following the system's introduction in the Range Rover Velar range.
Each new Jaguar and Land Rover model will sport a letter followed by three numbers. The first letter will signify whether it uses petrol or diesel, or is a plug-in hybrid. The numbers will represent the car's power output in metric 'PS' – similar to the more familiar brake horsepower.
Eagle-eyed Don Etchells recently spotted a Jaguar F-Type on test wearing the new badging. The P380 digits identify the car as being petrol-powered and developing 380PS. Following this nomenclature, the 2.0-litre four-cylinder F-Type will be badged P300.
The Range Rover Velar range already employs this system, but this is the first indication it will be used more widely.
With Jaguar and Land Rover both demonstrating their ambitions to build electric and plug-in hybrid models, a further designation will be introduced. That means the initial 395bhp Jaguar I-Pace is expected to be badged E400.
The move follows Audi's recent changes to its model designations. While Jaguar Land Rover's strategy is easy to follow, Audi has chosen to use a range of non-related numbers to illustrate the engine's power output. Those are used in conjunction with the existing TDI and TFSI badges to signify diesel or petrol power.