New Skoda Vision X concept previews new small Skoda SUV
Crossover concept previews a new model to sit below the Karoq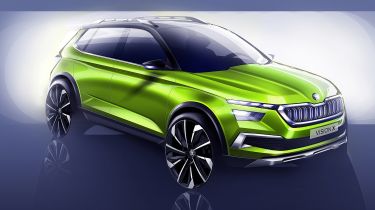 Ahead of a billed reveal at the Geneva Motor Show, Skoda has teased a third SUV offering to complement the existing Skoda Kodiaq and smaller Skoda Karoq.
These sketches depict an all-new crossover concept, dubbed the Skoda Vision X. Until the wraps come off the physical concept at Geneva, it's difficult to judge the new car's scale. It's described as having 'compact dimensions', though, and we expect the concept to match the Volkswagen T-Roc and SEAT Arona on size.
Skoda has announced some of the features of the Vision X, and describe it as applying "characteristic features of Skoda's successful SUV models to another vehicle segment". References to it being a 'hybrid' likely hint towards its blend of supermini and crossover styles, rather than describing the engine technology.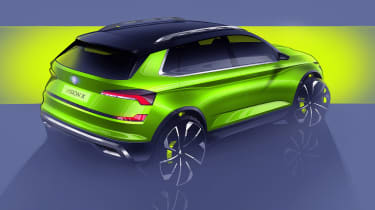 Clearly bearing SUV styling tropes, the Vision X concept is characterised by heavily sculpted surfaces and wide wheelarches that house 20-inch alloy wheels. The headlights put a new twist on Skoda's latest 'split-lamp' look and the roof – with its large panoramic glass panel – is picked out in a dark anthracite colour that contrasts with the 'FlexGreen' bodywork.
As this is a concept, the cut crystal glass interior elements aren't expected to appear in the production version. The dashboard's large freestanding centre screen is more likely to make it to the showroom, though, and Skoda promises quick, intuitive infotainment access.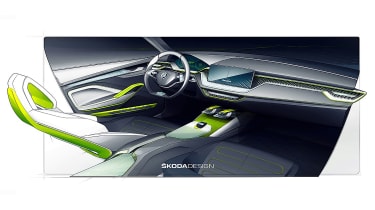 It makes good sense for Skoda to offer a smaller crossover than the Karoq; the Vision X could lead to a rival for the Renault Captur, Peugeot 2008 and Ford EcoSport, while attracting buyers away from more conventional superminis like the Ford Fiesta and Volkswagen Polo. With Skoda intending at least one in four cars it sells from 2025 to use either plug-in hybrid or all-electric technology, it's likely that these will be embraced by the new car.
There's no word yet on a name for the production version, but we'll find out more about what's in store when the Vision X concept is officially unveiled at the Geneva Motor Show from 8 March.