2020 Audi e-tron GT electric coupe in development
Sporty four-door coupe to head Audi's expanding e-tron range
First e-tron developed by Audi Sport
£100,000+ price tag likely
Set to be revealed later this year
The Audi e-tron GT four-door coupe has been spotted testing on icy roads. It'll be Audi's flagship plug-in car, with an expected price tag of over £100,000, and will compete against the Tesla Model S and Porsche Taycan. The e-tron GT is set to launch later this year, before going on sale in the first half of 2021.
Although heavily camouflaged, it's clear that the car in these spy shots bears a strong resemblance to the e-tron GT concept car shown at the 2018 Los Angeles Auto Show. The front end and swooping roof line are both low to the ground, and it looks more like a sports car than an executive saloon.
Best electric cars to buy this year
Audi e-tron GT technology
Beneath the surface, much of the e-tron GT's running gear is common to the Taycan, with around 60% of parts shared between the two. Both have a pair of electric motors that produce a total of 582bhp, an output that places the e-tron between the entry-level Audi R8 supercar and the even more powerful R8 Performance model. Thanks to the way in which an electric motor delivers all its pulling power instantly, the e-tron GT is likely to have significantly faster acceleration.
Combine that instant power with the traction of quattro four-wheel drive and Audi quotes an expected 0-62mph figure of under three seconds, with electrical control software to ensure that such acceleration can be obtained repeatedly, even when the battery isn't fully charged.
A range figure hasn't been disclosed, but the e-tron GT will use a 96kWh battery that can be charged from flat to 80% in 15-20 minutes when a 350kW fast charger is used. Regenerative braking is on hand to bolster battery range, with a single-pedal driving mode available that obviates use of the brake pedal.
Driver appeal looks to be high on Audi's agenda, too – the e-tron GT will be the first electric model developed by Audi Sport and will offer a sophisticated 'torque vectoring' system to distribute power to the wheels best suited to take it in the given conditions. A low-mounted battery pack, lightweight carbon roof and aluminium doors allow a low centre of gravity. The upshot is a car that may weigh almost two tonnes but could feel and handle like a four-door supercar.
An absence of exhaust pipes allows for a large aerodynamic diffuser, reducing lift to keep the e-tron GT firmly stuck to the road without creating range-sapping drag. There's also a retractable bootlid spoiler to provide downforce at higher speeds.
Design
Although roughly the same length as the Audi A7 hatchback, the e-tron GT stands a full 50mm lower giving it a dramatic, purposeful look, which is helped further by a low bonnet line made possible by the absence of a bulky internal combustion engine. The Audi Sport link is emphasised by boxy wheel arches formed by a shoulder line that's placed far lower than that of the A7 hatchback or A5 Coupe.
As well as promising zero-emissions motoring, the GT concept also boasts floor mats made from recycled fishing nets and a fully vegan-friendly interior that eschews leather in favour of cloth upholstery. The interior look is familiar, with a layout inspired by the R8 supercar to provide a cockpit-like feel, while its width is accentuated by a dashboard centre section that flows outwards into the doors.
Although sleek and streamlined, the e-tron GT still promises space for four adults. It will have a 400-litre rear boot and an additional 100-litre storage compartment under the bonnet. Inside, six-footers will fit in the back, and the battery cells have been arranged in such a way as to allow 'foot garage' hollows in the car's floor, which provide foot space for passengers.
2020 Audi e-tron GT prototype drive
Carbuyer was offered an opportunity to drive an early prototype of the e-tron GT in Los Angeles, years ahead of its launch. Thanks to the prototype's value of around 4.6 million euros, and LA traffic, we didn't get a chance to fully test its claimed 3.5 second 0-62mph acceleration or handling, but the e-tron GT's steering felt smooth and had a pleasant weight too. A progressive throttle made for relaxed progress, with the occasional burst of thrust that's becoming a hallmark of fast electric models. If the driving experience lives up to the promise of this first encounter, the electric Audi's design and performance could give Tesla a serious headache.
Read our Audi e-tron review or see what our picks are for the best drivers' cars.
Best 4x4s and SUVs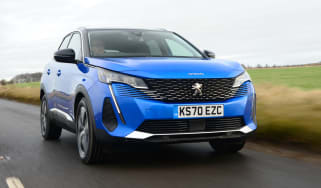 2021 scrappage schemes: the complete guide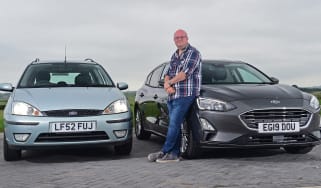 2021 scrappage schemes: the complete guide
Best first cars