Every DS model will be hybrid or electric by 2025
DS will only develop new hybrid or electric cars and debut its first EV at the 2018 Paris Motor Show
Upmarket French manufacturer DS has announced that all its new models will be electrified from 2025, featuring hybrid, plug-in hybrid or battery electric technology. It means the brand with close ties to Citroen will no longer develop solely petrol or diesel models. DS also confirmed its first-ever all-electric model will be unveiled at the Paris Motor Show in October.
The announcement follows a raft of similar commitments by rival manufacturers, including Volvo's recently revealed target to hit 50% EV sales by the same year. The government has already laid out plans to ban the sales of non-electrified cars by 2040 – with similar rulings already rolled out in other nations.
Carbuyer's best electric cars you can buy now
"Our ambition is very clear: for DS to be among the global leaders in electrified cars in its segment," commented DS CEO Yves Bonnefont, who continued to say it will be "followed soon with the presentation of the first 100% electric DS model."
At the 2016 Geneva Motor Show, DS unveiled the E-Tense concept, an all-electric sports car with 396bhp and an aerodynamic design. Speaking at the show, DS product manager Olivier Desserprit told us: "It's a different vision of the next step for DS, looking into electric cars. This is the DNA of DS – and parts on the car will appear on future production models. Everything on the car has been chosen on purpose to be used in our future cars."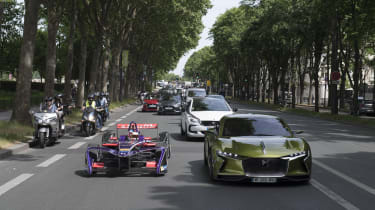 DS is well placed to implement EV technology, having competed in the all-electric Formula E motor-racing series since 2014. The pioneering championship is said to "play a key role in the strategy for the electrification of its models," while the lessons from the track "will be used on its series [road] cars, now and in the coming years".