SEAT and Volkswagen seatbelt safety issue uncovered
Possible safety issue risks left-rear belt unbuckling in certain situations on Arona, Ibiza and Polo models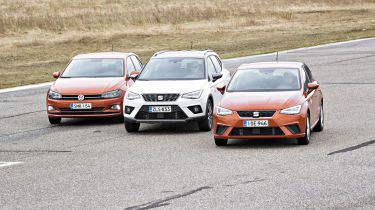 The SEAT Arona and Ibiza, along with the similar Volkswagen Polo, have demonstrated a safety issue with their left-rear seatbelt during testing by Finnish car magazine Tekniikan Maailma.
The issue, which is caused by the rear-left seatbelt socket resting below the middle-belt socket, occurs during high-speed lane changes in a car with five passengers on board – the middle socket pushes down on the rear-left seatbelt socket's release button, causing the belt to unfasten.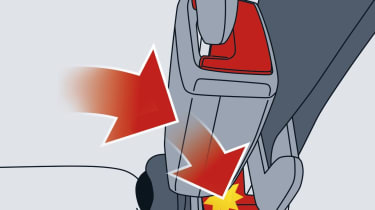 Image credit: Tekniikan Maailma
The issue was first noticed during the magazine's group test featuring the Arona SUV, then was replicated in the Ibiza and Polo. All three cars are based on the same mechanical underpinnings and feature seatbelts made by Japanese firm Takata. Tekniikan Maailma tried and failed to replicate the issue in the Volkswagen T-Roc, which has a similar buckle arrangement but belts made by another firm.
As a result, the magazine suggested that: "The reason for unlatching is a combination of buckle layout and too sensitive release buttons in the buckles manufactured by Takata."
SEAT's director of Communications, Christian Stein, said: "Based on the analysis made at our factory we have identified the seat belt issue that Tekniikan Maailma has found in the tests. We are working on possible solutions for it and we will inform you about the final decision as soon as possible."
Volkswagen was also said to be investigating the issue.