New Skoda Kodiaq vRS 2019: price, specs and release date
£42,870 starting price for Skoda's sporty seven-seat SUV
Skoda's sporty SUV, the Kodiaq vRS, is now on sale. Prices for the 237bhp diesel seven-seater start at £42,870.
The Skoda Kodiaq vRS is something of a departure for the Czech brand, which has been known more for the value and usefulness of its SUV line-up more than performance or driving enjoyment. The Kodiaq vRS arrives as a unique proposition, facing no direct rivalry from within the Peugeot 3008, Ford Kuga or Nissan Qashqai ranges, and existing as a more economical alternative to the petrol-powered Cupra Ateca.
Carbuyer's review of the Skoda Kodiaq vRS
Armed with the most powerful diesel engine ever used in a Skoda, the 237bhp Kodiaq vRS has already been put through the ultimate test, setting a new seven-seat SUV record for a lap of the famous Nurburgring circuit of 9m 29.84s.
With seven seats as standard, the Kodiaq is by far the largest vehicle to receive Skoda's respected vRS badge. Prior to the Kodiaq, the only vRS models in the brand's line-up were the Skoda Octavia vRS hatchback and estate, and Skoda's plan to expand its sporty sub-brand means that other models, including the Kodiaq's smaller Karoq sister, are likely to be given the same go-faster treatment.
Skoda Kodiaq vRS design and technology
The Kodiaq vRS stands out from its more sedate stablemates thanks to a distinctive exterior treatment. Eschewing the chrome highlights of other models, the vRS is distinguished by a radiator grille, roof rails, window frames and door mirrors that are are all finished in high-gloss black. At the rear, eyes are drawn to a new bumper with dual chrome tailpipes and a full-width red reflector – the last of which is a vRS hallmark and can also be found on the Skoda Octavia vRS. Anthracite-coloured 20-inch 'Xtreme' alloy wheels are standard – the biggest ever fitted to a production Skoda.
Inside, the vRS is equipped with a virtual cockpit dashboard with a special display mode that places the rev counter and digital speed display at the centre where it can be quickly read when driving 'more dynamically'. The driver's seat is electrically adjustable with a memory function, and a flat-bottomed vRS steering-wheel and diamond-quilted seat fabric in leather and Alcantara suede with contrasting coloured stitching are among the special touches that vRS owners will appreciate.
The Kodiaq vRS is also the first Skoda to use what the Czech company calls 'Dynamic Sound Boost' – a system that enhances the car's engine sound inside the cabin.
Engine, performance and economy
Skoda's fastest SUV takes its power from a 2.0-litre, twin-turbocharged BiTDi diesel engine, that won't be offered on any Kodiaq aside from the vRS. It cranks out 236bhp, sent to all four wheels through a DSG automatic gearbox that incorporates an Eco mode, which mechanically decouples the engine from the gearbox and running gear when the car is coasting, with the aim of reducing fuel consumption. Skoda claims 47mpg is possible, with CO2 emissions of 157g/km. Acceleration from 0-62mph is claimed to take seven seconds flat, while to speed is 136mph.
Power is managed by a dynamic chassis control (DCC) system, with selectable driving modes that can influence the steering weight and the suspension stiffness. In Sport mode, for instance, the steering is heavier for a more engaging feel, and the shock absorbers become firmer to further reduce body lean in corners. Comfort, meanwhile, optimises the settings for a more relaxing drive. Individual mode allows you to combine settings according to personal taste, while Snow is preset to increase traction in slippery conditions.
The vRS uses an 'intelligent' four-wheel-drive system that constantly assesses the best way to distribute power between the four wheels. It's claimed to be able to send up to 85% of the engine's pulling power to a single wheel if necessary, and can operate in front-wheel-drive mode when the Kodiaq is lightly laden in unchallenging conditions. Skoda suggests that the system "improves driving safety – in all weather and road conditions as well as when driving off road", indicating that some all-terrain ability is on the menu.
Skoda Kodiaq vRS Nurburgring lap record
News of an attempt at the Nurburgring lap record for seven-seat SUVs revealed two things. Firstly, that Skoda is serious about the vRS being a genuinely fast car, and secondly, that it would have seven-seats. This differentiates the Skoda from more powerful sports SUVs such as the 503bhp, five-seat Alfa Romeo Stelvio Quadrifoglio, which retains its title as the fastest SUV around the circuit.
Skoda's chosen driver for the Nurburgring lap record attempt was Sabine Schmitz, the charismatic German racing driver and Top Gear presenter who's the only woman to have won the Nurburgring 24 Hours endurance race.
Skoda Kodiaq vRS price and on-sale date
The Skoda Kodiaq vRS is available to order now, priced from £42,870.
Best large SUVs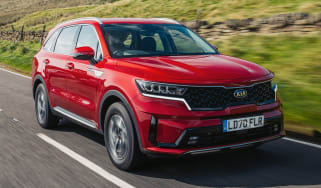 New 2020 SEAT Ateca priced from £23,670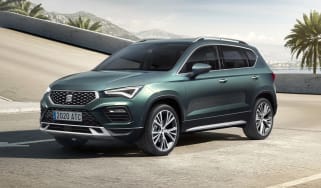 New 2020 SEAT Ateca priced from £23,670
Ford EcoBoost engines: what are they and should you buy one?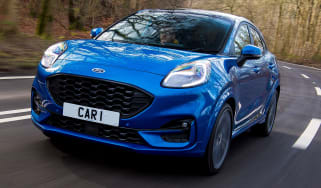 Ford EcoBoost engines: what are they and should you buy one?
Refreshed 2020 Land Rover Discovery breaks cover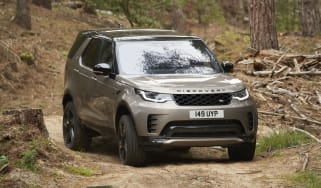 Refreshed 2020 Land Rover Discovery breaks cover
What is ESP on a car?