2022 Polestar 3 electric SUV previewed in exclusive images
Polestar 3 will rival Jaguar I-Pace and share platform with next-gen Volvo XC90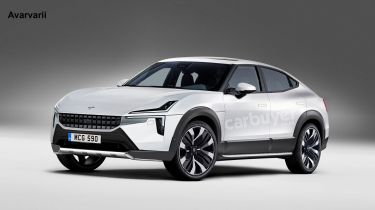 Polestar 3 in development
All future Polestar models will be electric
On sale in 2022
The Polestar 3 is set to arrive in 2022 and will be an electric SUV to rival the Audi e-tron, Tesla Model X and Jaguar I-Pace. Produced by the brand established by Volvo, the Polestar 3 will have a coupe-like look and sharp styling details; our exclusive images suggest how it might look.
As the name suggests, the Polestar 3 will be the company's third standalone model, after the limited-run £140,000 Polestar 1 plug-in hybrid and the £50,000 Polestar 2 electric saloon that will rival the Tesla Model 3 when it goes on sale in the next few months. While the last two Polestar cars were rebadged Volvo concept cars, the 3 will get unique and distinctive styling.
Best electric cars you can buy today
Speaking to Carbuyer at the 2018 Goodwood Festival of Speed, Polestar's chief operating officer, Jonathan Goodman told Carbuyer how the SUV will take after the sporty looks of the Polestar 1, but won't share that model's strong Volvo family resemblance. He explained: 'The Polestar 3 will be a coupe-style SUV and it's not our plan to do a reskinned Volvo XC90 or anything like that. The XC90 is very much a Volvo car, the Polestar 3 will be about drivability, it'll be about design and about offering something different".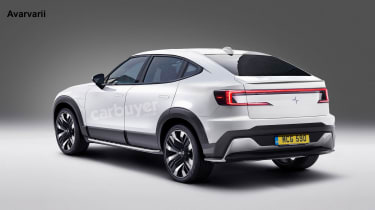 Despite the difference in personality, the Polestar 3 will share a platform and a battery with the XC90. The Polestar 3 and the next-generation XC90 will be two of the first cars to sit on the new SPA2 platform that will underpin several large models, including the Volvo V60 and S90. With its coupe-like roof, however, the Polestar will be a strict five-seater, whereas the XC90 has seven seats.
Polestar recently unveiled a sleek saloon called the Precept concept, which would be a luxury saloon in production form along the lines of the Tesla Model S, Audi e-tron GT and Mercedes EQS. The company's design director, Max Missoni, recently revealed that the Polestar 3 will be heavily inspired by the Precept, and that the concept car is an indication of the brand's design direction for future models.
We understand that Polestar is aiming for a 310-mile battery range for the Polestar 3 and there'll be an electric motor on each axle to give plenty of power and four-wheel drive. Missoni reiterated that the XC90 and the Polestar 3 will have different driving characteristics, with the Volvo likely to prioritise comfort and the Polestar having a sportier setup.
Both will come with a huge array of safety technology, though, and it's highly likely that the Polestar 3 will feature advanced self-driving capabilities.
As with the Polestar 1 and Polestar 2, the brand's SUV will be marketed in a very different way to 'Polestar Engineered' versions of cars in the Volvo range. Rather than sharing showroom space with the Swedish brand, Polestar cars will be offered through a network of small 'Polestar Spaces' situated in busy town-centre locations.
This tactic seems comparable to Ford Stores being opened inside fashion retailers, as well as the pop-up shops opened by Mercedes. Such locations are well placed to attract impulse buyers, while traditional out-of-town dealerships tend to receive far less passing trade.
Outlining another move away from traditional marketing, Thomas Ingenlath, Polestar's chief executive officer, explained that Polestar is also set to use a subscription-based ownership model. Geely, who owns Volvo, Polestar and Lotus, has already announced a similar scheme for Lynk & Co cars, with monthly tariffs that cover rental, servicing and insurance. They'll be tailored to suit individual requirements, and will form a two or three-year agreement in a similar vein to a mobile-phone contract.
Ingenlath explained: "In generations to come I can see they will not be happy to pay €60,000 on an object they have to sell again. The modern way is not to do that – there are better ways.
See what you can expect to see in showrooms in 2021 and beyond.