Suzuki Vitara hybrid on its way
Suzuki will introduce electrification to its range in the coming years, starting with the Vitara SUV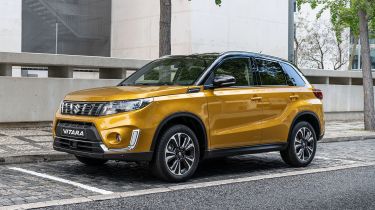 The Suzuki Vitara SUV is set to become available in hybrid form.
Suzuki UK's managing director, Dale Wyatt, told us electrification would become a key pillar in the brand's development very soon. "We'll see mild-hybrid coming through," he commented. "We'll use 12-volt systems on smaller cars and 48-volt on the larger models".
Carbuyer's best hybrid small SUVs on sale now
Wyatt also confirmed that hybrid technology would have its place throughout Suzuki's SUV range, adding: "Yes, but on S-Cross and Vitara. Not Swift and Celerio."
Price and weight are likely to be the main deciding factors in which technology is chosen as the most suitable for each of Suzuki's models. "The cost of electrification is around £10,000 [per car]," Wyatt told us. "People aren't prepared to pay that kind of money on a [Ford] Fiesta, or a Swift."
Wyatt also hinted that Suzuki could be looking to move away from its strategy of offering two models in each category. Currently the Ignis and Celerio, Swift and Baleno, and Vitara and S-Cross offer customers a choice of Suzuki models in the city car, supermini and SUV segments, but it's SUVs that have attracted more customers to showrooms.
When a Suzuki Vitara hybrid does arrive, it'll go up against models like the MINI Countryman Cooper S E ALL4, Kia Niro PHEV and Toyota C-HR hybrid. Costing between £16,000 and £25,000 in its current specifications, a £10,000 price bump would see the Vitara hybrid head over the £30,000 mark.