New BMW X5 xDrive 45e plug-in hybrid 2019: Specs, price and on-sale date
Next-generation BMW X5 xDrive 45e iPerformance promises 50-mile electric range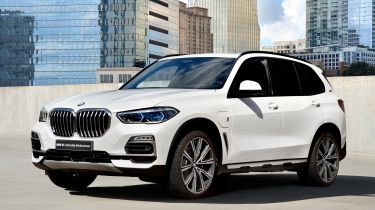 A plug-in hybrid version of the 2019 BMW X5 SUV has been announced, promising lower emissions, a longer range on battery power and fuel-economy improvements on its predecessor.
BMW was among the first premium brands to offer a plug-in hybrid version of its largest SUV, launching the X5 xDrive40e iPerformance in 2015. Now, with an all-new X5 scheduled to arrive in 2019, BMW has taken the wraps off its latest low-emissions rival to the Audi Q7 e-tron and Volvo XC90 T8 Twin Engine plug-in hybrids.
Engine and plug-in hybrid system, performance and economy
Whereas the previous X5 plug-in hybrid used a 2.0-litre petrol engine, its xDrive45e iPerformance replacement uses a bigger 3.0-litre, six-cylinder engine with BMW's TwinPower turbocharging technology. It develops 282bhp on its own, but that power is significantly boosted by a 112bhp electric motor fed by a lithium-ion battery pack.
Get the latest electric and hybrid car news, reviews and analysis on DrivingElectric.com
BMW claims that, when both work together, 0-62mph takes just 5.6 seconds, which beats the previous X5 plug-in hybrid by almost a second. Top speed, where safe and legal, is 146mph. While the previous model could reach 75mph on battery power alone, the xDrive 45e manages 86mph, which will widen the scope of journeys the SUV can make without the petrol engine kicking in. And, with all four wheels driven whether in petrol or electric mode, BMW claims "sporty driving pleasure on the road and supreme off-road performance over loose terrain at all times".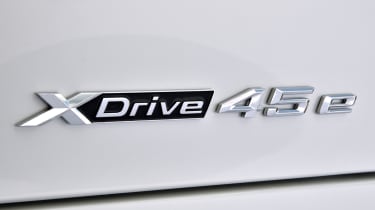 While it has yet to be tested, BMW is aiming for a realistic all-electric range of "approximately 80 kilometres", which equates to around 50 miles. Combined with an impressive turn of speed in electric-only mode, the X5 plug-in hybrid could be well suited to the needs of commuters. BMW claims 134.5mpg fuel economy when optimal use is made of the car's eDrive technology, with CO2 emissions of 49g/km. If the new model arrives before September next year, company-car users can expect a 13% Benefit-in-Kind (BiK) rating, rising to 16% later in the year.
BMW X5 xDrive 45e iPerformance plug-in hybrid price and availability
Although BMW has confirmed that the X5 xDrive 45e iPerformance will be offered in the UK, no date has been given for its arrival in showrooms. We expect the bigger, more powerful petrol engine to bring a modest increase in price over the outgoing model, which starts at £50,080.