New petrol engine for 2019 Nissan Qashqai
Up to 41.4mpg claimed for Nissan Qashqai's 1.3-litre petrol engine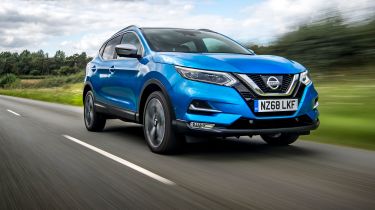 With diesel car sales figures continuing to slide, Nissan has introduced an all-new 1.3-litre engine to the Qashqai line-up. It's available now, with prices starting at £19,995.
The 1.3-litre DIG-T replaces the Qashqai's 1.2 and 1.6-litre engines and can be chosen with 138 or 158bhp power outputs. Developed as part of the alliance between Renault and Nissan, the new engine has already been introduced to the closely related Renault Kadjar SUV. Both versions come with a six-speed manual gearbox as standard, but a seven-speed dual-clutch automatic gearbox is offered as an option with the 158bhp engine.
Carbuyer's best compact SUVs and crossovers you can buy today
Nissan promises that the new engines are both more economical and have lower CO2 emissions than the outgoing ones, yet manage to be smoother and more responsive in use. Depending on wheel size, the Qashqai's 1.3-litre engine manages up to 41.4mpg (with a manual gearbox) on the stricter WLTP combined cycle. If you choose the automatic gearbox, fuel economy drops to an official 40.7mpg.
Besides reducing CO2 emissions, both engines have a 'gasoline particulate filter' fitted. This reduces the volume of carcinogenic particles coming out of the engine's exhaust in a bid to improve urban air quality. With more power developed at lower revs than its predecessor, the 1.3-litre engine should also be quieter in use, while longer 18,000-mile service intervals will be welcomed by Qashqai owners.
The new engine is available now, with prices starting at £19,995 for the Qashqai Visia 1.3 DIG-T 140, rising to £29,195 for the range-topping Qashqai Tekna 1.3 DIG-T 160. You can choose the automatic gearbox on all but the entry-level Visia trim, with prices ranging from £25,445 to £30,645.
Read our Nissan Qashqai review, and see where it features on our list of best economical crossovers.