Ford Focus Estate ST-Line review
Sharp style and quick responses from Ford's sporty family load-lugger
These days, families on the lookout for a versatile workhorse tend to gravitate towards compact SUVs like the Ford Kuga and Volkswagen Tiguan. However, there's been an estate in the Focus range since the model's launch, and Ford isn't about to abandon this part of the market any time soon.
The Ford Focus Estate retains its long-standing rivalry against the Volkswagen Golf Estate, Vauxhall Astra Sports Tourer, Peugeot 308 SW and Skoda Octavia Estate, and it seems in little doubt that the sharp, sophisticated style of the latest version will be key to attracting buyers who might otherwise be tempted by an SUV. And, for those who remain loyal to the traditional estate car, the Focus has another trick up its sleeve.
Carbuyer's best estate cars you can buy today
Driver appeal has always been a Ford Focus strong point, even if estate versions tended to dilute the responsiveness and agility of hatchback models. However, that's far less the case with the latest model, which feels every bit as involving and rewarding to drive as any other Focus. Those for whom practicality plays second fiddle to performance when choosing a family car will be particularly interested in the ST-Line.
Ford's powerful Focus ST has yet to be launched in hatchback or estate form, but the ST-Line is dressed in shades of the same sporty style. While it doesn't offer any more power than other trim levels, it does bring an upgraded, firmer suspension setup and big alloy wheels with wide, grippy tyres. The result is an estate car that feels like a hot-hatchback when shown a series of tricky corners, even though the engine under the bonnet is tuned for economy rather than power. Comfort is sacrificed a little; the ride is rather more firm and those tyres kick up more road noise than you'll experience in most other Focus models.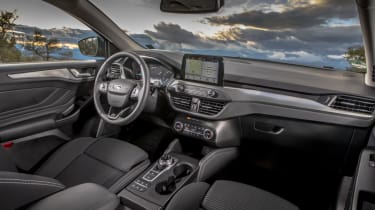 The ST-Line has a darker interior theme than other models, but brings the same high-quality dashboard that represents such a step forwards from the previous Focus. The central infotainment touchscreen varies in size depending on options fitted, but is easier to use and better to look at than before. Your fingers will enjoy wandering over the tactile dashboard surfaces, but will be less pleased by the scratchy plastics found in out-of-sight areas.
The control layout is more intuitive than in the previous Focus, and many drivers will find it easier to find a decent seating position. The ST-Line's sports seats offer plenty of adjustment and the steering wheel can be adjusted for height and reach. There's a good deal of interior space in any Focus, and the estate gives rear seat passengers a higher roofline that affords a few extra centimetres of valuable headroom.
Boot space has traditionally been the main reason for choosing an estate over a hatchback, and the Focus offers a huge 608 litres with the rear seats in use, or 1,653 litres with them folded out of use. It's not quite as much as a Skoda Octavia Estate can offer, but a significant gain on the 375-litre Focus hatchback. However, there's more to life than carrying bulky loads, and many will find the Focus Estate a more pleasing car to look at than the ubiquitous hatchback.
Verdict 4/5
Costing around £1,000 more than the hatchback, the Ford Focus Estate is an easy car to recommend if you're in any doubts over the hatchback's versatility. Price aside, it has no real disadvantages over the hatchback and certainly drives as keenly – especially if you opt for the ST-Line. Many will prefer the smoother ride of the similarly well-equipped Zetec trim level, so it's worth taking both for a test drive before making a decision between the them.