Alfa Romeo Giulia Veloce review
Alfa Romeo's Giulia Veloce lines up against German executive saloons but has it got what it takes to offer a credible alternative?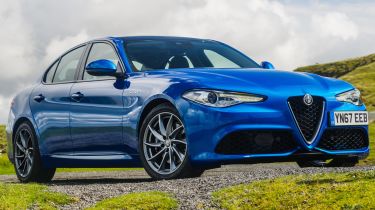 With its Giulia saloon, Alfa Romeo hopes to lure buyers away from the established players in the executive market. In order to pry buyers away from BMWs, Mercedes and Audis, as well as machinery such as Jaguar's XE, it needs to be very good indeed. There are entry-level petrol and diesel models, as well as the fire-breathing Quadrifoglio model to rival the likes of BMW M, Mercedes-AMG and Audi RS, but is the sweetest spot in the range the Giulia Veloce?
It's powered by an upgraded version of Alfa's 2.0-litre four-cylinder turbocharged engine and offers an impressive 276bhp, good enough for a 5.7-second 0-62mph, with economy and emissions figures of 40.9mpg and 160g/km. Impressively these economy figures are more or less on a par with the 197bhp entry-level petrol-engined Giulia Super.
Carbuyer's best executive cars
Judged against key rivals – BMW 330i, Audi A4 2.0 TFSI quattro and the Mercedes C300 – the Alfa has them all beaten for power, although their 0-62mph times are virtually identical. However, the new BMW 330i in particular trumps the Alfa for economy and emissions at 47.9mpg and 134g/km.
That's not to say the Alfa Romeo should be ignored, as there's much to like about it. Two versions are available, the standard Giulia Veloce at £38,975 and the Veloce Ti at £45,500. Both are very well equipped with satellite navigation as standard and an 8.8-inch infotainment screen with Apple CarPlay and Android Auto, as well as electric, heated leather seats. The Ti adds carbon exterior and interior additions, 19-inch alloys, Climate and Lighting packs along with a leather dashboard. Unless you really like the look of the Ti package we'd go for the standard Giulia Veloce as it offers much better value.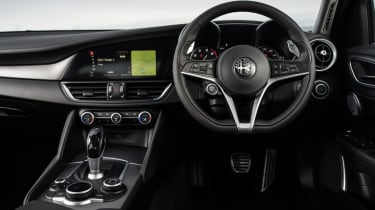 While adding plenty of equipment keeps the Giulia Veloce competitive, the build quality and fixtures and fittings aren't quite up to the standard of its German rivals. Overall it's very close, but some trim feels a little flimsy and doesn't have that solid feel of its competitors. Its navigation system and 8.8-inch screen aren't as up to date either, and it lacks the touchscreen featured in the German cars.
What Alfas have always offered is stylish alternatives to the occasionally staid German models - this is very true of the Giulia Veloce. While looks are subjective, the Giulia seems, unsurprisingly, to have been styled with more Italian brio than its German counterparts, and in Veloce trim it does look like a very sporty proposition.
Take a test drive and any potential worries about the interior are quickly forgotten as on the road the Giulia Veloce is a very enjoyable car to drive. Once settled into the comfy driver's seat, your first impression when under way is that the steering is incredibly fast and quick-witted. Initially it's a little disconcerting but once you're used to it you find it endows the car with exceptional agility and it's great fun to thread down a twisting road.
Read Carbuyer's full Alfa Romeo Giulia review
The engine is very willing and has a punchy mid-range. Despite being a turbocharged unit, which can often sound less impressive than naturally aspirated engines, the Giulia Veloce emits a pleasant growl from its exhaust. The only gearbox option for the Veloce is the eight-speed ZF automatic, which is also found in several of its rivals and it works very well. Flicking up and down the 'box with the steering wheel-mounted gives the driver another level of control.
You can add adaptive dampers as part of an optional Performance Pack that also adds the steering wheel paddles and limited slip differential. Without the comfort mode offered by the adaptive dampers, the ride can feel firm at times but it does feel suitably sporty. The majority of the time the Veloce absorbs the worst of the road's imperfections.
Ultimately the Giulia Veloce offers strong performance and enticing looks and wraps it up in a practical four-door package. With a 480-litre boot, it's on a par with rivals as far as carrying capacity is concerned. Any lingering doubts about Alfa Romeo reliability should be tempered by the Giulia Veloce's five-year warranty (or 75,000 miles, whichever comes first) and free servicing for the first three years.
Verdict 4/5
There's plenty to admire about the Giulia Veloce. In the plus category are its looks and character, along with excellent performance and driver involvement. A major negative is an interior that's not quite as convincing as those in its main German rivals. However, for those who are looking for an executive sporting saloon that's a break from the norm, it's an excellent choice.