Audi S3 Sportback review
The Audi S3 is a subtle performance car that brings some much-needed refinement to the hot hatchback class
While many buyers are deserting the traditional saloon, estate and hatchback formats for SUVs and crossovers, those after driving thrills are better served by sticking to the traditional models, as they're generally more able to provide excitement and entertainment. SUV models can't defy the laws of physics and as a result there are still plenty of quick hatchbacks to choose from. The Honda Civic Type R, Volkswagen Golf R, the AMG versions of Mercedes' A-Class and the Audi S3 all want your attention.
The Audi S3 is perhaps rather more subtle and refined – certainly to look at – than models such as the Civic Type R, but as a car to drive every day it has an impressive blend of abilities and unlike most of its competitors it's available as a saloon as well as a hatchback. This makes it one of the most versatile models on the market, offering blistering performance as a very classy saloon or hatchback package.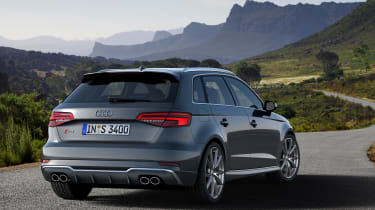 In terms of styling, the Audi S3 is very understated and could easily be mistaken for one of the lesser models in the A3 range. It certainly has elegant proportions, and with its large alloy wheels and lowered suspension it wouldn't look out of place in the company car park or in the paddock at a racetrack.
The UK's fastest hot hatchbacks
That's not to say that it isn't good to drive; it offers exceptional grip and composure in all conditions, allowing you to enjoy all of its performance no matter the weather – but its steering is a little lifeless. It seems as if the S3 has been set up predominately to be a very secure and efficient tool, and as a result it's a little too clinical and doesn't excite like a Civic Type R does.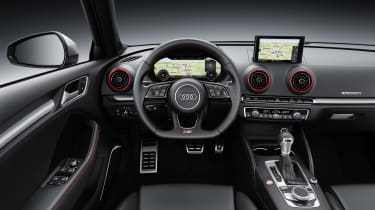 This character does bring some benefits, particularly in terms of the S3's ride quality. Where some of the more aggressive hot hatchbacks might throw you around on bumpy roads the S3 has a particularly pliant ride, which passengers will appreciate. It's much more supple than its rivals.
The S3 also feels very classy inside with typically high-quality Audi fixtures and fittings and a reasonable specification. As standard, there are xenon headlights and LED daytime running lights, sports seats and sat nav, but if you want Audi's class-leading virtual cockpit you'll have to pay extra. Space is good for front seat passengers but not quite as generous in the rear. Overall, the S3 has a classy feel and this certainly sets it apart from many of its competitors.
Verdict 4/5
The Audi S3 is perhaps more of a very rapid junior executive express than a rip-snorting hot hatchback but it's none the worse for taking this approach. Those that are after ultimate driving thrills above all else might want to look elsewhere but for those who are looking for a fast, practical and stylish car with a depth and range of ability, the S3 makes a lot of sense.