2020 Audi Q4 e-tron electric SUV nears launch
Audi's second e-tron model will be heavily based on the Volkswagen ID.4
Q4 e-tron spied
Shares platform with other VW Group electric cars
On sale in 2021
The Audi Q4 e-tron, the company's third fully electric model, has been spotted in camouflage ahead of its upcoming launch. It's smaller than the Audi e-tron and e-tron Sportback pair, and will be a more upmarket alternative to the mechanically similar Volkswagen ID.4 and Skoda Enyaq.
As it's a similar size to the Audi Q3, we expect the Q4 e-tron to be a big seller for the German brand. Prices should start from around £35,000-£40,000, while the Volvo XC40 Recharge and the confirmed BMW iX1 will be the Q4 e-tron's main rivals. There'll also be an Audi Q4 e-tron Sportback, with a more svelte coupe look.
The best electric cars to buy now
In some respects, the Q4 e-tron SUV will look quite conventional, with a mostly flat window line, a square front end and a rear windscreen that's not steeply raked. Visual interest will come from newly shaped headlights - configurable Matrix LED ones on top-spec cars - and intricate tail-lights. The grille will be closed to aid efficiency and there won't be any exhaust pipes. As is common across the entire Audi range, a Black Edition will be launched with a styling pack that swaps chrome trim for black.
The interior of the concept is likely to be replaced by the architecture in the latest Audi A3. A Virtual Cockpit instrument cluster will be standard, alongside a large touchscreen mounted in the centre of the dashboard - above a row of physical climate control buttons and a small gear selector.
The Q4 e-tron SUV will use the VW Group's dedicated MEB platform for electric cars, just like the Volkswagen ID.3 hatchback. This chassis keeps the batteries and electric motors low for improved dynamics and will provide the foundation for myriad EVs in the future. Thanks to its compact powertrain, Audi should be able to give the Q4 e-tron interior space to rival the Audi Q5 from the class above.
It will be available with an 82kWh battery pack (smaller sizes will be offered for a lower price), which is the largest one currently compatible with VW's electric vehicle platform. It offers 'over' 280 miles on a charge (measured on the stricter WLTP test cycle), and is part of a powertrain that produces 302bhp. Audi says this means a 0-62mph time of 6.3 seconds. When hooked up to a 125kW charger, the Q4 e-tron can charge to 80% capacity in just half an hour.
Audi is also developing an e-tron GT flagship to rival the Tesla Model S, and having access to the MEB platform suggests an electric model the size of the A3 hatchback will be introduced in the next few years. This platform is also likely to underpin an electric Audi TT, if that is put into production.
Read our guide to the best electric SUVs on the market.
Car dashboard warning lights: the complete guide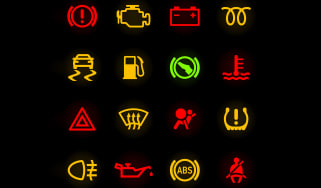 Car dashboard warning lights: the complete guide
Best small SUVs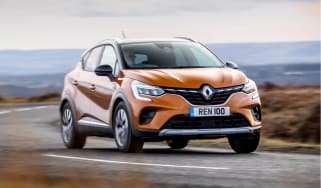 Best new car deals 2021