New 2020 Renault Clio: E-Tech hybrid model starts at £19,595
Renault Clio E-Tech offers significant economy improvement compared with pure petrol models
Latest Clio brings extra style and technology
On sale now
Hybrid version prioritises battery power below 38mph
The Renault Clio E-Tech hybrid is now on sale. It's more expensive than equivalent petrol or diesel models but promises diesel-like fuel efficiency and the quickest acceleration out of any Clio. The hybrid powertrain is available in all four main trims, plus there's an exclusive Launch Edition model with more kit than you'd expect for a supermini.
Few cars this size currently offer a hybrid version and, at £19,595, the Clio's starting price is a whisker cheaper than the outgoing Toyota Yaris Hybrid. The cheapest Clio E-Tech is also a similar price to a high-spec Ford Fiesta, Peugeot 208 or SEAT Ibiza.
2020 Renault Clio E-Tech hybrid model
Renault has revealed more details of the Clio E-Tech hybrid. The company says that up to 80% of urban driving can be done using the electric motor alone, which is said to represent a 40% fuel consumption reduction compared to a conventional petrol engine. The Clio E-Tech can return 64.2mpg and emissions of just 98g/km, so it's an excellent alternative to the 84bhp 1.5-litre diesel engine.
The electric motor is used to start the car every time you turn on the ignition, and the Clio hybrid can travel at up to 38mph on electric power. Mated to the powertrain is a clutchless gearbox with a similar design to the one on the Renault Formula 1 car, which is said to reduce the time between gear changes.
The hybrid Clio uses a 1.6-litre petrol engine and a 1.2kWh battery but, unlike the hybrid version of the Renault Captur, the latter can't be recharged through the mains. You'll struggle to notice the extra weight of the hybrid system, as the Clio E-Tech only weighs 10kg more than the diesel model. From the outside, the hybrid is recognisable by flashes of blue on the grille and bodywork.
While the electrified Clio offers similar economy to the diesel, acceleration should be much punchier. It's the most powerful Clio available, with 138bhp, and the electric motor's torque is said to dramatically improve acceleration from 50-75mph.
Prices and specifications
The trim levels broadly match those available for the outgoing Clio, with entry-level Play starting the range. It features more equipment than before, with LED headlights, air conditioning, cruise control, Bluetooth and DAB radio all included. Contributing to its five-star Euro NCAP safety rating, all Clios get lane-keeping assistance, autonomous emergency braking and traffic sign recognition.
The Iconic model adds a much bigger infotainment screen with Apple CarPlay, Android Auto and sat nav. LED front fog lights, tinted rear windows, rear parking sensors, keyless entry and a leather steering wheel are included too.
The S Edition trim comes with a digital instrument cluster, an even larger 9.3-inch portrait infotainment system, climate control, auto headlights and wipers, reversing camera and electric rear windows. Top of the tree is R.S. Line, a sporty-looking trim that's a rebrand of the old GT Line. As well as a bodykit and different wheels, it adds a rear-view camera, front parking sensors and interior accents.
A Launch Edition version comes with an electric parking brake and the seven-inch digital instrument display. An optional Tech Pack adds a 360-degree camera, hands-free parking and wireless phone charging.
Engines
The Clio engine range kicks off with a three-cylinder 1.0-litre petrol serving up 74bhp (available on Play and Iconic), followed by a turbocharged TCe version with 99bhp. Both come with a five-speed manual gearbox, and Renault's X-tronic CVT automatic will also be offered for the more powerful version from later this year.
Sitting at the top of the petrol range will be a new 1.3-litre TCe 130 engine that produces 129bhp and comes exclusively with a seven-speed dual-clutch automatic. It's only available on the S Edition and R.S. Line trim levels, and has previously featured on the Renault Megane and Renault Kadjar. Customers after a diesel engine will be catered for with an 84bhp 1.5-litre Blue dCi with and a six-speed manual.
The latest Clio weighs significantly less than the current model, with the lightest version coming in at just 1,042kg. Such a big reduction results in noticeable performance and fuel-efficiency gains, with Renault claiming up to 67.2mpg for the diesel engine under the new WLTP efficiency test. Even the TCe 100 petrol is said to return 54.3mpg, while the TCe 130 claims almost 50mpg.
However, an all-electric version of the Renault Clio isn't expected to take on the Peugeot e-208. Instead, development of an all-new Renault ZOE EV is already underway to satisfy electric supermini demand. The Renault Captur SUV, which is based on the Clio, will be offered with a plug-in hybrid option, giving buyers another choice in addition to the hybrid Clio and all-electric ZOE.
With the last iteration of the Clio selling better every year it was on sale - and becoming Europe's best-selling supermini - the pressure has been on Renault to make it even better in this new guise. But, with design cited as the reason most buyers chose the Mk4 Clio, Renault has chosen to carefully evolve its looks, without any dramatic changes. Its nose is still clearly recognisable, but gets updates including LED headlights and daytime running lights that more closely align it with the Renault Megane. Its bonnet now has strakes pressed into the panel for a more upmarket look, and there are subtle gills behind the front wheel arches.
Instead, the focus has been inside, as it feels much more upmarket than before. Top-spec models get a new infotainment system with a 9.3-inch display, giving the Clio a larger screen than many much bigger, more expensive cars. For a sporty feel, the portrait screen is angled towards the driver and slightly curved. The steering wheel has been made slightly smaller for greater driver comfort, freeing up around 15mm of knee room.
Practicality gets a boost, with an increase in luggage room to 330 litres. There's also a variable-height floor, so if you don't mind having to lift items over the boot lip, the boot bottom can be lowered to offer up to 391 litres in petrol models - putting it ahead of the bigger Volkswagen Golf's 380-litre boot. Diesel models have a slightly smaller boot due to the AdBlue tank.
If you're interested in the Renault Clio as a potential company car, take a look at our favourite small company cars list to see what else is worth considering.
Best small cars and superminis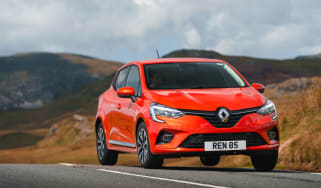 Best small cars and superminis
Peugeot 208 vs Renault Clio vs Ford Fiesta: rivals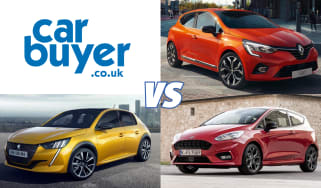 Peugeot 208 vs Renault Clio vs Ford Fiesta: rivals
Cupra Formentor SUV review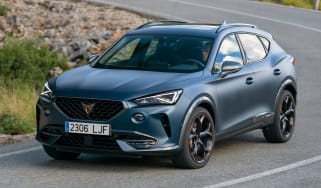 Cupra Formentor SUV review
2020 Volkswagen ID.3 hatchback: base model starts at under £30k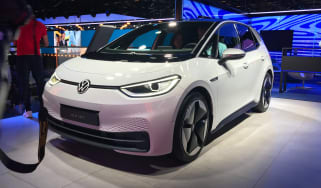 2020 Volkswagen ID.3 hatchback: base model starts at under £30k
Audi Q8 gains plug-in hybrid versions with 28-mile electric range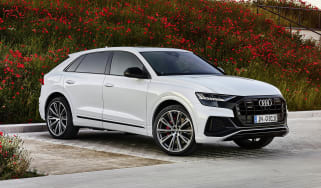 Audi Q8 gains plug-in hybrid versions with 28-mile electric range