New Peugeot 508 HYbrid pre-production car review
We've sampled the plug-in hybrid version of the new Peugeot 508 before it goes on sale in autumn 2019
2019 is set to be an important year for Peugeot, as the company introduces electrified models across its range. The newly revealed 208 hatchback will be available as a purely electric car with over 200 miles of range, and it'll be followed into the showrooms by the Peugeot 508 HYbrid.
Although just a prototype at this moment, the 508 HYbrid introduces a powertrain that'll be used throughout Peugeot's larger cars. The hybrid looks promising, with some electric-only range and a punchy petrol engine that, when put together with an electric motor, should satisfy keen drivers and their bank accounts.
Electric Peugeot e-208 revealed
With sweet handling and only a negligible decrease in practicality, will the Peugeot 508 HYbrid be a hit or a miss?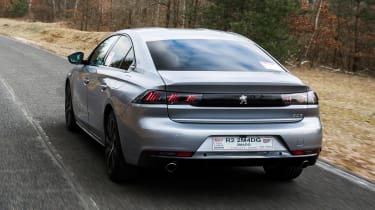 New Peugeot 508 HYbrid engines
There's only one engine available in the 508 hybrid; a 1.6-litre turbocharged petrol engine kicking out a healthy 177bhp. Even with the extra added weight of the hybrid system, it still manages 0-62mph in a smidge over eight seconds - plenty fast enough for most drivers.
The hybrid brings the benefits of improved fuel economy (Peugeot claims 107mpg combined) and the ability to run on electric power alone for short distances. Although a range of between 25 and 30 miles isn't quite as impressive as we might have hoped, it should allow many people to commute to and from work silently and emission-free. CO2 emissions of just 42g/km make it perfect for company-car drivers, as it falls into the 16% BiK bracket.
The transition between petrol and electric is almost seamless, although we did find that the 508's acceleration was sometimes blunted by the eight-speed automatic gearbox. Peugeot's engineers assured us that this is an aspect that's still being finessed before the car goes on sale, so we expect the production version to be a lot smoother.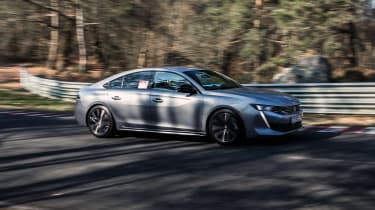 Handling
You'll barely notice the extra weight of the electric motor, as Peugeot has worked hard to ensure the 508 HYbrid is just as good to drive as the standard model. By twiddling through the driving modes, you can either choose to prioritise comfort, sportiness or a setting that's somewhere in the middle.
In the sportiest setting, the car's fun side is unleashed and it feels sharper than many alternatives - no doubt helped by the standard adaptive suspension, variable steering weight and Peugeot's quirky small steering wheel.
To maximise fuel economy, the car can recoup the energy lost during braking; it's easy to get used to and will become second nature quickly. We found the brake pedal to be a little vague, which can make it difficult to brake smoothly, but it's a similar story with most PHEV cars and it could be sorted by engineers before the 508 hybrid goes on sale.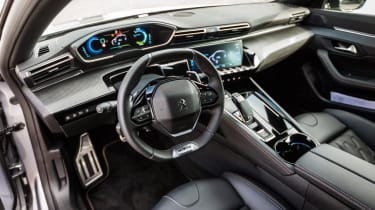 Interior and practicality
The hybrid system does take up extra space, as it's a combination of an engine and electric motor, but Peugeot has worked hard to reduce its impact. The result is exactly the same amount of legroom for rear-seat passengers - even tall passengers will have plenty of room - and only a very small decrease in boot space. With 457 litres of space at your disposal in the hybrid saloon, it's unlikely you'll notice the 30 litres lost to the petrol or diesel versions. There's even a dedicated place to store the charging cable.
Peugeot's interiors are all very stylish and the 508 HYbrid is no exception. Besides a couple of extra buttons and efficiency information screens, the interior is unchanged in the hybrid version. All trim levels get a crisp central touchscreen and eye-catching driver's display in place of analogue dials, plus dual-zone climate control, auto headlights, sat nav and smartphone mirroring.
Verdict: 4/5
The Peugeot 508 HYbrid looks set to be a very interesting and potentially strong choice if you're after a sporty yet efficient car. We will of course reserve final judgement for the full production model and when we see the car's price - much will depend on whether the 508 HYbrid represents good value for money next to its main rivals. If it costs significantly less than the BMW 3 Series and Mercedes C-Class hybrid models, then it should make plenty of sense.
Read our review of the standard Peugeot 508 here, or see where it features on our list of best large family cars.