New Ford scrappage scheme announced with £2,000 discount
Until September, you can trade in an older car for a new Ford under its latest scrappage scheme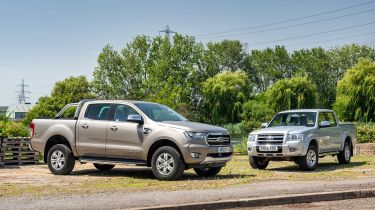 Ford has launched a 2019 scrappage scheme, offering money off a new car if you trade in an older model. Running from July to the end of September, Ford will give a discount of £2,000 if you buy a brand-new model.
Any car or van is eligible provided it was registered before 1 January 2013. Like previous scrappage schemes, your vehicle doesn't have to be a Ford to qualify. However, you must have owned the vehicle you're trading in for at least 90 days before you order a new car.
Read our review of the all-new Ford Focus ST
To be eligible for the £2,000 discount on a new model, you'll need to order the car you want before the end of September, and it needs to be registered before April 2020. That means you can still take advantage of the scrappage scheme if you want a new '20' registration plate.
Many, but not all, Ford models are eligible for the discount. The scrappage scheme isn't being rolled out on the Ford KA+, entry-level Ford Fiesta models, the Ford Mustang, or ST models (both the Ford Fiesta ST and Ford Focus ST). The Ford Fiesta is one of our Carbuyer Best Buys, and is the UK's best-selling car.
You can claim the £2,000 (exc. VAT) discount if you are buying any Ford commercial vehicle besides the Transit Connect and the Ranger Raptor.
The company says its latest scrappage scheme is to replace older, less fuel-efficient cars with cleaner vehicles. During the last scheme, Ford says it took thousands of vehicles off UK roads and replaced them with newer cars that are more efficient. Vehicles classed as 'historic' by the DVLA are not automatically scrapped but Ford will provide a Certificate of Destruction for any other vehicle.
"Our last Ford scrappage scheme saw 25,500 customers trade in their older vehicles for Ford models equipped with our latest emissions and fuel-efficiency technologies, contributing to reducing CO2 and other emissions on UK roads," said Ford of Britain's managing director, Andy Barratt. "We expect our new Ford scrappage scheme that we're launching to also have a positive impact on the environment."
Read more of our Carbuyer Best Buys here.