Carbuyer Best Buys: the best new cars to buy now
The Carbuyer Best Buys are the new cars we recommend in key areas of the market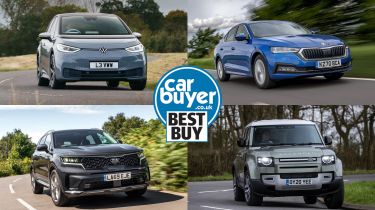 If you want to know which new car to buy, you've come to the right place. The Carbuyer Best Buys are the best new cars on the market today in each of the most popular market sectors. Below you'll find out which cars we recommend right now from the smallest city runabouts to hatchbacks, estates, electric cars, and family-sized SUVs.
At Carbuyer we're dedicated to evaluating every new car on sale against its core rivals so that we can guide you in your car buying decisions. Only the very best cars of each type are awarded Carbuyer Best Buy status. Sometimes there will be more than one Best Buy in a particular class because different models excel when it comes to catering for different customer requirements, sometimes no model will be deemed worthy of the Best Buy tag - only the finest cars on sale will qualify.
What you can be certain of is that every car that achieves Carbuyer Best Buy status is at the pinnacle of its class and represents a great all-round purchase in terms of its design, practicality, running costs, safety, performance, handling and more.
Unlike our annual Best Car Award winners, the Carbuyer Best Buys are constantly re-evaluated as updates are made to model ranges and new cars emerge onto the market. The Best Buy title is awarded to a particular model but it will only retain the crown while it remains at the top of the class in the eyes of our experts.
On this page we'll run down the Carbuyer Best Buys providing links to our full in-depth reviews on each model and to our lists ranking the top 10 models in each market sector. If you're looking for a great new car, a Carbuyer Best Buy is a fine place to start.
Carbuyer Best Buys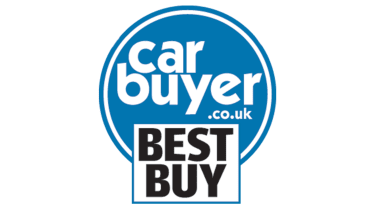 Best small cars
The affordability of small cars means they remain popular at a time when cars in every segment are generally getting bigger with each new generation. City cars and superminis try to deliver the maximum practicality for their size, as well as good economy, tech, style, running costs and build quality. The majority of buyers will spend most of their time driving these cars in urban areas but owners expect the cars to be reasonably refined and comfortable for the occasional motorway trip too.
The size and price of smaller cars means they tend to be aimed at younger buyers, and there is an expectation that they'll deliver a certain level of personalisation and a selection of options to make them seem a little more individual. Equipment like Apple CarPlay, Android Auto and a branded stereo system are becoming increasingly important selling points too.
If you're in the market for a small car, we think the cars below represent the Best Buys on the market. Click the links to read the full review on each model: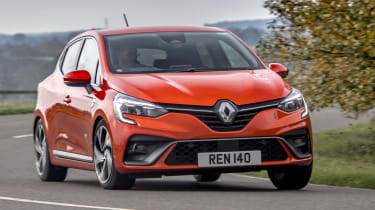 For more small car recommendations, check out our top 10 best city cars and top 10 best small cars guides.
Mid-size family car Best Buys
The mid-size family car class contains some of the most famous names in the car market precisely because this class of car is so popular with UK car buyers. If you're looking for a car to regularly carry rear seat passengers and significant amounts of luggage, these models are about as small as you can sensibly go. A family hatchback really can serve as the main car for a demanding family.
At the heart of the appeal the mid-size family hatch holds is the fact that the best models are genuine all-rounders. The class leaders remain accessible on price and cheap to run yet they offer the composed feel on the road of larger models married to advanced technology in terms of safety and infotainment, high quality interiors and an engaging driving experience.
The popularity of the family hatch fuels intense competition in the market with numerous mainstream and premium brands fielding competitors but a few models currently stand out and you'll find these Best Buys below. Click the links to read the full review on each model: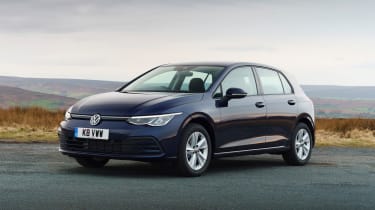 For more mid-size car recommendations, take a look at our top 10 best family cars and top 10 best small luxury cars guides.
Large family car Best Buys
The traditional option for car buyers who want a big car with ample capacity for family duties and comfort levels to help lengthy motorway journeys fly by, is the large family car.
The executive and compact executive models on this list are also big hitters in the company-car market. The family car Best Buys manage to deliver an upmarket feel, whether the badge on the nose is considered 'premium' or not. A practical but comfortable cabin is a must to succeed in this space and the feeling of space and refinement should extend from the front to the rear seat passengers. Engines that can cope with a fully loaded vehicle of this size and deliver smooth performance matched to good long distance economy are also needed.
There's a wide range of different models represented under the family car banner here, including estates and MPVs, which have both had their sales squeezed by the rise in popularity of the SUV. As a result we're seeing more adventurously styled models with more stylish silhouettes.
The pick of the large family car sector can be found in our Best Buys below. Click the links to read the full review on each model: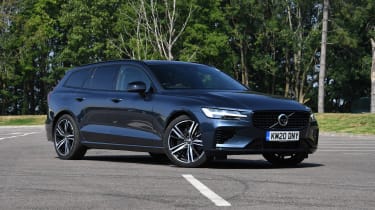 For more large family car recommendations, take a look at our top 10 best saloons, executive cars, large executive cars and large MPVs guides...
Luxury car Best Buys
The luxury car market is where the planet's most prestigious car brands show off what they can do when financial constraints are relaxed. For those with the budget, these models are the pinnacle of automotive transport with the latest technology and engineering designed to keep occupants in the manner to which they are accustomed. These days, a luxury car isn't necessarily a big, imposing saloon. Luxury SUVs also increasingly slot into this market, just as they've edged their way into other traditional sectors over recent years.
What hasn't changed is that our luxury car Best Buys have to break new ground in terms of their safety and infotainment technology and be constructed to the highest standards using top class materials. They also have to serve up a beautifully refined and composed driving experience, whether it's the owner or their chauffeur at the wheel.
We pick out our luxury car Best Buys below. Click the links to read the full review on each model: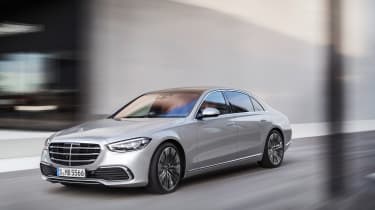 For more luxury car recommendations, take a look at our top 10 best luxury car guides...
Small SUV Best Buys
Small SUVs have been a huge growth area in the car market in recent years with buyers proving ever more willing to swap their superminis and city cars for something a little taller and chunkier to better cope in the urban jungle.
As with SUVs generally, a key part of the appeal of the more compact models is the elevated driving position that affords a clearer view out for maneuvering the car and threading it down crowded streets. The higher ride height also lifts the bodywork clear of obstacles like raised kerbs and cuts the risk of grounding out on speed humps. Of course, some may actually want to drive their small SUVs off road and while the majority are front-wheel drive, there are 4x4 variants that can do the job.
Here are the top small SUVs on sale as we see it. Click the links to read the full review on each model: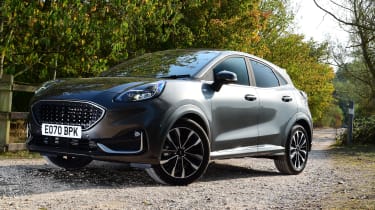 For more small SUV recommendations, take a look at our top 10 best small SUVs and crossovers guide
Mid-size SUV Best Buys
Mid-size SUVs are now the go-to family car choice for many buyers. Similar in size to traditional family hatchbacks, these mid-sized models can do it all at a relatively affordable price.
You'll pay a little more for an SUV than for an equivalent hatch but gain the easier access and improved visibility that have been the cornerstone of the SUV's success. The best mid-sized models must beat a huge array of competition with almost every mainstream car brand, and many premium ones, offering an option in this market.
The Best Buys need to be roomy enough for four adults and a good amount of luggage and deliver a good on-road driving experience wit little of the roll and bounce that can afflict SUV-style models. Smart styling and a good quality interior with a good user interface are also on the wish list. Our pick of the Best Buys in the mid-sized SUV class are below. Click the links to read the full review on each model: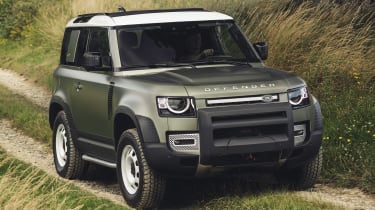 For more mid-size SUV recommendations, take a look at our best 4x4s and best mid-size SUV guides.
Large SUV Best Buys
Large SUVs tend to represent the ultimate in family transport thanks to a combination of vast interior space, powerful engines and plenty of equipment. Many of the cars in this class are big enough to accommodate seven occupants when required, and several of them cocoon those passengers in a luxurious cabin finished in high-quality materials. While large estate cars are viable alternatives to some of the mid-size SUVs, the only way to get the same space on offer from a large SUV is to buy one of the biggest MPVs.
Generally, large SUVs are quite expensive to buy, so there is an expectation that they'll offer some semblance of style to match the space on offer. Refinement and comfort is generally important too, as is a powerful engine capable of moving the significant weight of a large SUV. Outright performance is less of an issue, but economy and practicality are also not to be overlooked by manufacturers producing cars to compete in this class.
Our best buys listed below offer a blend of all these qualities. Click the links to read the full review on each model: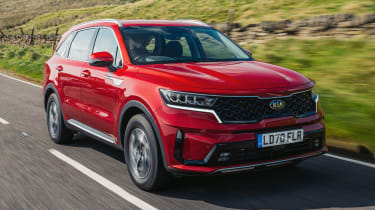 For more large SUV recommendations, take a look at our top 10 best large SUVs guide.
Pickup truck Best Buys
Pickup trucks haven't traditionally sold in large numbers in the UK but sales have been increasing as they've become less utilitarian and more comfortable. Usually the preserve of tradesmen and farmers, pickups are now being considered by family buyers who want a combination of space, practicality, towing ability and the large one-tonne carrying capacity provided by the large loading bay.
The best pickups are the ones that manage to mix the above qualities with more civilised, car-like handling and good value for money. Our best buys will exist as workhorses, family cars and alternatives to large SUVs in one package.
Here are our favourite pickups on sale. Click the links to read the full review on each model: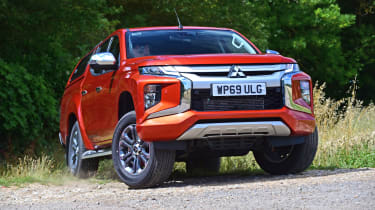 For more pickup truck recommendations, take a look at our top 10 best pickups guide
Convertible, sports and performance car Best Buys
Car buyers lucky enough to be able to direct their budget at a car designed primarily to look good and go fast are in a fortunate position and there's a huge array of choice out there.
For the purposes of our Best Buys list we group a number of car types together, with performance cars, sports cars, hot hatches and convertibles all residing under this subhead. More than any other Best Buy category, here we're concerned with the way the cars make you feel. Whether it's a luxurious 4-seat cabriolet or a finely honed performance coupe, we're looking for cars with a sense of occasion, an involving driving experience, exhilarating performance or some combination of all three. Of course, once those boxes are ticked we still want strong safety credentials, a high quality, user friendly interior and value for money. The bar is set high.
Below are our Best Buys in the convertible, sports and performance car markets. Click the links to read the full review on each model: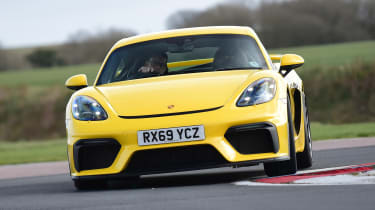 For more convertible, sports and performance car recommendations, check out our top 10 hot hatches, sports cars and convertibles guide.
Engine management light: top 5 causes of amber engine warning light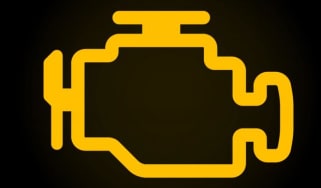 Engine management light: top 5 causes of amber engine warning light
Top 10 best electric SUVs 2022
Top 10 best electric SUVs 2022
Top 10 cheapest electric cars 2022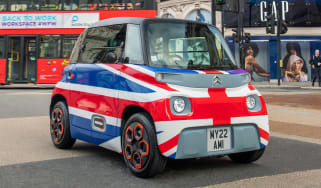 Top 10 cheapest electric cars 2022