Jaguar I-Pace update adds extra range
Software changes for Jaguar I-Pace improve battery performance and range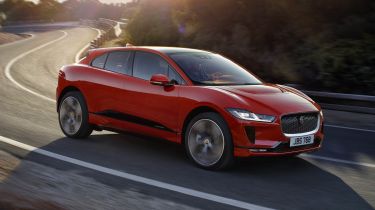 Jaguar I-Pace benefits from a host of efficiency improvementsOfficial WLTP range unchanged but real-world gain of 12 milesExisting owners need to take cars to dealers for upgrade
A software update for the Jaguar I-Pace SUV means customers should now see a little extra range between charges. After gathering real-world driving data from I-Paces, Jaguar has made a few improvements to make its first fully electric car as efficient as possible. You can expect up to 12 extra miles of range on a full charge, depending on your driving style, although the official quoted WLTP range is unchanged at 292 miles.
Part of the improved real-world range potential is down to tweaks to the regenerative braking system, which harvests energy usually lost in braking to recharge the car's battery. The level of energy recuperation has been increased with the update, so less energy is wasted and the battery gains more charge. The algorithm that predicts your remaining range has been reworked, too, to make it more accurate.
The best hybrid and electric sports cars to buy now
Jaguar has also used its I-Pace eTrophy racing series to hone the road-going version. The car's torque vectoring system (that shifts some of the power between the front and rear wheels) has been changed to improve efficiency in 'Eco' mode, while still providing all-wheel-drive traction.
There are vanes in the radiator that can close and open when the battery needs cooling, and these will now be closed more often thanks to improvements in temperature management; the car is more aerodynamic as a result. The battery can now also run at a lower state of charge than before.
You'll need to take your I-Pace to a Jaguar dealership to get the complimentary upgrade, which also improves future over-the-air software updates.
The I-Pace uses a 90kWh lithium-ion battery, which lets it sprint from 0-62mph in 4.5 seconds. Fast-charging capability is included, and the I-Pace can recharge from 0-80% in 40 minutes, or in around 10 hours from a 7kW AC wallbox.
The I-Pace is a rival to other electric premium SUVs like the Tesla Model X, Audi e-tron and Mercedes EQC, and starts at £60,995 after the Government's £3,500 plug-in car grant (PiCG).
See where the Jaguar I-Pace ranks on our lists of the best company cars and best electric cars you can currently buy.