Second Vauxhall Grandland X plug-in hybrid to join range
New Vauxhall Grandland X PHEV has a 34-mile electric range and a price of £32,390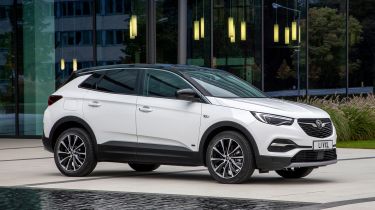 Front-wheel-drive hybrid version will join line-up next year
On sale in the spring
Costs less than the four-wheel drive version
A new Vauxhall Grandland X plug-in hybrid (PHEV) model is set to be added to the range next year. There's already a PHEV model of the Grandland X available but this second one will only have one electric motor, meaning slightly less power, front-wheel drive and a lower starting price. When it reaches showrooms in April 2020, it'll start from £32,390.
That price undercuts the £36,790 asked for the four-wheel-drive hybrid model, which has a more powerful engine and an extra motor. The new version has an electric motor on the front axle, plus a 178bhp 1.6-litre turbocharged petrol engine under its bonnet. Total power output stands at 222bhp and 0-62mph takes 8.6 seconds, compared with 296bhp and 0-62mph in seven seconds for the four-wheel-drive Grandland X Hybrid4.
The best hybrid SUV to buy now
For most buyers, the performance of the new 222bhp version should be plenty, as will the car's range. With up to 34 miles of electric-only running promised, the new model only manages one fewer mile on battery power than the Hybrid4. Its efficiency figures stand at 192mpg and 35g/km of CO2, which are down on the 204mpg and 34g/km for the Hybrid4. As with all plug-in hybrids, you're more likely to see better fuel economy figures if you keep the battery topped up and mainly drive in low-speed and urban areas.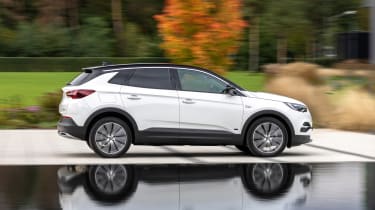 Both plug-in hybrid versions of the Vauxhall Grandland X use the same 13.2kWh battery and eight-speed automatic gearbox, and both offer regenerative braking to recharge the battery with energy that would otherwise be lost. Three driving modes are offered - Hybrid, Electric and Sport - and these tell the car when to use electric or petrol power, or a combination of both.
A 3.7kW charger is fitted as standard, but a 7.4kW charger is available as an option. With the latter, the battery can be topped up in around two hours. Vauxhall has positioned the battery under the rear seats to stop it from encroaching on boot and rear-seat space.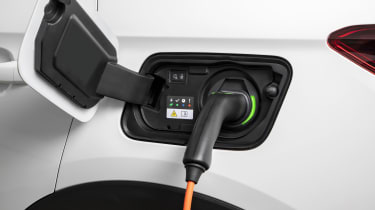 Vauxhall is planning to offer electrified options on every model in its range by 2024, including its commercial vehicle range.
Read our Vauxhall Grandland X review, or see how it compares to its rivals on our list of best medium-size and family SUVs on sale.