2022 Vauxhall Insignia to get new crossover styling
The new Vauxhall Insignia will get a major redesign as a crossover in 2022, and our exclusive images preview how it could look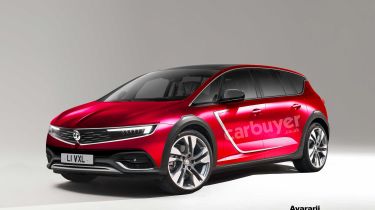 • Insignia to move away from swoopy hatchback styling
• New platform and engines due
• Set to feature more technology than current model
The next-generation Vauxhall Insignia could be reinvented with a radical redesign in 2022. In a dramatic departure from the current hatchback model, it's thought the British manufacturer could take a completely new direction with the next-generation Insignia becoming a high-riding crossover. Our exclusive images preview how it could look.
With sales of family hatchbacks and saloons suffering as a result of the SUV boom, Vauxhall is looking to capitalise by totally reinventing the Insignia as a crossover model to widen its appeal to the current customer demand for SUVs. The new car is likely to be a halfway point between an SUV and an MPV.
The best large family cars to buy now
Rather than being a seven seater, we expect the new Insignia to focus on providing plenty of interior space for five occupants. It'll share the same platform as the current Peugeot 508 SW estate but will be both taller and longer in size with a more premium interior.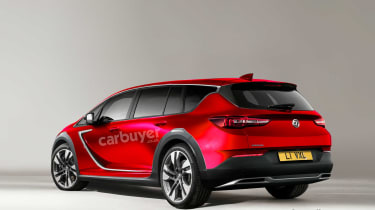 "The industry is asking what happens after the SUV," Vauxhall boss Stephen Norman told our sister site Auto Express. "And we think the new Insignia will be it. It's the biggest metamorphosis of what we've seen so far from Vauxhall."
The 2022 Vauxhall Insignia will switch to a new platform and new engines, which are borrowed from its current PSA Group owners. This means it'll use many of the same engines as the Peugeot 308, Citroen C5 Aircross and DS 7 Crossback. We expect the current 1.5-litre BlueHDi diesel and 1.6-litre PureTech petrol engines to feature, and there'll be at least one plug-in hybrid version; the Vauxhall Grandland X has just gained its second plug-in hybrid model. An electric model is likely, given that the next Vauxhall Mokka X is thought to be an EV.
In the last few days, the PSA Group has agreed a merger with Fiat Chrysler Automobiles (FCA), so the Insignia could also benefit from engines and technology from various Jeep, Alfa Romeo and Fiat models.
Vauxhall will give the new Insignia plenty of state-of-the-art technology, especially if it plans to make the car feel more premium. This will include plenty of active safety features and it could even come with a level of self-driving technology.
With the projected demise of traditional family saloons and hatchbacks, Vauxhall isn't the only manufacturer eyeing up a complete body style change. We've heard that the next Ford Mondeo may also be redesigned as a high-riding family SUV.
Read our guides to the best diesel cars and best tow cars to see how the current Insignia compares to its rivals.