Porsche 911 now offered with manual gearbox
The Porsche 911 Carrera S and Carrera 4S get a choice of gearboxes and new options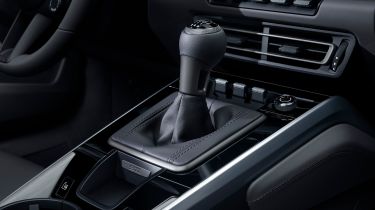 Seven-speed manual gearbox is a no-cost option
Slightly slower acceleration compared to automatic
New paint colours and options added
You can now order selected Porsche 911 models with a seven-speed manual gearbox. The new gearbox is available on the 444bhp Carrera S and Carrera 4S versions, and can be ordered at no extra cost instead of the standard eight-speed PDK automatic.
Seven-speed manual gearboxes are rare; besides the Aston Martin Vantage AMR revealed in 2019, few cars have ever had one. The 911's main rivals - including the Jaguar F-Type, BMW 8 Series and Lexus LC - only come with automatic gearboxes. Adding a manual gearbox will please purists, but it's still likely to be a niche choice given how good the automatic is.
Best sports cars to buy this year
Porsche 911s with a manual gearbox also get the Sport Chrono package as standard, which includes rev-matching, four driving modes, a limited-slip differential, a torque vectoring system and dynamic engine mounts. The manual gearbox is 45kg lighter than the automatic, but manual cars are half a second slower from 0-62mph, taking 4.2 seconds instead of 3.7. The car's top speed of 191mph is unchanged.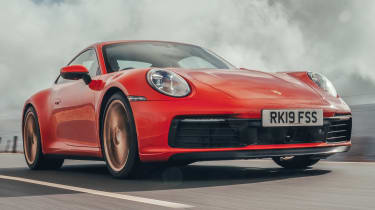 In updating the 911 for 2020, Porsche has also added new optional extras. You can now spec lightweight insulating glass, an extended ambient lighting package (£354), a unique '930' leather package (£926) and a striking Python Green paint colour (£1,919).
Porsche's InnoDrive adaptive cruise control system can be ordered on the 911 for the first time on models with the eight-speed auto. The £1,818 optional extra scans the road and navigation data for up to a mile ahead of the car, and it can then set the driving speed for you - slowing down for roundabouts and speed limit zones. There's also a new nose-lifting system called Smartlift for £1,709, which raises the front end to go over speed bumps. It saves speed bump locations, and can automatically adjust the nose height next time you travel the same way.
Read our guides to the best drivers' cars and the best supercars.