2021 Kia electric coupe-SUV flagship model in development
New Kia EV crossover said to rival Porsche Taycan for performance
New Kia SUV spied for the first time
Hot version could be fastest Kia ever
Kia plans to offer 11 electric cars by 2025
Kia is developing a flagship electric SUV and it's been spotted in camouflage for the first time. The car will be influenced by two previous Kia concept cars and should be capable of 300 miles of range. As it looks to be in the early stages of development, we'd expect to see the as-yet-unnamed car revealed in 2021.
The test car in the pictures is heavily disguised by extensive cladding but the lack of exhaust pipes and the car's aerodynamic wheels suggest it's electric. A sloping bonnet and steeply raked rear windscreen will give it a sporty four-door look, similar to our exclusive images, but it'll also get the higher ground clearance and black plastic trim of an SUV. It's a combination we've recently seen on the Polestar 2 EV, while the spy shots show that the Kia will be taller than a Tesla Model 3.
All the cars coming in 2021 and beyond
The car, named 'Kia CV' internally, will be the brand's halo model and will sit on a new E-GMP platform, which it'll share with the recently spotted Hyundai 45 electric SUV. This scalable platform will be the launchpad for a whole host of electric Kia models; the Korean brand is planning to have 11 EVs on sale in the next five years.
We're told the Kia CV (it'll have a different name by the time it reaches showrooms) will have a range of around 300 miles, which isn't too much more than the Kia e-Niro and Kia Soul EV. But the new model will feature 350kW fast-charging so that the large battery will be able to be topped up to 80% capacity in under 20 minutes.
The CV will also differ from Kia's current models when it comes to performance. Kia is targeting a 0-62mph time of under three seconds for the hottest version, which is comparable to the Porsche Taycan and Tesla Model X, and much faster than any production model Kia has ever produced.
The styling will be heavily influenced by the Kia Imagine concept, shown at the 2019 Geneva Motor Show. That car had a swooping coupe-style SUV look, and featured a striking front end with full-width LED daytime running lights. The roofline and rear light signature will be inspired by another Kia concept, the Futuron, with a prominent rear spoiler and lightbar combination.
When the Imagine concept was launched, Kia's then chief designer Luc Donkerwolke hinted that the production car wouldn't look too different. "I don't see anything that's really not feasible. There are some cost-related issues that have to be validated, but it hasn't been done by designers who don't understand how to build a car for production."
It's expected that hybrids and plug-in hybrids will continue to be part of Kia's strategy for a while yet. These, along with the electric models, are forecast to make up a quarter of Kia's sales by 2025 - even if the CV halo model makes up a very small part of that.
The Kia is unlikely to cost anywhere near as much as the Taycan or Model X. Carlos Lahoz, Kia Europe's marketing director, said: "It is important to make a statement. Every manufacturer needs a halo car that sets the pace for whatever is coming.
"We need to be faithful to our roots. We are mainstream. But why do consumers need to pay premium prices to get state-of-the-art technology?"
Read our reviews of Kia's current models here.
New Renault 5 electric car on sale by 2025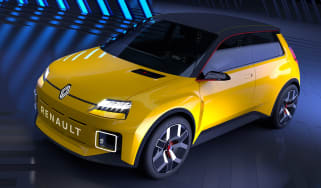 New Renault 5 electric car on sale by 2025
Best small SUVs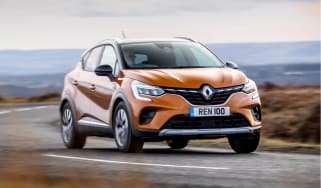 Best 4x4s and SUVs