New 2020 Hyundai Santa Fe range to feature two hybrid models
New Hyundai Santa Fe SUV will be on sale in September
Seven-seat SUV gets striking front end
Next-gen Santa Fe sits on new platform
Plug-in hybrid version coming later
The next-generation Hyundai Santa Fe SUV has been unveiled with eye-catching styling and several hybrid options. UK prices and specifications will be revealed in the next few weeks, with the car scheduled to go on sale in September 2020.
The Santa Fe is Hyundai's biggest SUV and a seven-seater to rival the Skoda Kodiaq, Kia Sorento, Land Rover Discovery Sport and Peugeot 5008. It currently starts from around £39,500, rising to £44,500, and we'd expect prices of the new model to stay roughly the same - although the hybrids may push the price up.
Best large SUVs to buy this year
2020 Hyundai Santa Fe styling
The new Santa Fe is not short of presence, thanks to an even bigger front grille and new T-shaped LED daytime running lights that run down between the headlights. The new grille and repositioned chrome accents tidy up the front end compared with the current model.
While the Santa Fe may sit on a brand-new platform, Hyundai has ensured the side and rear views look almost identical to the outgoing car. Look closely and you'll notice redesigned brake light clusters connected by a light bar and a full-width reflector under the tailgate. Twenty-inch alloy wheels are available for the first time.
Engines, fuel economy and performance
While the Hyundai Santa Fe is only available with a 197bhp 2.2-litre diesel engine at the moment, the new model will introduce both hybrid and plug-in hybrid (PHEV) options.
The hybrid pairs a 1.6-litre petrol engine with a 44.2kW electric motor and the two produce 227bhp. Choosing the plug-in hybrid means you get a more powerful 66.9kW motor and a much bigger 13.8kWh battery, with peak power of 261bhp. Performance and economy stats have yet to be revealed. The hybrid is available with either front- or four-wheel drive; the plug-in hybrid is four-wheel drive only but both get a six-speed automatic gearbox.
We'd expect the PHEV to offer around 35-40 miles of range and it should be available as a seven-seater. This engine will join the line-up in early 2021.
These engines will also be used in Kia's newly revealed Sorento. The two Korean manufacturers are partners, and both these SUVs will sit on an all-new platform that allows the introduction of electrified powertrains. This explains why Hyundai is replacing its flagship SUV only two years since it went on sale.
Interior and technology
The new Sorento has a wheelbase (the distance between front and rear wheels) that's 35mm longer than before, improving passenger space in all three rows.
We expected Hyundai to make the Santa Fe feel more upmarket inside and it seems to have delivered. If you taped over the badge on the steering wheel, you could easily be in a Mercedes GLC. Both screens - a 12.3-inch digital instrument display and a 10.25-inch touchscreen - are new, while there's extra soft-touch materials and a Terrain Mode selector for the first time. The positioning of the gear selector buttons suggests there won't be a manual version.
What does it mean for car buyers?
The availability of hybrid powertrains means the new Santa Fe will be more economical and cheaper to run than the current diesel-powered model, which returns little more than 40mpg. Hyundai will also upgrade the interior and technology, and it should be even more practical too. If you're wanting to buy a brand-new Santa Fe we'd suggest waiting until the new model is revealed in September, but there should be great discounts on pre-registered models in the meantime.
Read our guide to the best used 7-seaters.
"Plug-in hybrids don't add up"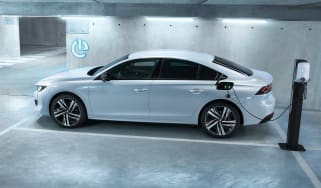 "Plug-in hybrids don't add up"
New 2020 Hyundai Santa Fe due in September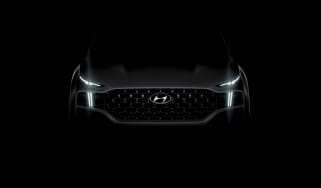 New 2020 Hyundai Santa Fe due in September
Best 4x4s and SUVs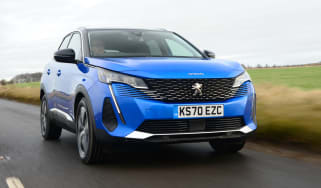 2021 scrappage schemes: the complete guide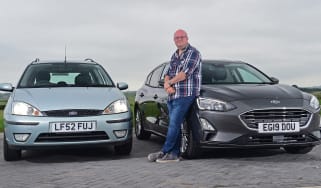 2021 scrappage schemes: the complete guide
Best new car deals 2021