Volkswagen Polo Moda
Moda is Volkswagen's attempt to make the Polo more appealing to younger buyers, but it doesn't go far enough and has a limited choice of engines.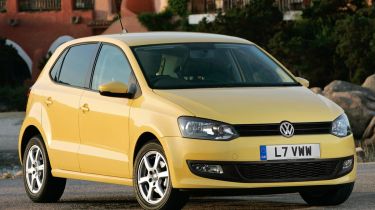 The VW Polo is the most sensible small car you can buy, but for some buyers that works against it rather than in its favour. Younger buyers prefer Vauxhall Corsas, Peugeot 207s or, if the budget will stretch, MINIs. They see the Polo as too staid and dull. Moda is Volkswagen's effort to try to persuade them otherwise. It has glovebox-mounted iPod and USB connectors, a six-speaker stereo, tinted rear windows and 15-inch alloy wheels. There's matt chrome on the air vents, gearlever, door handles and handbrake. Front foglights, remote central locking and powered heated door mirrors are also part of the package. Prices are identical to those of the equivalent Polo SE. Which is fine as far as it goes, but it doesn't go far enough. No attempt has been made to dress up the conservative styling of the car. The suspension remains perfectly standard, and the only engines on offer are the 59bhp and 69bhp 1.2-litre three-cylinder units. We can't help feeling that VW has missed a trick.
Good points
The limited choice of low-powered engines on offer at least means the Polo Moda overcomes one of the major issues often faced by young drivers: insurance. The 59bhp version sits in insurance Group 4, while the 69bhp alternative is only one band higher. There'll be no four-figure quotes when trying to insure this car. Other running costs are equally low, and the Moda enjoys the Polo's class-leading secondhand values. Other strengths are space, quality and safety – electronic stability control is standard, although side curtain airbags are only options. The engines produce an endearing thrummy noise when revved, so they sound livelier than they really are, while the absence of firmer, sportier suspension at least guarantees a comfortable ride.
Bad points
We can't help feeling the Polo Moda is out of tune with its intended market. It needs to look a bit more aggressive, have firmer, sportier suspension and offer something livelier than the two 1.2-litre engines that are all you've got to choose from. We don't see anything in it that will make younger drivers bypass the Corsa, 207 or MINI. To appeal to the buyers it is aimed at it ought to have Bluetooth as standard, too, and some easy-to-connect attachment for an aftermarket sat-nav. The engines are pretty feeble if we're honest, and although the car is easy to drive, it's never fun. It's a missed opportunity.
What you get
Alloy wheels
Folding rear seats
Passenger & Driver airbag
Front side airbags
Height adjustable driver's seat
Front electric windows
Single CD player
AUX stereo input
Rear electric windows
Recommended optional extras
Our choice
Go for the lesser-powered of the two 1.2-litre engines on offer. It's not much slower than the alternative and will save you nearly £700.