Used Ford Fiesta buying guide: 2002-08 (Mk6); 2008-13 (Mk7)
The Ford Fiesta has been a top-selling model for decades, so it's easy to get hold of this supermini
Sitting at the top of sales charts for more than four decades, the Ford Fiesta is Britain's best-loved car, so the chances are you've driven one, been a passenger in one or even owned one at some point.
With a huge variety offered over the years, the Fiesta is one of a handful of cars that appeals both to novice drivers and enthusiasts, thanks to its simple yet rewarding driving experience. Low running costs keep things affordable – even for the hot-hatchback versions – and there are three or five-door bodystyles to suit your preference.
In fact, with so many Fiestas available, finding one for a reasonable price shouldn't be difficult. The trade-off is that you'll need to strike any neglected cars off your list and be careful to spot Fiestas with a hidden past, whether you're buying a Mk6 or later Mk7.
Prices should range between £8,000 to £15,000 for a one-year-old Fiesta, while three-year-old versions are likely to be priced from £5,000 to £10,000. Visit our sister site BuyaCar for the latest used Ford Fiesta prices and deals.
Our used Ford Fiesta buying guide will give you the information needed to find the perfect Fiesta.
Used buying guide: Ford Fiesta Mk6
Ford Fiesta History
This Fiesta arriving in early 2002, treating fans of the model to the first genuinely all-new version since 1989. The Mk6 Fiesta had a more chiselled and boxy shape and came with a range of 1.3, 1.4 or 1.6-litre petrol engines, along with a single 1.4-litre diesel. While the car was new, the 1.3-litre engine was based on an old design, but a replacement came in the form of the 1.25-litre. With 16 valves, this was much peppier and more efficient.
By 2003, the popular Fiesta Flame and Fiesta Black special editions hit showrooms and in late 2004 a highly anticipated Fiesta ST hot hatchback arrived to satisfy driving enthusiasts. This was fitted with a tuned 2.0-litre Duratec petrol engine from the Ford Mondeo. Keen drivers with an eye on economy were best served by the 1.6-litre Zetec S, which arrived in early 2005.
Ford treated the Fiesta to a mid-life makeover in 2006, with a subtle interior and exterior refresh most easily spotted by clear headlights with raised indicators.
With Fiestas such a common sight, you might think they're a bit of a boring choice, but even the most sensible versions are a real surprise to drive, while the boxy shape helps practicality and frugal engines make the car cheap to run. There's also a huge supply of affordable parts and any Ford or independent garage should be able to work on the Fiesta.
Which is the best Ford Fiesta Mk6 for me?
Our advice is to choose the Fiesta based on your driving habits, as there are no real 'lemons' in the range. While the 1.3-litre petrol might not appeal to everyone, it does have its fans, thanks to it being unbelievably tough. If you are simply after a reliable workhorse, it could be the perfect choice.
If you are looking to travel further afield, the best option is the 1.25-litre petrol in Zetec trim, with electric front windows, alloy wheels and air-conditioning for added comfort and style. It's a great engine too, with a smooth and keen response making it feel bigger than it is.
For driving long distances nothing can beat the 1.4-litre diesel, with economy of around 60mpg and plenty of pulling power. Choose the Fiesta ST and you'll have a blast on country B roads, but be aware its short-ratio five-speed gearbox can make it a grind on the motorway and it's costly to run and insure.
Running costs
Pre-dating EU requirements to slash CO2 emissions and boost economy, the Mk6 Fiesta looks thirsty compared with the latest line-up. For example, the 1.25-litre petrol costs £150 in road tax each year, with 148 grams per kilometre of CO2, half as much again as the current 1.0-litre EcoBoost with 99g/km which is more powerful.
Choose the 1.4-litre petrol and you can expect economy in the mid-40s, with 153g/km of CO2 costing £190 annually, the same figures as the 1.6-litre. It's also worth noting both these engines are available with an automatic gearbox which makes these figures worse.
Unsurprisingly the ST hot hatch will hit your wallet hardest, with 33mpg and 177g/km of CO2 failing to impress even in 2004, along with a £240 annual tax bill.
The 1.4-litre diesel looks more contemporary, with over 60mpg possible and emissions of between 114 to 119g/km resulting in an annual tax bill cheaper than a restaurant meal.
Expect to service your Fiesta every 12 months or 12,500 miles, with costs between £150 for a normal service and £250 for a major service every third time.
What to look out for
The Mk6 Fiesta is a robust and well-designed car, so well cared for used Fiestas shouldn't be a cause for concern. Still, there are some quick precautions to double-check.
Ensure the front carpets and mats are not damp or mouldy as this could suggest a failed water seal or air-conditioning leak, which could lead to a range of issues.
On starting the engine, all warning lights should illuminate and then extinguish almost immediately. If the airbag, engine or any other warning lights stay lit, walk away or investigate further as you may be looking at significant repair costs.
Thinking of buying a three-door? Ensure the front seats tilt and slide forwards easily and smoothly as the mechanism is prone to failure.
During a test drive, listen carefully for creaks and groans as you drive over bumps, which can indicate worn front suspension drop-links.
Recalls
There have been just recalls for the Mk6 Fiesta, in March 2003, April 2005, August 2007 and November 2007. The first recall rectified an issue with a backplate in the rear brakes, while the second addressed a potential for the fuel return pipe to leak and the third and fourth resolved potential issues with the steering system. Check with Ford if the Fiesta you are looking has had these recalls addressed if it was built before December 2007.
Verdict
With so much choice available, cheap insurance and an abundance of parts and garages able to easily maintain the Mk6 Fiesta, it makes a huge amount of sense for used buyers. Not only that, but the fact the Fiesta is so fun to drive, must be a big part of the reason owners are so loyal to the marque.
Used buying guide: Ford Fiesta Mk7
General info
The Mk7 Ford Fiesta is being replaced in 2017 and has been incredibly successful since its 2008 arrival. Widely heralded as the best car in its class, it has also spent much of its life at the top of sales charts.
Not only did the Mk7 have sleeker looks than the Mk6, it was also more modern inside, and was the first Fiesta boasting a modern infotainment system. Sold in three or five-door body styles, most of the engines might have been transferred across from the Mk6, but in most other ways the Mk7 was a big step forwards.
Being such a popular model, lots of trims were made available, including: Studio, Style, Style+, Zetec, Zetec S, Titanium and ECOnetic. Despite reports there would never be another ST, Ford released a 180bhp hot hatch in 2012, and the Fiesta ST has been a runaway success in the motoring press and with customers.
Subtle styling updates and a new 1.0-litre three-cylinder turbocharged EcoBoost petrol arrived in 2013 to ensure the Fiesta stayed competitive amongst its many rivals.
Which is the best Ford Fiesta Mk7 for me?
There's something for everyone in the Fiesta range, but with so many available, it seems wise to avoid the basic Studio and Style trim levels. Engines perform well and the Fiesta is cheap to keep on the road, while also looking good and being a hoot to drive.
The 2013 facelifted 1.0-litre EcoBoost model in Zetec trim is a great performer and boasts 65.7mpg claimed economy. This figure might be hard to get in real-world driving, but its 99g/km CO2 emissions make it free from road tax.
If you're after great economy, the 1.6-litre TDCi diesel should also appeal, with up to 85.6mpg in ECOnetic guise, with impressive reliability. There's also a newer 1.5-litre diesel in later models, able to achieve 75mpg, and both are tax exempt.
Five-door Fiesta's are worth seeking out thanks to their extra practicality and desirability on the used car market. Early versions of the ST were three-door only, sacrificing easy access for style and performance, but a five-door version was added in 2016.
Running costs
Excellent fuel economy makes the Mk7 Fiesta light on the pocket, particularly when fitted with a tax-exempt engine with low emissions. It's worth noting that the 1.25, 1.4 and 1.6-litre found in early cars were a bit less efficient.
The 1.4-litre petrol is in the highest tax band, costing £190, while every diesel models is tax-exempt. EcoBoost 1.0-litre models are also free-to-tax, except for the top 138bhp version which will set you back just £20 each year. The EcoBoost can also return around 57 to 65mpg.
Choose a diesel and you should expect between 60 and 70mpg, and perhaps even more impressively, the sporty ST hot hatch can get 48mpg and costs only £135 annually to tax, much better figures than its predecessor.
Like the Mk6, servicing is annually or after 12,500 miles, depending on which is first. There are three levels of service, with minor, intermediate and major costing around £150, £200 and £250 respectively.
Most versions of the Fiesta are cheap to insure, but it goes without saying the ST is expensive for younger buyers, with serious performance.
What to look out for
It might be a highly-lauded car, but its extra complexity means a few problems have come to the surface.
Common issues to look out for include displaced door seals, which could lead to condensation or damp patches within the car. On a test drive, pay particular attention to the steering, which should operate silently and feel smooth and responsive, as some steering racks have worn prematurely.
Alloy wheels can be knocked out of shape by potholes, so pay attention to vibrations, particularly under braking and ensure every gear engages easily, especially first and reverse.
Lastly, check everything works, including the windscreen washer jets which are prone to getting blocked. Luckily, most of these issues are affordable to fix.
Recalls
The Mk7 Fiesta has been the subject of eight recalls and while this is a significant number, some only relate to a handful of vehicles. The first resolved the potential for fumes to enter the cabin. The second affected cars produced from 13 and 23 September 2011, addressing an issue with rear suspension bolts, while recall number three was for cars with a potential glow plug fault built between 1 January 2010 and 31 December 2011.
A concern rear seatbelt buckles could fail triggered a recall of models built from 23 September to 11 November 2014, while a further recall affected diesel Fiestas which left the factory between 16 April 2010 and 21 April 2011, to further address issues with the glow plug control module.
A major recall (affecting 41,304 cars) pertaining to cars built between 1 January 2012 and 29 August 2013, also relates to the glow-plug control module, while two small recalls (for 69 and 15 cars respectively) have been issued for Fiestas built on 5 July 2016 and from 26 February to 26 August 2016.
Check with a Ford workshop to ensure any Fiesta you look to purchase has had all relevant recall work completed.
Verdict
It might have won a long list of awards, but the fact the Mk7 Fiesta is still selling in huge numbers is as good a recommendation as any. This is one of the best superminis ever built, with good looks, affordable running costs and satisfying handling.
No matter if you are a new driver, family or petrolhead the Fiesta can offer you something, thanks to its huge choice of trim levels, engines and colours.
Check out your options and look at the latest Ford Fiesta review on the Carbuyer site.
Ford Fiesta diesel engines axed from range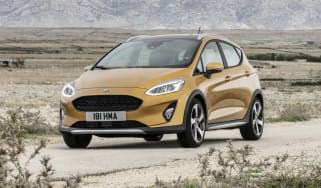 Ford Fiesta diesel engines axed from range
Best insurance group 1 cars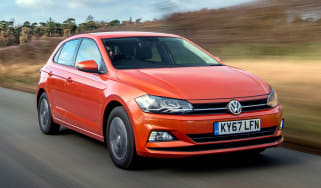 Best insurance group 1 cars
New 2020 Kia Stonic SUV: prices and specs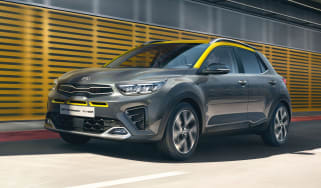 New 2020 Kia Stonic SUV: prices and specs
Updated Jaguar XF launched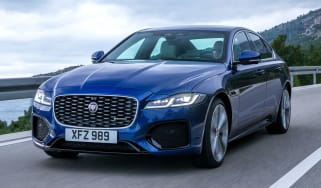 Updated Jaguar XF launched
Updated Peugeot 5008 starts at £29,585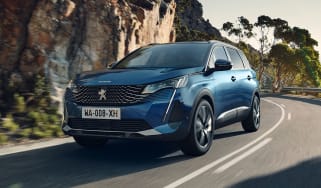 Updated Peugeot 5008 starts at £29,585