Used Suzuki Grand Vitara buying guide: 2005-2014 (Mk3)
Robust and purposeful, a used Suzuki Grand Vitara is a good-value compact SUV choice
Suzuki pioneered the compact SUV class with the original Vitara at the end of the '80s. Until then, small, off-road-capable cars had been basic, utilitarian machines with very little comfort on offer. The Vitara changed all that, making this kind of car a popular choice for motorists who live an active lifestyle.
The Vitara package has grown more polished and refined over the years. Latterly named Grand Vitara, it's a far larger, more practical machine than it once was, and that's made it far more versatile and family-friendly. It's still made of tough stuff, though, and is ready for the challenge when the going gets rough.
The third generation of Vitara now looks an attractive proposition for anybody looking for a comfortable, practical car with a high degree of durability and the freedom to cross tricky terrain. Follow our buyer's guide for pointers in finding the right Mk3 Grand Vitara for you.
Suzuki Grand Vitara Mk3 history
Debuting in 2005, the third-generation Suzuki Grand Vitara was offered with either three doors or in a longer five-door configuration. Both 1.6 and 2.0-litre petrol engines were available, as well as a 1.9-litre diesel. Soon after launch, a more powerful 2.4-litre petrol engine was made available, although this was a slow seller due to its high fuel consumption.
The externally-mounted spare wheel was deleted in July 2010, with a can of tyre sealant taking its place. A raft of minor improvements was carried out in December 2012, including a space-saver spare wheel taking the place of the poorly-received get-you-home tyre sealant.
Further changes included revised front styling, new alloy wheel designs, a refreshed interior and multimedia system and a less-polluting 1.9-litre DDiS diesel engine.
The Mk4 Vitara took over in 2014.
Which is the best Suzuki Grand Vitara for me?
The 1.9-litre Grand Vitara is our favourite, but if you don't plan to rack up a very high mileage you may find the 1.6 or 2.0-litre petrol engines more cost-effective. An automatic gearbox was only made available with the 2.0 and 2.4-litre petrols.
Short-wheelbase three-door Vitaras are extremely cramped in the rear and have very limited access to the back seats. The five-door models are a lot more family-friendly, but a little less agile off road.
Well-used Grand Vitaras are available for very little money, but many will show signs of off-road abuse and should be inspected thoroughly for damage underneath as well as mechanically. Diesel models are priced higher than petrol cars, while there are far more petrols on the market.
An automatic gearbox in a Grand Vitara is a rare find and three-door examples are outnumbered by five-door cars.
Running costs, maintenance and parts
No Grand Vitara is especially economical. The later 1.9-litre DDiS diesels are the best, with up to 38mpg being possible. They're also the cheapest to tax, although only marginally, at £265 a year instead of the £290 bill that all other models incur. The 2.4-litre petrol cars will struggle to top 30mpg, while the other petrols can reach the early thirties.
Insurance isn't cheap either – the 1.6-litre models begin in insurance group 17, but all other Vitaras fall between groups 22 and 24.
Servicing is due every 9,000 miles or 12 months, with service costs varying depending on how many operations are required. All diesels have a cambelt, which will need replacing every five years or 45,000 miles. Petrol engines are cam-chain operated and this shouldn't need changing during the life of the car.
Brake fluid and coolant will also need changing every two years, and it's advised that the air-conditioning be serviced and regassed at the same interval.
What to look out for
With Grand Vitaras often living busy recreational lifestyles, the most important thing is to give any car you're looking a thorough look over from top to bottom to spot any signs of heavy abuse or repairs as a result of the former.
The Grand Vitara is, mechanically, a fairly simple and easy car to work on, so faults can be dealt with in a fairly drama-free fashion. It's not uncommon to find an oil leak from the transmission transfer case (part of the four-wheel-drive system) – a sign of a failed oil seal located under the rear of the engine.
As the Vitara is a popular vehicle for towing, you should perform a thorough test drive to ensure that the clutch, brakes and suspension are in good condition and free of excessive noise.
Rattles and creaks around the interior aren't unusual; there are a lot of plastic panels that can work loose and become noisy over time, especially in the vicinity of the rear seatbelts.Owners have reported that the fuel gauge can read erratically: the needle can sometimes move a long distance in a short period of time, which can be very disconcerting. It's worth keeping an eye on the distance you cover on every tankful to get an idea of how the fuel gauge should be reading.
Many owners have found that the paintwork on earlier cars can be somewhat soft and is easily scratched or scuffed.
Disappointed by the headlamp performance on dipped-beam, many owners have fitted upgraded aftermarket bulbs such as Osram's Night Breakers.
Recalls
There have been nine recalls issued for the Grand Vitara over its lifetime, but none affect cars built after October 2010, while only two recalls apply to those built from mid-2008 onwards.
Electrical short circuits, problems with the intercooler on diesel cars and fuel leaks due to cracked supply pipes were issues that prompted recalls on earlier cars. There was also a campaign to check and modify cars where the drive belt for the air-conditioning and water pump could fail – a significant issue, as this belt also operates the pump for the power steering, potentially leaving the car with very heavy steering without warning.
Alternatives
When the Grand Vitara was initially released, there were few other compact SUVs on the market. This didn't last for long, though, and as well as established rivals like the Toyota RAV4 and Honda CR-V, it now faces the Nissan Qashqai, Hyundai Tucson and much-improved Kia Sportage. All of the above are worth considering as practical family recreational vehicles, although the Suzuki is by far the best off road.
If all-terrain prowess isn't a particular priority, the Ford Kuga has excellent on-road manners, is stylish and has a comfortable, eye-catching interior. The Vauxhall Mokka is an attractive and well-priced package, but is rather let down by its fit and finish.
If you're looking for simple, robust utility, we'd point you in the direction of the Dacia Duster. It's around the same size as the Grand Vitara, and while four-wheel-drive versions of this car aren't as capable off road as the Suzuki, the simplistic nature of the interior makes it very practical indeed. With new entry-level models available very cheaply, used examples look like considerable bargains.
Verdict
Too few Suzuki Vitara owners have participated in our annual Driver Power surveys for it to have ever featured specifically, but other Suzuki models, including the Swift, have performed well, particularly with regards owners opinions of their performance and reliability. As a brand, Suzuki finished 19th overall out of 32 makers surveyed in 2016.
The Grand Vitara is something of a specialist product. Although there are now many compact SUVs to choose from, many of which offer greater comfort, driving manners, standard equipment, power and efficiency than the Suzuki, few can match its hard-wearing, do-anything credentials.
It's a versatile, forgiving and reliable beast of burden – and an inexpensive second-hand buy.
New 2020 Kia Stonic SUV: prices and specs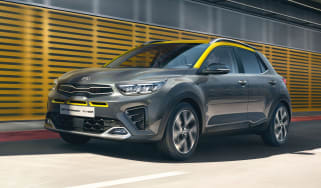 New 2020 Kia Stonic SUV: prices and specs
Updated Peugeot 5008 starts at £29,585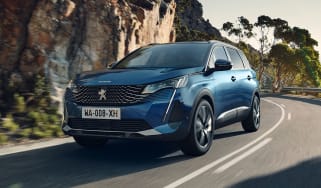 Updated Peugeot 5008 starts at £29,585
Cupra Formentor SUV review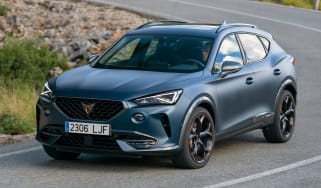 Cupra Formentor SUV review