Used Citroen C4 Picasso buying guide: 2007-2012 (Mk1)
Citroen C4 Picasso is a versatile, stylish MPV that represents terrific used value
Whether you call them people carriers or multi-purpose vehicles (MPVs), cars like the Citroen C4 Picasso are here to stay, providing a fantastically convenient way of carrying a family in comfort and safety.
Citroen first used the Picasso name on a car based on the earlier Citroen Xsara, but the concept far outlived that model and the name is still used today. The first C4 Picasso built on the success of its predecessor, adding more efficient engines and new technology, while bringing its design right up to date. It's also good to drive and extremely versatile, even more so in the case of the longer Grand Picasso version.
We were so impressed with the C4 Picasso that we named it our best MPV in 2007 and its design still seems modern today. The C4 Picasso is now in its second generation, but the first one now looks a very attractive used buy if you're looking for a cheap family hauler.
Follow our Buyer's Guide to finding the Citroen C4 Picasso Mk1 that's right for you.
Toyota Citroen C4 Picasso Mk1 history
Replacing the Citroen Xsara Picasso, the Citroen C4 Picasso had a staggered launch, with the seven-seat Grand C4 Picasso arriving in January 2007 and five-seat Grand Picasso arriving in March of the same year. They had the same range of engines and trim levels. There were 1.8 and 2.0-litre petrol engines, or 1.6 or 2.0-litre HDi diesels, to choose from. There was also a choice of manual or EGS semi-automatic gearboxes.
From August 2015, a 1.6-litre engine was introduced in two versions, with the more powerful turbocharged engine receiving the THP designation. The high-spec Lounge special edition was introduced in January 2008. Using the 2.0-litre HDi engine, it had the EGS automatic gearbox and five seats only.
The whole range was facelifted in October 2010, with a restyled nose and rear end, increased standard equipment and different model designations, as well as the inclusion of LED daytime running lights on the VTR+ and Exclusive models. The Mk2 C4 Picasso was introduced in 2013.
Which is the best Citroen C4 Picasso Mk1 for me?
The majority of C4 Picassos were ordered with the 1.6-litre HDi diesel engine and this should prove more than adequate for most buyers. We don't recommend the EGS automatic gearbox, though, as it's rather jerky in use can suffer reliability issues. The manual gearbox is far more dependable, but rivals have a nicer gearshift. Note that the 2.0-litre petrol engine was only available with the EGS automatic gearbox.
It's worth spending extra to get your hands on an updated post-2010 car – they're better equipped and have a higher standard of build quality. All C4 Picassos are well equipped though, with even entry-level VTR cars coming with dual-zone climate control, power-adjustable heated door mirrors and powered front windows as well as a panoramic windscreen.
VTR+ also offers electric rear windows, Bluetooth, rear parking sensors and alloy wheels. Top-of-the-range Exclusive spec gives you automatic headlights windscreen wipers, along with upgraded interior trim.
If you're looking to carry more than five people, bear in mind that the the third row of seats in the Grand C4 Picasso has enough space for children, but it's likely adults will be cramped. The extra length of the Grand does make for a bigger boot when the third row is removed, though.
There are some very temptingly priced high-mileage C4 Picassos out there with upwards of 130,000 miles on the clock, but the majority will have covered something in the region of 10,000 miles a year. Picassos with the 1.6-litre HDi engine outnumber 2.0-litre HDi models by about 10 to one.
Running costs, maintenance and parts
The C4 Picasso enjoys a pretty relaxed service regime with some models only needing a service every two years or 20,000 miles, or every 12,500 miles in the case of the 1.6-litre HDi diesel. The services alternate between minor and major, with every Mk1 C4 Picasso now qualifying for discounted servicing at Citroen dealers as they're over three years old.
Every C4 Picasso uses a timing belt and this needs to be changed every 10 years or 95,000 mile on petrol engines, every 112,000 miles on the 1.6-litre HDi diesel or every 160,000 miles for the 2.0-litre HDi diesel. If a car you're looking at is hovering around that mileage, make sure the work has been done or bargain accordingly, as this job alone will cost as much as a major service.
The brake fluid needs replacing every two years, while the coolant needs replacing after four years or 80,000 miles and then again at every service.
What to look out for
Before we discuss mechanical symptoms, it's worth bearing in mind that many C4 Picassos will have been subjected to mistreatment at the hands of children throughout their busy lives. A car with an impeccable service history can still bear signs of abuse from rowdy toddlers, with stained seats, broken trim and sticky messes in abundance. Be sure to thoroughly inspect the interior of any C4 Picasso you consider purchasing, as a well-treated interior makes for a much nicer car to travel in.
The C4 Picasso's air suspension system is sophisticated, but can fail without warning. Repairs are costly, so make sure the car sits level when parked and makes no suspect noises on the move. It's possible to convert cars with failed air suspension to a conventional spring and damper setup.
The tailgate handle is made out of plastic that weakens over time and can break through stress fatigue. The switch that unlocks the tailgate often soon follows suit.
Many of the electrical systems on the C4 Picasso are operated by signals sent from a central control unit. This can sometimes fail to operate, in which case certain items such as the fuel filler flap release will stop working. In some cases, failure will be intermittent, but permanent failure can be quite costly to put right.
Oddly, the basic C4 Picasso comes with a spare wheel but the Grand version only has a puncture-repair kit, so don't waste time looking for a spare wheel on a Grand C4 Picasso.Radio reception can be very poor on all models. This seems to be a characteristic that Citroen hasn't found or offered a solution for.
If the windscreen washers aren't working, it could simply be that the reservoir is empty. In a bit of a design flaw, the bottle is way too small and can be emptied in one long journey if the weather is bad. We recommend carrying a spare bottle of screenwash.
Recalls
There have been 10 recalls for the Citroen C4 so far. The first was in July 2008 and addressed the possibility of brake servo failure. Another came a month later due to faults with the glass roof that could cause components to detach. Issues with the braking system led to another recall in September 2008, with another following three months later to remedy electrical glitches.
Recalls were issued in June 2010, February 2011 and April 2011 for seatbelt defects, fuel leaks and malfunctions with the electric parking brake respectively, More recalls followed for seatbelt problems and other electrical short circuits in March and December 2012.
Alternatives
Our favourite of the C4 Picasso's rivals is the Ford S-MAX, while the bigger Ford Galaxy makes an excellent alternative to the Grand C4 Picasso. The original Ford S-MAX was voted European Car of the Year in 2007, as it offered a fine blend of style, practicality and driving fun. While the S-MAX is a little tight for seven, the Ford Galaxy has plenty of space. Both have a lot of standard equipment and hold a decent reliability record.
The Toyota Verso is another MPV you can depend on. It's practical, too, but tends to be rather more expensive on the used market than the C4 Picasso. The Vauxhall Zafira is great value and has an innovative 'Flex-7' folding seat system that continues to impress after 16 years on the market.
If you want a relatively compact five-seat MPV, the Renault Scenic is well worth a look, as is the larger seven-seat Grand Scenic. Although reliability isn't regarded as a strong suit for either, both offer good value for money and versatile interiors.
We're also fans of the Mazda 5. The Mk1 model hasn't been as reliable as we'd hope, but later post-2010 Mk2 models are very impressive.
Verdict
The Citroen C4 Picasso Mk1 hasn't featured in our annual Driver Power owner satisfaction survey since 2012, when it finished 61st, scoring highly for practicality but poorly for reliability. It may be that as these cars have matured, common faults have been ironed out, but there are still aspects – like the EGS automatic gearbox – that are cause for concern.
This is a shame, because if it wasn't for question marks over reliability, the C4 Picasso would get our undiluted recommendation. It's a great-looking car with a clever, stylish interior and one that make family trips enjoyable. If you decide to choose a C4 Picasso, you're sure to find a lot to like – just be careful to ensure you're happy with its mechanical condition and that the versatile interior hasn't been ruined after years of family fun.
Updated Peugeot 5008 starts at £29,585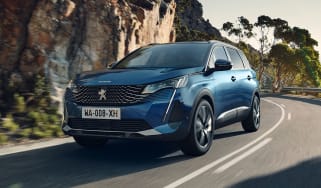 Updated Peugeot 5008 starts at £29,585
Cupra Formentor SUV review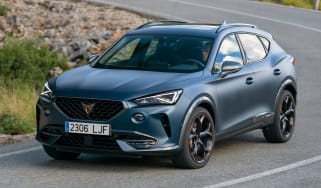 Cupra Formentor SUV review
2020 Volkswagen ID.3 hatchback: base model starts at under £30k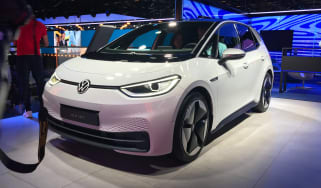 2020 Volkswagen ID.3 hatchback: base model starts at under £30k