Best car upholstery cleaner to buy 2021
Keep your car interior clean with one of these great car upholstery cleaners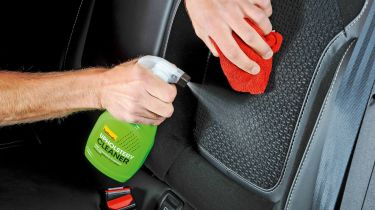 It's pretty obvious when your car's paintwork needs a clean, as it looks dull and grime is easy to spot. However, your car seats and upholstery can get really dirty without you really noticing, as dirt builds up more gradually and you forget how clean it once looked.
That's where car cleaning products come in. This time, we're looking at car upholstery cleaners for fabric (If you have leather seats you'll want a car leather cleaner). These products are great for bringing your car's interior back to its former glory.  
Many of the products we tested can be used for cleaning multiple types of upholstery including carpets, so they can be a great buy to get your whole interior looking spotless.
To test each cleaner, we added ballpoint ink, chocolate and margarine to an old car seat (nobody's own car was hurt in the making of this article). 
We always followed the maker's instructions to ensure a fair test, and we used the same type of cloth for each one too. We looked for the best results and factored in the price when ranking them.
The best car upholstery cleaners to buy in 2021
Simoniz Upholstery and Carpet Cleaner review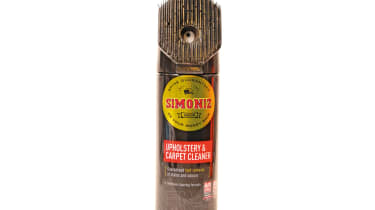 Price: ~ £4
Size: 400ml
Rating: 5/5
The Simoniz comes with a plastic brush to help remove stubborn stains but in truth it works well without it. The thick foam smells nice and it works pretty quickly, only requiring 30 seconds to penetrate before you can remove it. The Simoniz has proved a consistently effective product over the years and this is no exception. We felt the Meguiar's product performed slightly better overall but it's much more expensive.
Meguiar's Carpet & Upholstery Cleaner review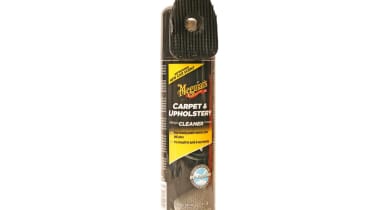 Price: ~ £13
Size: 545ml
Rating: 4.5/5
The Meguiar's Carpet & Upholstery Cleaner claims to be as good as professional products and our tests seemed to back that up. Even when used on pen ink (one of the hardest stains to shift), one application was enough to reduce the ink to a faint trace, and reapplying the product removed it completely. It was impressive on the other stains we created too, but at over twice the price of the Simoniz Upholstery and Carpet Cleaner it's a little harder to recommend. Additionally, the brush in the cap fell off a few times in our test.
CarPlan Stain Valet review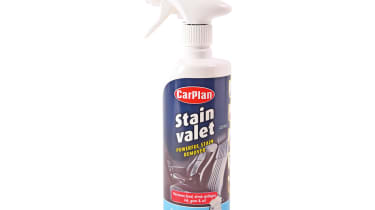 Price: ~ £6
Size: 600ml
Rating: 4.5/5
CarPlan's products tend to be at the cheaper end of the spectrum but they perform well in many of our tests and the Stain Valet upholstery cleaner is no exception. It was very effective on the ink and chocolate stains, and didn't disappoint in other areas. CarPlan seems to have tweaked the formula, as Stain Valet has climbed the rankings in 2020, helped also by a large bottle size and a low price.
McLaren Fabric Cleaner review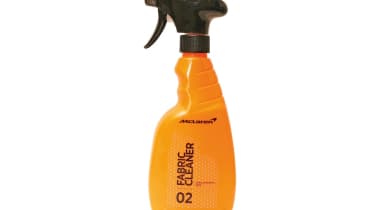 Price: ~ £8
Size: 500ml
Rating: 4/5
McLaren releasing a range of car cleaning products is a bit like your favourite celebrity launching a low-cost perfume range, but we found the brand's Fabric Cleaner to be a decent product worthy of consideration. It tackled the ink mark with ease and had no problems with the grime that was already in our dirty test seats but it struggled slightly with the greasy butter stains, requiring two reapplications. McLaren introduced its range in collaboration with Halfords around the time of the 2019 British F1 Grand Prix.
Halfords Upholstery Cleaner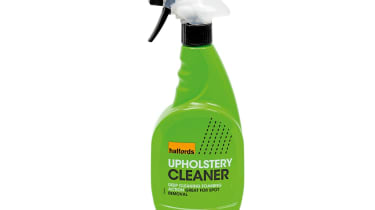 Price: ~ £4
Size: 500ml
Rating: 4/5
Halfords has become a household name over the years and its low-priced cleaner is good enough to compete with top products, although it's dropped from last year's top spot. While it's no miracle cure for the worst stains, its comprehensive ability to tackle daily grime is very impressive, removing all the chocolate, leaving only the faintest trace of butter and making a huge difference to the surrounding area. It did struggle with the ballpoint-pen mark though, like others in our test. However, it's cheap and the spray and wipe application couldn't be simpler.
Auto Curators Gentle Interior Cleanse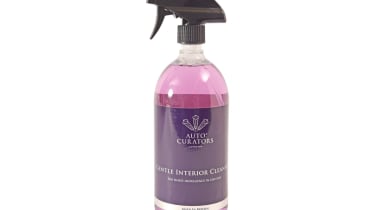 Price: ~ £14
Size: 1,000ml
Rating: 4 stars
With this product, you spray on and leave to dry before removing grime with a dry cloth. The ink was tough to shift but it managed the other stains really well, especially the margarine. It's a bit expensive but very effective at removing stains.
Diamondbrite Upholstery Cleaner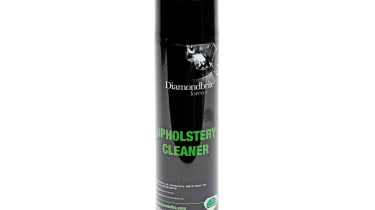 Price: ~ £5
Size: 500ml
Rating: 3 stars
This product produces a lemon-scented foam that's left for 10 to 20 minutes. Once it's worked its way into the grime, you wipe it off with a damp cloth. It worked well on all the stains, so it proved a good all-round choice.
Black Diamond Super Clean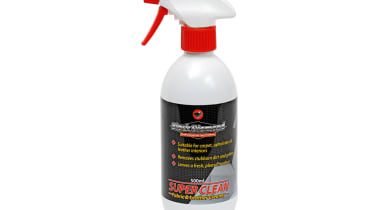 Price: ~ £4 
Size: 500ml
Rating: 3 stars
This product was a great all-rounder, and while it wasn't the best at removing any one of the stains in particular, it proved good at all of them. It's priced well, so Black Diamond's product comes with our recommendation.
Chipex Factory Finish Interior and Dashboard Cleaner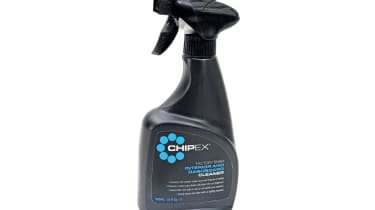 Price: ~ £13
Size: 500ml
Rating: 3 stars
This spray is designed for both hard and soft surfaces, and is applied by spraying on a cloth then wiping. It didn't clean up as well as others on this test, and even when we left it to soak in more, it didn't improve. We liked the smell (like a new car) but it didn't clean as well as we'd like.
Read our guides to the best car cleaning shampoo and best car wax on sale today.