Best pressure gauges to buy 2020
These digital tyre-pressure gauges can ensure your car maintains its fuel efficiency and stays safe
Car manufacturers spend millions fine-tuning a car's fuel efficiency, handling and refinement, but all their hard work can be thrown out of kilter by incorrectly inflated tyres. Driving with not enough air in your tyres can cost you extra money in fuel, lead to excessive tyre wear and make it harder to stop or make an emergency manoeuvre.
Avoiding these nasty consequences only takes a few minutes every week, and the process can be made much easier and faster with a good digital tyre-pressure gauge. We tested popular models to decide on our top recommendations.
How we tested them
We used two tyres for the test: one fitted to an alloy wheel and one to a steel rim, before taking readings at 20, 25 and 30 pounds per square inch (psi). Our criteria included checking for a clear display and we awarded extra points for models with a backlight and a torch to help see what you're doing in low light. We also looked for handy features like an auto power-off function to save batteries, but checked to make sure each gauge gave us at least 25 seconds to allow all four tyres to be checked without it turning off.
As well as the unit itself, we also read the instructions to ensure they were clear and told users to check pressures only on cold tyres. Every gauge had psi and Bar scales, but some also offered kpa and kg/cm2. None came with a protective carry pouch, which was disappointing, and we also factored online prices into our final judgments.
Verdict
Despite being slightly inaccurate (just 0.5psi) in one of our tests, the Ring RTG4 still had enough great features to secure it the top spot. The PCL DTPG7 was more accurate, but pricier, so it won second spot. The Michelin 12295 is very expensive, but its ability to remember tyre pressures for two different vehicles will win over some owners; it came third.
Read on for our list of the best digital tyre-pressure gauges...
Ring RTG4 Digital Keyring Gauge review
Price: Around £7Rating: 5.0 /5
The RTG4's small form factor means it's very easy to tuck away in a glovebox or door pocket, even if it's probably a bit too big for a bunch of keys. The backlight and torch made it easier to see in low light and they stayed on once activated.
While using the Ring, the readout stayed on for 70 seconds, while the latest pressure reading stayed on the display for 12 seconds, making it ideal for checking all four tyres. Comprehensive instructions included lots of diagrams, but there was no mention of the need to measure tyres when they're cold. The RTG4 had one misstep, reading 0.5psi high at 20psi, but it still impressed enough to win this test.
PCL Digital Tyre Pressure & Tread Depth Gauge DTPG7 review
Price: Around £17Rating: 4.5 /5
If accuracy is your top priority, the PCL DTPG7 shouldn't let you down. It featured the second-biggest display in our test (behind the programmable Michelin), while its angled nozzle meant it fitted our tyre valves without issues. We found the buttons easy to operate and logical.
One tap activates the backlight, while a second press turns on a nose torch that stays on. We liked the fact the PCL also features a tread depth gauge – making it unique in the test. The instructions failed to mention checking the manufacturer's recommended tyre inflation levels or to check cool tyres, though. The PCL is a great digital pressure gauge, then, but its price keeps it off the top spot.
Michelin Programmable Digital Tyre Pressure Gauge 12295 review
Price: Around £28Rating: 4.5 /5
Launched in February 2018, the Michelin is a brand-new model and looks modern thanks to its white backlit LCD, which was easily the biggest on test. It was also the only programmable unit in the test and these features help to explain its extra cost. There's a nose torch, too, but you have to keep a button held down to use it, saving battery power but making it less convenient. We like the narrow steel nozzle that swivels and should fit almost any wheel, while feeling good quality. This was also the only gauge tested with a bleed valve and its memory allows you to store the front and rear tyre pressures for two vehicles. The Michelin isn't cheap, but it offers some great features.
Michelin Digital Tyre Pressure Gauge with Keyring 12290 review
Price: Around £16Rating: 3.0 /5
Sitting beneath the Michelin 12295, the 12990 is less than half the price and small enough to fit on a keyring. Despite its lower price, it proved just as accurate, with just a 0.5psi error when taking a reading at 25psi. The display was a similar style to its big brother, too, with clear backlit white LCD numbers. It only stayed active for 12 seconds, though, which wasn't long enough to check all four tyres. The nozzle fit well, but its lack of angle adjustment could make it tricky to use on recessed tyre valves deep inside wide alloy wheels. While £13 is reasonable, it's still almost twice as pricey as its Ring rival.
Halfords LED Digital Tyre Pressure Gauge and Light review
Price: Around £18Rating: 3.0 /5
The Halfords digital gauge has a backlit screen that's activated by placing the device on a valve. It only has three scales, but we like its aluminium construction, even if it's somewhat let down by the flimsy scale selector. Accuracy was 0.5psi off at the 20 and 25psi marks, which is disappointing given its high price. It also lost points because the readout only stayed live for 10 seconds, with the display staying on for a further nine seconds, which was too brief to be really convenient.
Sealey Digital Tyre Pressure Gauge TSTPG10 review
Price: Around £7Rating: 3.0 /5
If you need a lightweight and simple pressure gauge, the Sealey won't break the bank. It was 1psi and 0.5psi over at the 20 and 25psi marks, so accuracy isn't its strong point, but at least your tyres won't be underinflated. More concerning was the fact the nozzle didn't always fit perfectly on the valve, causing a loss of air. The LCD display is fairly clear, but small and non-backlit. The Sealey also lacks a torch, but does have a warning beep to tell you it's locked on a valve. It stayed on for a useful 33 seconds after taking a reading.
Silverline Digital Tyre Pressure Gauge 282526 review
Price: Around £7Rating: 2.5 /5
The Silverline is a basic, well priced pressure gauge that offers a simple solution. It's powered by two LR44 watch batteries, but without a backlight or torch, they should last for some time. Like the Sealey, there's a beeping sound when a pressure is registered. The large 'on' button is hard to miss and the Sealey stays active for a generous 32 seconds, giving you time to check all four corners. It wasn't the most accurate device, though, reading 1psi over at 20/25psi and 0.5psi above at 30psi, while the otherwise-clear instructions make no mention of testing cool tyres or adhering to manufacturer recommendations.
Sakura Digital Tyre Gauge SS3610 review
Price: Around £8Rating: 2.0 /5
Despite being one of the cheapest units tested, the Sakura offers four different units of measurement and looks almost identical to the Silverline. There are a few differences though: it doesn't beep for a start, while all three pressure readings were 0.7psi too high. At least that means it's consistent, so you can compensate for its error. The instructions do mention the need to check the manufacturer's specified tyre pressures and the screen is clear, if small and lacking a backlight.
If you want to ensure you get the best fuel economy and stay safe on the road, take a look at our guide to checking your car's tyre pressures. You might also want to learn how to look after your tyres and how to use a puncture repair kit.
Cupra Formentor SUV review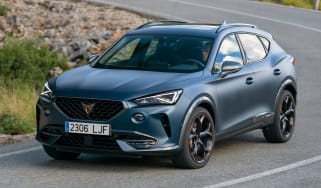 Cupra Formentor SUV review
2020 Volkswagen ID.3 hatchback: base model starts at under £30k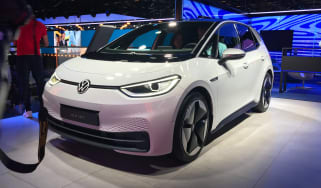 2020 Volkswagen ID.3 hatchback: base model starts at under £30k
Audi Q8 gains plug-in hybrid versions with 28-mile electric range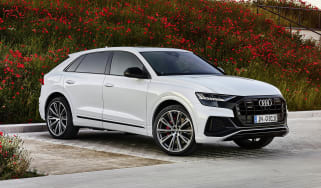 Audi Q8 gains plug-in hybrid versions with 28-mile electric range