How to choose the best kids electric car
This range of electric ride-on cars should satisfy any budding racing driver
If you have a budding young driver in the family, then the perfect gift for them could be a kids' electric car. Unlike the pedal-powered models of old, kids' electric cars are powered by an electric motor and a small battery pack, meaning they are self-propelled, making driving them an exciting challenge for any child.
This upgrade in technology does mean that ride-on electric cars are a bit more expensive. They also come with a range of safety features to try and ensure your child doesn't have any painful accidents. Some of the more advanced models allow parents to remotely control them, helping younger children avoid any big bumps.
Get the latest electric and hybrid car news, reviews and analysis on DrivingElectric.com
Ride-on kids' electric cars vary widely in price - some are licensed replicas of real cars such as the BMW i8 and Range Rover Evoque. Some come with speakers to play music or sound effects, such as a horn and engine noise. Your money may be going towards the car's features, its appearance or a combination of the two.
Kids' electric cars – what to look for
You'll also need to pay attention to practical considerations like the maximum rider weight figure or age range. If you're spending a lot of money, you'll want to ensure the happy new owner can hone their skills for a good few years. There are desirable features to look for, too, including parental remote control. This allows adults to take over control and is ideal for younger drivers who are still learning how the controls work.
It goes without saying that cheaper electric toy cars also tend to come with smaller batteries, so it's important to check the running and charging time to avoid disappointment. A larger battery capacity will generally result in longer play sessions, and charging most kids' electric cars takes a number of hours.
Other features that are more for fun, but worth looking out for, include sound effects and even a speaker you can plug a portable device into. Some models also come with safety belts and even a key for a more realistic starting procedure.
Read on to see our best kids electric cars…
Rebo Mini Evoque Style review
Price: Around £90Suitable age: 2-4 yearsMaximum rider weight: 25kgCharge time: 6-8 hoursRunning time: 45 minutes
Styled to look like the Range Rover Evoque SUV, the Rebo is a little different to most rivals thanks to castors hidden behind the front wheels. These allow the ride-on to spin on the spot, and it's controlled via two joysticks on the steering wheel, which allow for forwards, backwards and spinning antics. It also comes with a remote control for parents, should the little one start to feel queasy.
Rideontoys4u Ride-On Jeep review
Price: Around £200Suitable age: 3-8 yearsMaximum rider weight: 30kgCharge time: 6-8 hoursRunning time: N/A
For around the £200 mark, you'd expect this ride-on Jeep to be capable of a bit extra, and owners report that it can tackle smaller hills and wet grass - something not all rivals can manage. Part of this is thanks to its two running speeds, with a slow and fast setting to help tackle different terrain. It certainly looks stout and can carry a 30kg rider, but with no running time quoted, it's hard to know how long the battery will last.
Duplay Range Rover Evoque ride-on car review
Price: Around £200Suitable age: 3-6 yearsMaximum rider weight: 25kgCharge time: N/ARunning time: N/A
Partnership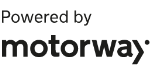 Need to sell your car?
Find your best offer from over 5,000+ dealers. It's that easy.
Unlike some 'Evoque style' ride-ons, the Duplay Range Rover Evoque is officially licensed, so it has a great design and plenty of Land Rover badges to add to its authenticity. This adds to the price, too, but you also get lots of features like a parental remote control (in the shape of a steering wheel), sound effects, speakers with an input jack and a key to start it – with an accompanying rumble from the engine. It also boasts a functional horn and lights and uses a 12-volt battery and motor instead of a 6-volt, giving it a 4mph top speed.
MassG Remote Control Lamborghini Aventador review
Price: Around £350Suitable age: 3-6 yearsMaximum rider weight: 40kgCharge time: 8-12 hoursRunning time: 60-90 minutes
Like the real supercar it's based on, the ride-on Aventador is one of the priciest models available. It certainly looks the part, and with a maximum rider weight of 40kg, it should prove robust. It comes with a parental remote that can work from up to 30 metres away and also has a generous running time of up to 90 minutes. A top speed of 2.5mph is slightly pedestrian, but 'anti-skid tyres' should provide lots of grip. Other features include lights and speakers with an MP3 connection, along with a safety belt for the large sports seat.
HOMCOM Kids Electric Ride On Vespa review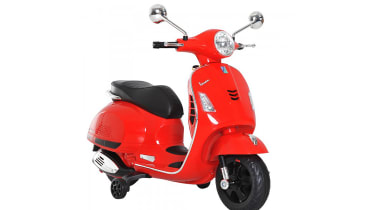 Price: Around £80Suitable age: 3-6 yearsMaximum rider weight: 30kgCharge time: 8-12 hoursRunning time: 45 minutes
Bike-loving kids might prefer this Vespa-licensed toy, with its faithful styling, classic chromed mirrors and even a working horn. There are lights and an MP3 player too, although it doesn't feature a remote control to slow down your budding biker. It uses both plastic and steel in its construction, and has a couple of small stabiliser wheels to help the rider stay upright.
Rebo Kodiak review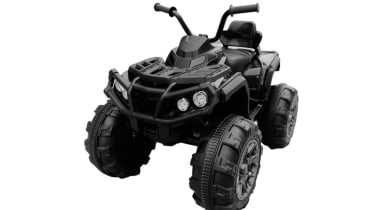 Price: Around £250Suitable age: 3-8 yearsMaximum rider weight: 30kgCharge time: N/ARunning time: N/A
For something a little more rugged, the Rebo Kodiak is a quad bike-style ride-on with big handlebars, a mock bull bar and chunky tyres. Like the real thing, it has a key to start, plus functioning lights and suspension - and MP3 compatibility. The 4mph top speed means it should suit your mini speed freaks, although there's no accompanying parental remote. At full price it's expensive but deals are regular and generous.
Ricco Jaguar I-Pace Licensed Battery Powered Kids Electric Ride On review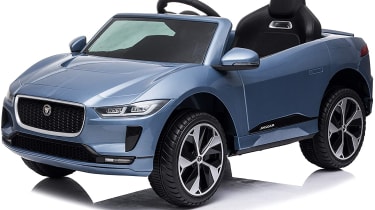 Price: Around £160Suitable age: 3-8 yearsMaximum rider weight: 30kgCharge time: 8 hoursRunning time: 1 hour
By the time your little ones are old enough to drive a car of their own, electric cars will be much more widely available - so why not start them off in a ride-on version of an EV? This licensed Jaguar I-Pace toy car looks very similar to the real thing, and comes with LED lights, a two-point seatbelt and music output. While it doesn't come with such a long range as the full-size I-Pace, this ride-on has something else: a remote control.
Read our guide to the best first cars.
Engine management light: top 5 causes of amber engine warning light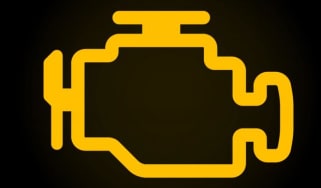 Engine management light: top 5 causes of amber engine warning light
Best new car deals 2023: this week's top car offers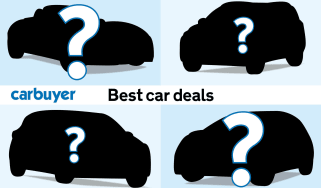 Best new car deals 2023: this week's top car offers
Top 10 best cars under £200 per month 2023/2024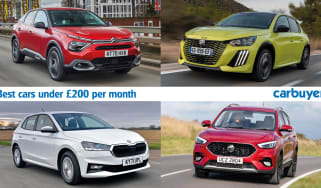 Top 10 best cars under £200 per month 2023/2024