Top 3 used tow cars for £9,000: Toyota Land Cruiser, Volvo XC90 and Nissan Navara
"Dear Carbuyer, I have £9,000 for a car that must tow a 2,000kg boat, handle three kids and work tools. What do you suggest?"
The 2,000kg+ towing weight you're after here is a rather hefty one, which requires a large tow car with plenty of pulling power. Not just any car with a towing hitch will work for this one. We have selected three capable family workhorses for consideration, all with high towing weights that would handle this particular load with ease.
When towing larger loads, it's always advisable to look for the extra security and traction of all-wheel drive. It's likely that you'll need to take your trailer off the tarmac when you reach your destination so the added abilities that 4x4s provide in slippery situations can be invaluable. The high driving position and improved visibility of SUVs will also be a benefit when driving or maneuvering with a trailer hitched-up.
Our choices below are all large 4x4 vehicles that can cope with a trailer of significant size. The Land Cruiser is Toyota's legendary off-roader and will be a match for the toughest terrain when its trailer is unhitched. The Volvo offers more on-road refinement and the Nissan Navara has the huge carrying capacity of its pick-up truck load bay to recommend it so there should be an option below to suit our buyer...
£9,000 for a family workhorse, but which one?
Toyota Land Cruiser: the reliable choice
For: Immense space and practicality for the moneyAgainst: Big running and insurance costs
The Toyota Land Cruiser is an SUV with a reputation for being tough and capable. The 2005 3.0-litre D-4D LC5 we found for £9,000 with 106,000 miles, one previous owner and a full service history has all the attributes needed for a reliable family workhorse.
A 2,800kg braked towing capacity means it'll haul your boat with ease, too. The Toyota is a little uncouth on the road, but immensely capable when the going gets tough. There's plenty of space for your children, and even their friends, thanks to eight seats.
As with the Volvo, the Toyota Land Cruiser's cabin looks pretty dated by modern standards. The materials used are a little low-rent in places, but LC5 cars like the one we found come with full-leather upholstery.
By and large the Land Cruiser is a very reliable vehicle, but the usual condition checks are advised, and any engine faults can be expensive to remedy. The 3.0-litre motor also means the Toyota will be costly to run.
Volvo XC90: the upmarket choice
For: Upmarket image, comfortable rideAgainst: Not designed with work purposes in mind
For an upper-crust choice you could turn to the first-generation Volvo XC90. Given its impressive lifespan, you'll find plenty of examples in your price range, such as the 57 plate D5 S automatic, with 96,000 miles on the clock, that we found advertised for £8,995.
The 182bhp five-cylinder diesel engine produces 400Nm of torque, with a maximum braked towing capacity of 2.2 tonnes. When you don't have a boat attached, you'll find it to be a comfortable, upmarket seven-seat SUV for family life.
While the XC90's interior design is a little uninspiring, it uses high-quality materials and has plenty of space for three kids. It feels far more like a family car than a work vehicle, though, so you may resent dirt left by tools.
Examples that have been well looked after and serviced regularly should prove reliable, but repairs can be pricey. Check for an extensive service history, because the XC90's long lifespan means it's been subject to plenty of recalls.
Nissan Navara: the no-nonsense choice
For: Versatile truck that'll do everything you needAgainst: Not the safest or most comfy choice
You could forego an SUV in favour of a pick-up truck, like the 64,000-mile 2012 Nissan Navara Acenta Double Cab we found for £8,750. A three-tonne braked towing capacity means it'll easily tow a boat.
Designed for work, carrying plenty of tools in the back is exactly what pick-ups like the Navara excel at; you'll be able to find one with a load bed cover or canopy quite easily as well. The Nissan will seat five at a maximum, though, and the interior is not a comfortable place. Prepare for a choppy ride, too.
Unapologetically a vehicle built for work, the plastics in the Navara's cabin are hard and scratchy. There's plenty of head and legroom, but the Nissan can be quite noisy inside, which isn't ideal on longer trips.
Designed for a hard life, the Navara is more suited to building sites than school runs, and should be immensely reliable. Families should be wary of its three-star Euro NCAP safety rating, however.
Would you like your own personalised Carbuyer Top 3 car recommendation? Tell us what you're looking for and what your budget is on Twitter or Facebook and we'll be happy to help...
Engine management light: top 5 causes of amber engine warning light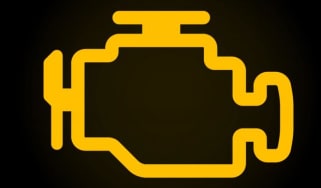 Engine management light: top 5 causes of amber engine warning light
Top 10 cheapest electric cars 2022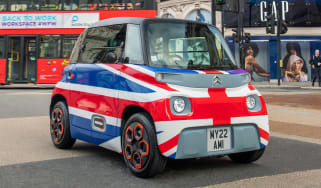 Top 10 cheapest electric cars 2022
Best new car deals 2022: this week's top car offers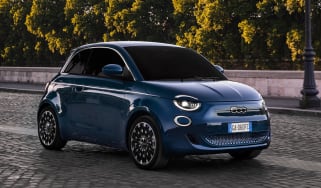 Best new car deals 2022: this week's top car offers