Towing: all you need to know
Follow our guide to towing, including licence and legal requirements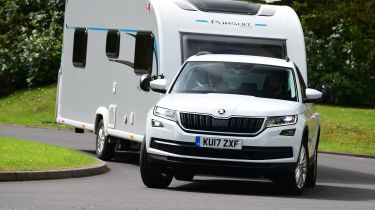 Many of us will need to tow something with our cars at some point and whether that's a caravan, horsebox, small trailer or a boat, you need to consider what your driving licence allows you to tow. There are laws governing towing that you need to be aware of and adhere to, including the changes to UK towing laws that came into effect on 16 December 2021.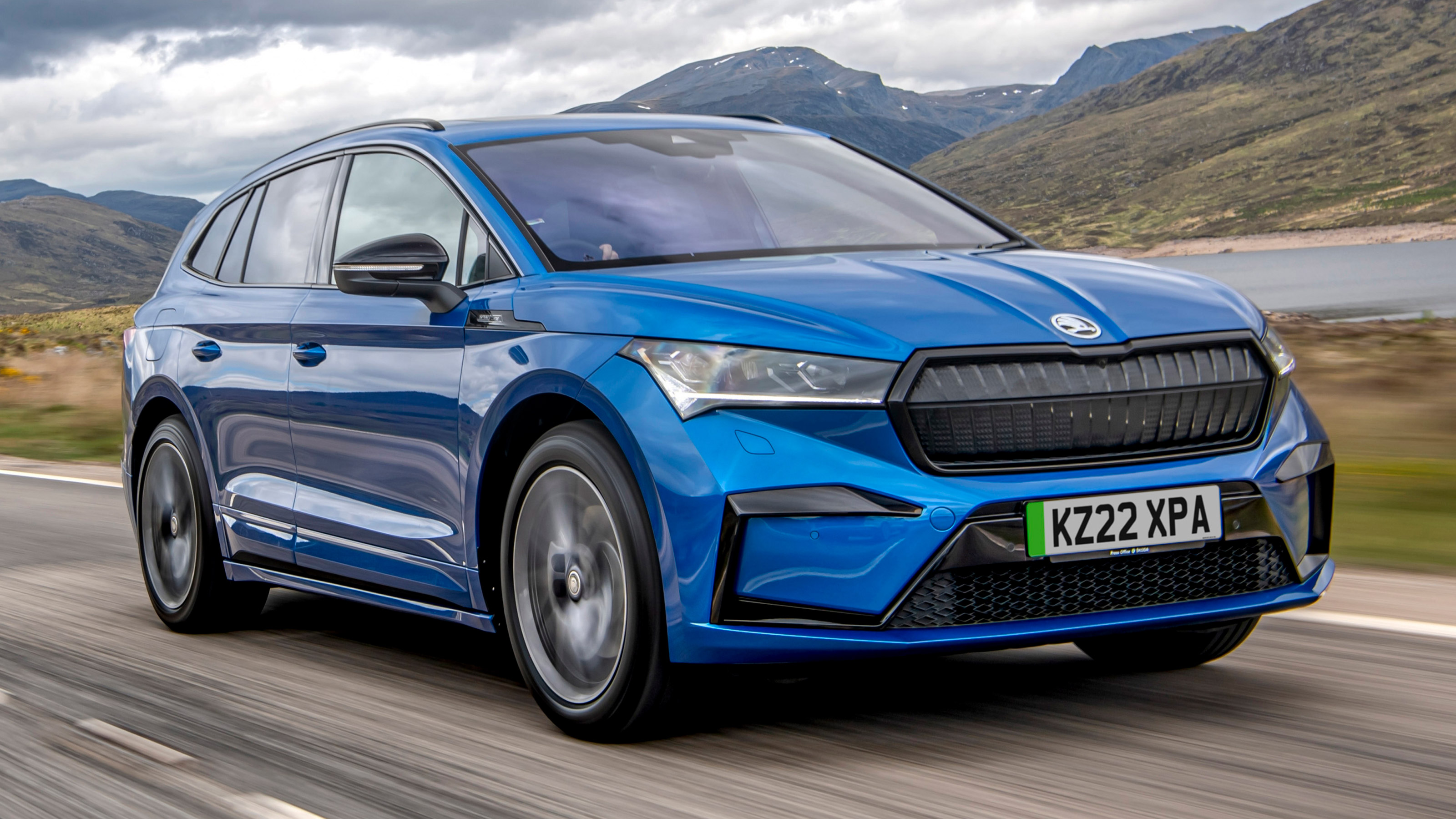 Top 10 best tow cars 2022
Towing a trailer is not simply a case of buying a car with a tow bar or having one fitted to your current vehicle, hitching up and setting off; there are some important things to be aware of in order to tow safely. These include learning how to manoeuvre your vehicle with a trailer attached and obeying a lower speed limit on both A-roads and motorways.
Read on for our complete guide to towing in the UK.
Licences for towing: what can you drive?
In order to drive a vehicle that's to be used for towing on the public highway you need to have a driving licence. What you can legally tow will depend on when you passed your driving test.
Driving test passed pre-1997
If you passed your driving test prior to 1997, your licence entitles you to drive a vehicle and trailer with a Maximum Authorised Mass (MAM) of 8.25 tonnes. The MAM is the combined weight of the vehicle being used to tow and the weight of the trailer being towed, along with the weight of the contents of the trailer. This will certainly suffice for the vast majority of recreational uses and would even allow you to tow something relatively light (up to three-quarters of a tonne) behind a 7.5-tonne truck.
Driving test passed 1997 or later
The MAM you can tow if you passed your driving test after 1 January 1997 is significantly reduced, dropping to 3.5 tonnes. However, if the towing vehicle has a weight of 3.5 tonnes the MAM limit is increased to 4.25 tonnes, effectively meaning that you could tow a three-quarter tonne trailer with a 3.5-tonne vehicle.
Towing rule changes from 16 December 2021
Previously, If you fell into the 1997 or after category you would have had to pass a trailer and driving test to tow anything heavier than the set limits. However, it was announced in mid-2021 that the additional trailer test would be scrapped and replaced by a new set of less stringent rules, which came into effect on 16 December 2021.
The biggest change in the new laws is that if you passed your driving test after 1 January 1997, you can now tow a trailer weighing up to a MAM limit of 3,500kg without taking additional training or a test. Additionally, the DVLA will automatically add the required B+E categories to your driving licence record, and your physical photocard licence when it's renewed.
Despite the introduction of the new towing laws, the DVLA still recommends that any driver who is towing for the first time should take training from an instructor. It also offers official guidance on towing a trailer as part of the 'National standard for driving cars and light vans,' which can be found here.
Towing and trailer regulations in the UK
As with driving any form of vehicle on the public highway, there are a number of legal requirements to which you have to adhere. We've listed them below:
Trailer dimensions: The maximum width of a trailer you can tow in the UK – irrespective of the towing vehicle – is 2.55 metres, while the maximum length of a trailer being towed by a sub-3.5-tonne vehicle is seven metres, although that latter figure does not include the trailer's A-frame or drawbar, for trailers such as caravans and box trailers where the A-frame projects ahead of the main body.
Tow bar: Assuming the vehicle you're towing with was manufactured and fitted with a tow bar post-1998, then the tow bar will need to have Type Approval and meet EU regulations. This will be clearly marked on the tow bar, either with a label or a plate with an approval number.
Mirrors: If you are towing a trailer or caravan that is wider than your car then you will need to fit additional mirrors as it is an offence not to have an adequate view of the road behind you. Extendable mirrors can be fitted to your door mirrors and failure to do so could make you liable for three points on your licence and a fine of up to £1,000.
Trailer brakes: If whatever you are towing weighs over 750 kilos (not just the weight of the trailer, but its contents, too) then it is a legal requirement that the trailer must have its own braking system and that it must be in good order.
Number plates: Your trailer must display a number plate if the trailer obscures the registration number of the towing vehicle. As this is almost always the case your trailer should display the same registration number as your vehicle. It needs to be made to the same specification as a car's normal number plate – a hand-painted one will not suffice. If fitted, a number plate must be illuminated so it is visible at night.
Lighting: A trailer must have two red sidelights, two red brake lights, amber indicators and a pair of reflective triangles affixed to its rear. If your trailer is over 1.3m wide then it will also require a fog light. At the front end of the trailer you will need a white reflector either side if the trailer was made post-1990, and if it's over 1.6m wide it'll need front position lights. These latter two requirements don't apply to boat trailers.
Secure load: It is a legal requirement that any load being carried by your trailer does not have any sharp edges that could cause injury and that it is fully secured and will not move around while being towed.
Towing capacities and weights
Before attempting to tow anything with your vehicle, you must ensure it is up to the job - its towing capacity can be found in your vehicle's handbook. Make sure you check that the figures refer to your exact model, as the same car fitted with a different engine may have very different towing capabilities. The type of transmission your car has will also have a bearing on this, so be certain to double check the figures.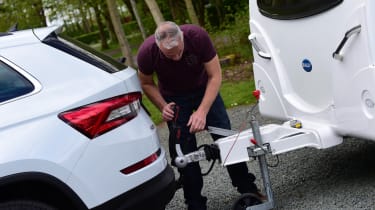 Once you have ascertained your vehicle's capabilities, you need to know the weight of the trailer you will be towing and the load that the trailer is capable of carrying. For more recently manufactured trailers this will be written on a plate on the trailer, but if you're using an older trailer you may have to take it to a weigh station to determine its weight.
Another thing you need to bear in mind is something called noseweight. This refers to the weight that will be pushing down on your towing vehicle's tow ball. Higher noseweight generally means a more stable trailer, especially at higher speeds, but the rated capability of the towing vehicle (see your car's handbook) and trailer hitch (normally marked on it) must never be exceeded. For boxy trailers like caravans, which can be more vulnerable to high speed instability if not correctly loaded, noseweight of at least 5-7% of the trailer's laden weight is advisable. You may need to redistribute the load in the trailer to get an optimum noseweight.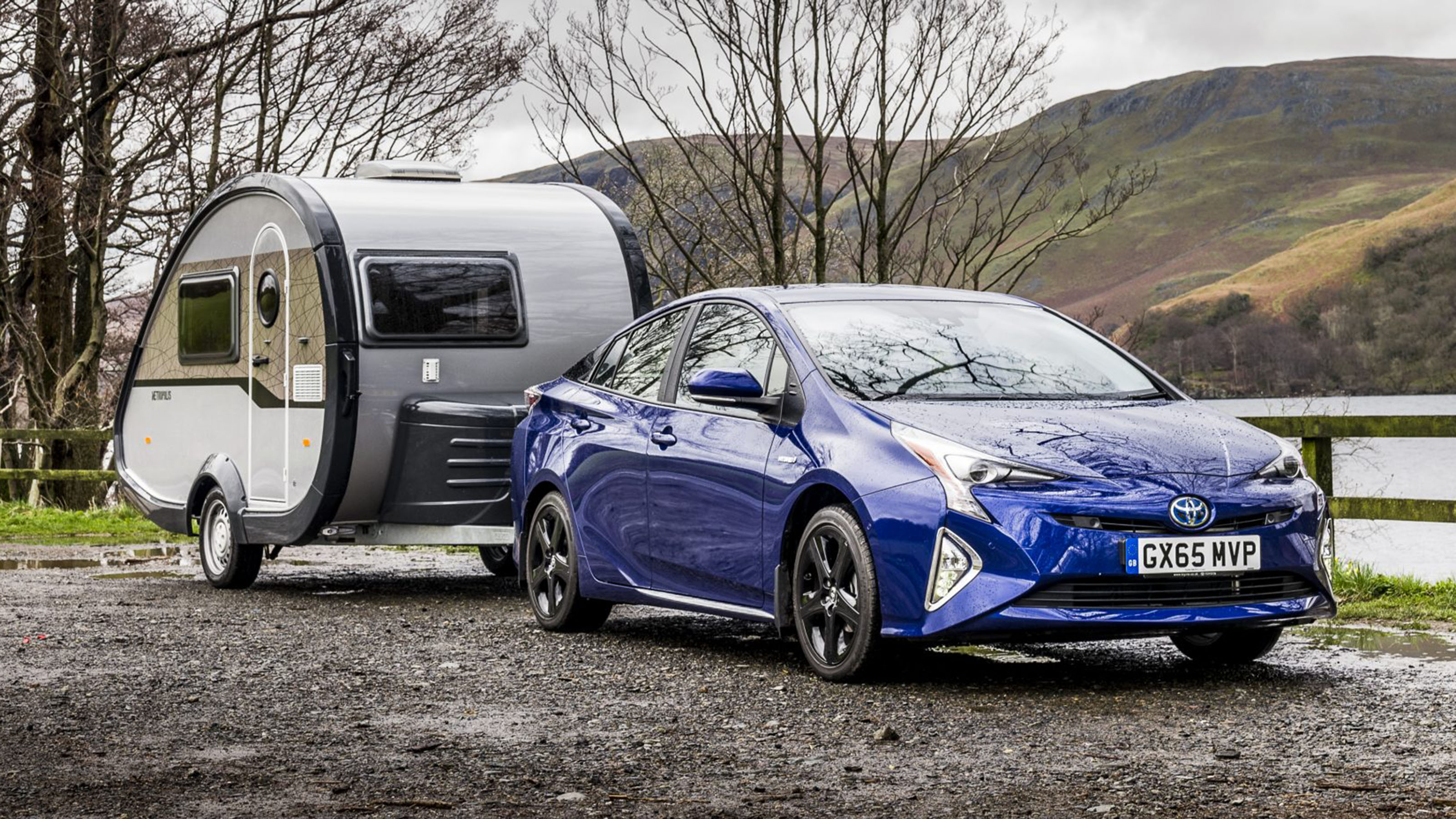 Towing with an electric car, hybrid or plug-in hybrid - what's the capacity and can you tow a caravan?
Conversely you don't want to have too much weight at the rear of the trailer as this is likely to make it unstable and potentially dangerous. Thus, the heaviest items in your trailer should be located close to its axle. As all trailer and towing combinations will vary significantly, it's best to get professional advice if you're at all unsure.
Improving your towing skills
The Caravan and Motorhome Club, as well as caravan and trailer retailers, will all be able to advise on the most suitable towing combinations. To get the best out of caravan or trailer towing, we'd advise getting some further training, which will give you loading tips, general safety and manoeuvring skills.
Need a heavy duty car? Check out our picks for the best pick up trucks on sale today. 
Electric MG 4 to arrive in September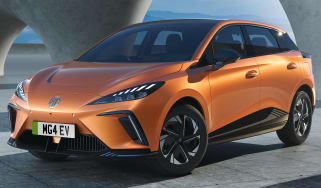 Electric MG 4 to arrive in September
Engine management light: top 5 causes of amber engine warning light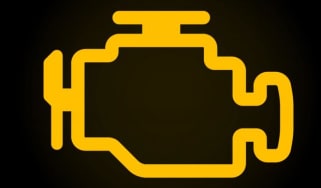 Engine management light: top 5 causes of amber engine warning light
Best new car deals 2022: this week's top car offers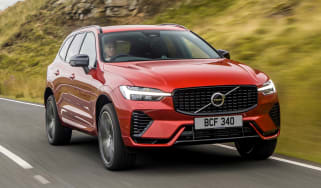 Best new car deals 2022: this week's top car offers