Towing with an electric car, hybrid or plug-in hybrid - what's the capacity and can you tow a caravan?
Considering an alternative-fuel tow car? Read our guide on towing a caravan or trailer with a hybrid or electric car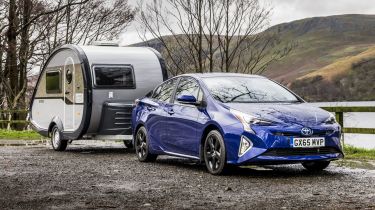 If you frequently need to tow a trailer or caravan with your car and are wondering whether you can do so with an electric car or hybrid, then the short answer is yes – but only with some cars. If towing is a priority for you, you'll have to put in some extra thought if you're thinking of buying an electric or hybrid car.
Some of the most mainstream electric cars, such as the Nissan LEAF, are unable to tow a trailer, and although hybrids use both electric motors and combustion engines, many aren't suitable either. It's due to a few factors; one of the main reasons is that electric and hybrid cars are already much heavier than petrol and diesel cars as a general rule, so the extra weight of a trailer could put too much strain on the car's brakes and motors.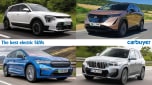 Top 10 best electric SUVs 2023
For anyone that wants to tow a caravan or trailer with an alternatively-fuelled vehicle, the Caravan and Motorhome Club recommends plug-in hybrids – these cars have the best combination of performance and economy. 
An increasing number of electric cars are able to tow, though. The Tesla Model X was one of the first EVs rated to tow an impressive 2,270kg, and more electric cars are joining it. The rival Audi Q8 e-tron can tow up to 1,800kg, the Volvo EX90 can tow up to 2,200kg and the BMW iX can manage an impressive 2,500kg. 
Be aware, however, that your car's electric range will be significantly shorter while you're towing. You can usually find out whether a car can tow before you buy it by checking out a manufacturer's price lists and brochures, in the technical specs section.
Read on for more information about towing with a hybrid, plug-in hybrid or electric vehicle, and how to choose the right car offering the best compromise between low emissions, fuel economy and towing capacity if you want to regularly transport a trailer.
Why can't many electric cars tow a trailer?
Electric vehicles are currently the most limited when it comes to towing, particularly if you're after a supermini or hatchback. When every car is designed and engineered, the manufacturer works out exactly how much it can tow and establishes a legal towing limit in a process known as homologation. For customers who want to tow, the two figures that matter most are the maximum weight limits for towing an unbraked trailer and a braked trailer. If a car doesn't have these figures published, it usually means the manufacturer deems it unsuited to towing – and this is the case with most electric cars.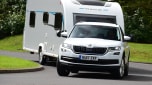 Towing: all you need to know
There are a few reasons why electric cars are usually unable to tow. Firstly, the battery pack fitted in an electric car is very heavy. As an example, while a 1.2-litre petrol Renault Clio supermini can weigh as little as 977kg, the similarly sized all-electric Renault ZOE weighs 1,468kg, with the battery pack coming in at 305kg alone. With this much weight on board, there's less capacity to deal with the extra weight of a trailer, which could put too much strain on components like the brakes.
Partnership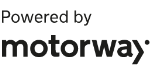 Need to sell your car?
Find your best offer from over 5,000+ dealers. It's that easy.
A second reason often cited by manufacturers is that towing could damage the electric powertrain itself. While the instant torque and impressive power of electric motors can be ideal for accelerating with a trailer, the main issue comes when slowing down. Unlike a conventional internal combustion engine, electric motors can instantly switch to become generators as you come off the accelerator pedal, converting kinetic energy into extra charge for the batteries and slowing the vehicle down. Towing a heavy trailer down a steep hill will provide lots more kinetic energy than normal, which could overwhelm the electrical system.
Lastly, many manufacturers don't put electric models through the homologation process for towing, because the extra effort of towing a trailer can dramatically reduce the maximum driving range. As most EV manufacturers are already struggling to combat the stigma of 'range anxiety', the possibility that towing could leave drivers stranded is a big risk.
Electric models that can tow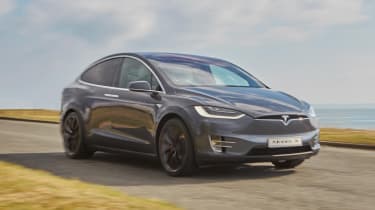 For a while the Tesla Model X was the only electric car homologated for towing, but now it's been joined by a handful of others, including the smaller Tesla Model 3.
The Model 3 can tow up to 1,000kg, which is enough to tow a small trailer or caravan. Similarly, the Audi Q4 e-tron, Volkswagen ID.4 and Skoda Enyaq iV, all of which share the same Volkswagen Group MEB EV platform, boast the same 1,000kg tow capacity. The Polestar 2 manages a little more at up to 1,500kg, and for more heavy-duty hauling, the EVs with the heaviest towing capacity are the BMW iX and Kia EV9, at up to an impressive 2,500kg.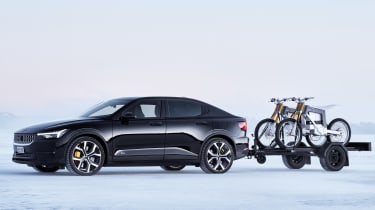 A neat feature of the Tesla Model X is that it enters 'Trailer Mode' when you plug a trailer's electrics into it – this disables many of its driver-assistance features like automatic steering and parking, active cruise control and the rear parking sensors. The Model X also activates Trailer Sway Mitigation, where automatic braking of the vehicle's individual wheels can prevent a trailer from swaying dangerously behind you.
But the Model X occupies a "distinctly premium price point, making it challenging for early adopters to buy them", according to Martin Spencer, technical manager for the Caravan and Motorhome Club.
There are three electric MPVs that make for good tow cars: the Vauxhall Vivaro e-Life, Peugeot e-Traveller and Citroen e-SpaceTourer, which can manage 1,000kg. Peugeot's recently launched e-Rifter also has a claimed 750kg tow capacity.
It's worth bearing in mind that, while these cars can be fitted with a tow bar, in most cases this must be a factory-fit option specified at purchase due to the nature of their engineering complexity. If you're planning to buy second hand, you'll need to look for an electric car that already has a tow bar fitted. Otherwise, be prepared to pay up to £1,000 to have one as an option on your new car; this is the price to fit a tow bar to a Tesla 3 and a Polestar 2.
Plug-in hybrid cars and SUVs that can tow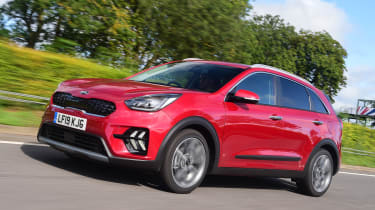 Because plug-in hybrid models offer a combination of electric technology and internal combustion engines, many of the issues faced by pure electric models are less pronounced. For that reason, if you want to tow, protect the environment and lower your bills, a plug-in hybrid is probably your best option right now. The most affordable plug-in hybrid models are also less than half the price of the Tesla Model X, opening them up to far more customers.
At around £30,000, the facelifted Kia Niro PHEV is one of the cheapest plug-in hybrid models rated for towing. Earlier cars aren't suitable but newer ones have a towing pack and can pull a 1,300kg braked trailer, making the Niro ideal for pulling a small to medium-sized caravan. The Niro also comes as a regular hybrid and is much cheaper than the PHEV, but still has the 1,300kg towing limit. This is the same figure for the Citroen C5 Aircross PHEV.
Hyundai's Santa Fe PHEV can tow slightly more weight than the hybrid Kia Niro, with a maximum figure of 1,350kg, while the Kia Sorento PHEV can manage 1,500kg, a match for the trusty Mitsubishi Outlander PHEV.
If you don't want an SUV, but still want a PHEV that can tow, the executive saloon and estate class could provide the answer; the Volkswagen Passat GTE and Mercedes C350e can tow 1,600kg in comfort on the motorway. The Mercedes should be a particularly adept tow car, because not only does it have plenty of power, it's also fitted with air suspension. The latter can help avoid the rear suspension sagging when towing a heavy load, improving ride quality and safety. With an even higher towing limit, the Volvo V60 Twin Engine estate impresses, with its ability to tow up to 1,800kg.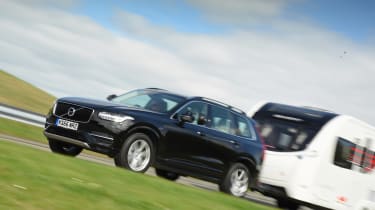 The most capable of the plug-in hybrids, however, are the Audi Q7 TFSIe and Volvo XC90 T8 Recharge, both boasting a 2,700kg tow capacity. The XC90 T8 Recharge is possibly the ultimate caravanners' car – it pairs a slightly less exotic 2.0-litre petrol with its electric motor and produces nearly 400bhp. Charge up the battery pack and a 25-mile EV range helps the big Volvo achieve official figures of 100mpg and under 75g/km of CO2. The interior is quite spectacular, too, with a calming design and lovely materials, plus one of the best safety ratings of any model on sale. If your campsite DJ fails to show up, the optional Bowers & Wilkins stereo with 19 speakers could act as a handy stand-in.
For now, the undisputed heavyweights of plug-in hybrid towing are the Porsche Cayenne S E-Hybrid and the Land Rover Defender P400e, if you can afford them. The former starts from just under £77,000 and, like the Defender P400e which is priced from around £69,000, can tow a 3,500kg braked trailer. That's the maximum amount legally permitted to be towed by any non-commercial vehicle, plug-in hybrid or not. This is largely down to the Cayenne S E-Hybrid's powerful 3.0-litre V6 petrol engine and electric motor combining to make 410bhp, plus its standard four-wheel drive. The Porsche also has enormous brakes and weighs a not-insubstantial 2.5 tonnes, so keeping control of a large trailer and stopping it should be easy enough. The Defender P400e is powered by a 2.0-litre petrol engine and an electric motor producing a total power output of 398bhp and the Land Rover Defender is notorious for being the ultimate workhorse.
Hybrid models that can tow
Despite the fact hybrid cars have been around for longer than plug-in hybrid models, the latter are now much more common. In fact, if you want a regular hybrid costing less than £30,000, you're effectively limited to a Kia Niro or a selection of Toyota products.
The Toyota Prius Hybrid can be fitted with a tow bar, although its 725kg towing limit is fairly meagre. The same cap is placed on the Toyota C-HR hybrid crossover and it should be enough for anyone who wants to use a tow bar to mount a bike carrier, tow a small trailer or even a micro-caravan or lightweight trailer tent. The Corolla can manage an additional 25kg, which matches the 750kg total of the Honda CR-V and Hyundai Ioniq.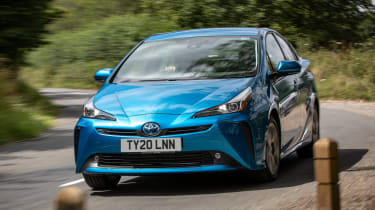 If you need to pull a heavier load, the Toyota RAV4 Hybrid and Lexus NX 300h are both small SUVs, using the same 2.5-litre petrol engine and electric motor. Both can tow around 1,500kg, bringing a medium-sized caravan into scope.
As you might expect, though, it's the premium hybrid SUVs that can tow the most and have the highest price tags. The £52,000 Lexus RX 450h is the most affordable, with a towing limit of 2,000kg.
The future of alternative-fuel towing
Martin Spencer, technical manager for the Caravan and Motorhome Club, told us: "We'll see a bit of a shift from diesel to petrol in the shorter term (next five to 10 years), but the main trend will be towards hybrids, with a smaller steadily growing proportion of electric cars."
And while there'll be a transition period, Spencer sees a bright future for towing heavy caravans with alternative-fuel vehicles. "They're particularly good for easy low-speed manoeuvring, hill starts, acceleration and hill climbing," he said. "Hybrids enable you to have a combination of the performance of a larger conventional engine with the economy and low emissions of a smaller one – a great benefit all round.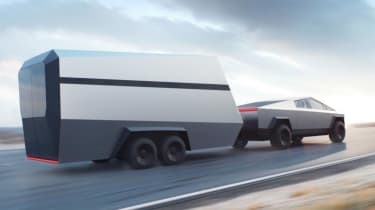 "The range of more affordable, towing-capable hybrids is increasing almost every month. Those hybrids with an electric-only mode often have very limited electric-only range, especially when towing. Electric range is also likely to increase with new technology developments before very long, though".
Check out our list of the best cars for towing.