Mazda SkyActiv explained
Everything you need to know about Mazda's SkyActiv range of engines, gearboxes and technology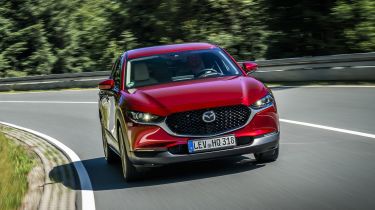 If you've read any of our Mazda reviews, you'll have probably seen the term 'SkyActiv' crop up from time to time. We usually use it when talking about the engines you can choose from, but Mazda also uses the name on its gearboxes and other technology. The SkyActiv concept was developed by the Japanese company aiming to maximise efficiency without sacrificing performance. Over the past few years, the main focus of SkyActiv has been fuel efficiency, with a range of petrol and diesel engines that deliver excellent fuel economy with low emissions with virtually no loss of performance.
What is Mazda SkyActiv?
The SkyActiv name was first unveiled at the 2008 Tokyo Motor Show with the Mazda Sky concept introducing a range of petrol and diesel engines, plus a new automatic gearbox. From 2009, the firm introduced the first SkyActiv branded engines and gearboxes to its production cars.
See where Mazda finished in our 2019 Driver Power ownership survey
Mazda SkyActiv engines
Every engine Mazda currently sells, whether it's petrol or diesel, is part of the SkyActiv series of engines.
SkyActiv-G refers to Mazda's lower-powered petrol engines which, at the moment, tend to be 1.5-litre or 2.0-litre non-turbocharged engines. The 2.0-litre engine is used across the range, in cars like the Mazda CX-3 and Mazda6. SkyActiv-G engines were first designed to meet ultra-low emissions regulations in the US, and have received several updates since their introduction in 2011.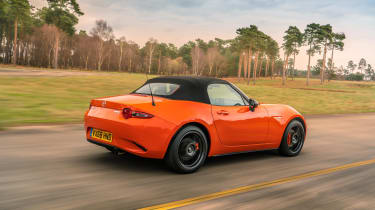 Cars with SkyActiv-D on the engine cover are turbocharged diesel engines, and aim to get as clean a combustion process as possible. Mazda's engineers have tried to create engines that don't need nitrogen oxide (NOx) and particulate treatment, although the latest Mazda CX-5 has an AdBlue tank to comply with ever-tightening emissions regulations.
The latest generation engine is called SkyActiv-X, and it's perhaps the most exciting of the three. Mazda describes it as a mix between the SkyActiv-G and -D engines, as it combines a high-revving petrol engine with the low fuel consumption and high torque of a diesel. It's the first petrol engine to use the sort of compression ignition technology found on modern diesel engines, and could be the best of both worlds. In the Mazda3, it produces 178bhp and a 0-62mph time of around eight seconds, yet it still returns over 52mpg; a noticeable difference over conventional petrol engines.
Mazda has previously introduced a SkyActiv-Hybrid powertrain, with a petrol engine and a small electric motor, and a SkyActiv-CNG version. The latter used CNG natural gas for fuel, but was never sold in the UK. A SkyActiv-R concept, using a small rotary engine as a range-extender for an electric powertrain, has been previewed but has not yet made it to production.
SkyActiv gearboxes
It's not just engines where Mazda has tried to improve efficiency; its gearboxes are also honed to improve fuel consumption and help reduce emissions. The company's range of manual gearboxes is called SkyActiv-MT, and these have the shortest shift of any mainstream car. Not only does this reduce the amount of effort needed to change gear, but keen drivers will appreciate its slickness.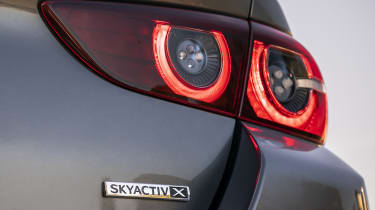 Mazda decided a dual-clutch automatic gearbox (as favoured by the VW Group and Kia, amongst others) wasn't the best option for its cars, so it developed its own SkyActiv-Drive automatic gearbox. It redesigned a conventional single-clutch automatic gearbox and put less stress on its components, enabling its six-speed transmission to deliver far greater efficiency.
SkyActiv-Body
Mazda's quest for ultimate efficiency even stretches as far as the bodywork. It is the heaviest component of a car, after all, and Mazda uses the thinnest high-tensile steel of any family car. That being said, it's 30% stiffer than the previous version, and Mazda hasn't compromised safety in the pursuit of lightness. All of its models tested since 2017 have scored the maximum five-star rating when scrutinised by Euro NCAP.
Read our Mazda reviews, or see where the Mazda3 places on our list of the best-looking cars currently on sale.