What engine is in my car?
Need to know the fuel type, size or CO2 emissions of the engine in a car? This guide explains how to check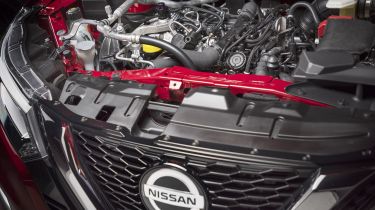 Need to know what engine your car has, or perhaps you've hired a car and aren't sure what fuel to put in it? Whatever the situation, it's easy to find out the fuel type of a car, the size (also known as the capacity) of its engine and even its CO2 emissions.
The quickest way is to make a note of the car's registration number and head over to the government's vehicle tax checking service on your smartphone. All you need to type in is the number plate, and then tick a box to confirm the make, model and colour of the car you're enquiring about.
Misfuelling: what to do if you put petrol in your diesel car
Once that's done, you'll be given a list of details about your car, including its engine size (called cylinder capacity), fuel type and CO2 emissions, along with information about the date the car was manufactured and first registered for the road. It will also let you know the road tax status of the car and when its next MOT test is due.
If you don't have access to the internet, there are a few other visual checks that can also be helpful. By law, every new car has to have a sticker inside the fuel filler cap that tells you what type of fuel it requires.
Car handbook and badges
You can also look at the car's handbook, usually found in a wallet in the glovebox. This will list technical details for the engines available in the model you're driving, and the engine and trim level of your car will usually be written in the front or printed on a sticker.
Most vehicles have a badge on the rear bumper or boot that indicates its engine and trim level, with a 'D' almost always corresponding to diesel. If a badge like '320i' is present a quick search for this and the year the car was built will bring up lots of information.
If you're in the driver's seat, a quick glance at the rev gauge can also be helpful. If the redline is at around 4-5,000rpm you can be reasonably confident there's a diesel engine under the bonnet, as petrol engines typically have a redline that starts at around 7,000rpm. If there's no rev gauge at all but a needle marked 'Power' and 'Eco', the car is either a hybrid or electric vehicle.
Still unsure?
If you're still unsure what engine is in your car, give the manufacturer's customer services line a ring or call your local dealership. Be sure to have the car's registration number and vehicle identification number (VIN) handy before you call - the VIN can be found at the base of the windscreen. They'll be able to trace your vehicle on their vehicle database and give you information about it.
Popular engine abbreviations
Over the years, car manufacturers have come up with popular engine abbreviations and badges to make it easier to identify cars at a glance, and ensure everyone knows if you've splashed out on a potent engine.
Here's a list of some popular diesel engine names:
Alfa Romeo - JTDm (uni-Jet Turbo Diesel modificata)BMW - for diesels, the model designation is followed by a 'd' (i.e. 118d)Citroen, DS, Peugeot and Vauxhall - BlueHDi (ultra-efficient versions of High-pressure Direct injection engines)Fiat - MultijetFord - TDCi (Turbo Diesel Common-rail injection) for older models, EcoBlue for newer carsJaguar and Land Rover - 'D', then the engine's horsepower in PS (i.e. D150)Honda - i-DTEC (Intelligent Diesel Technology Engine Control)Hyundai and Kia - CRDi (Common Rail Diesel injection)Jeep - Multijet or CRD (Common Rail Diesel)Mazda - SkyActiv-DMINI - 'D' badgeMercedes - CDI (Common-rail Diesel Injection), or the model designation followed by 'd' (i.e. CLA 220 d)Nissan, Renault and Dacia - dCi (direct Common-rail injection)Toyota - 'D' badge on engine (D-4D models have four-wheel-drive)Vauxhall - older models have CDTi engines (Common-rail Diesel Turbo injection)Volvo - 'D' then model designation (i.e. D5), or 'B' then model designation for mild-hybrid engines (i.e. B5)
Nissan Ariya vs Volvo XC40 vs Volkswagen ID.4 - which is best?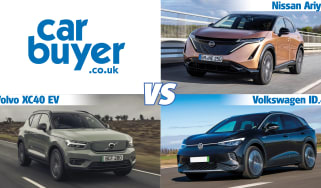 Nissan Ariya vs Volvo XC40 vs Volkswagen ID.4 - which is best?
2023 Hyundai Ioniq 5 N spotted testing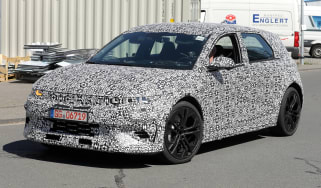 2023 Hyundai Ioniq 5 N spotted testing
Best new car deals 2022: this week's top car offers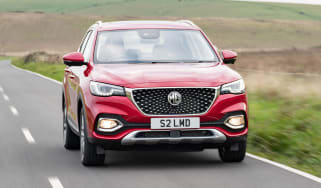 Best new car deals 2022: this week's top car offers