Top 3 used cars for dog owners for £17,000
"Dear Carbuyer, I need a car that is spacious and practical enough for my dogs. What do you recommend for £17,000"
When it comes to picking a car for the family, most modern cars offer plenty of comfort and space, but what about when you frequently need space for pets too? That's when you might need to specifically consider large SUVs and estate cars.
Choosing a car with a large boot is a good starting point but also look out for removable boot floors and removable rubberised linings, which will make the boot easier to clean after the dogs have got out after muddy walks.
If your dog is older and unable to climb into the boot unaided, there are a number of fold out ramps that you can buy to help them. Again, as these ramps are usually fairly large, you'll want to make sure the boot is large enough to store them.
Plenty of owners travel to the countryside to walk their dogs, so creature comforts such as climate control, cruise control and automatic lights and wipers will make life more convenient on those trips. Cars with enough power to make smooth and relaxed progress are a good bet for those with dogs, given they're usually loose in the boot during journeys..
Our reader wants a car large enough for two dogs and there are several big SUVs and estate cars that fit their requirements for a budget of £17,000. All offer a vast amount of boot space, well built interiors and plenty of standard kit.
The go-anywhere choice: Land Rover Discovery Sport
For: Seven seats, plush image, official dog packAgainst: Clunky infotainment, questionable reliability
The Discovery Sport has a well earned reputation for practicality, and this is improved further with Land Rover's official Pet Packs, which comprise rubber floor mats and cage dividers, and can be fitted to used models.
This budget gets a 2015 187bhp 2.2-litre SE Tech car, or a newer (but less well equipped) Pure version. Most Disco Sports are diesel, and 2015 cars may not meet London's ultra-low-emission-zone standards – something to consider if you plan to drive in the capital regularly.
The Sport's interior is pleasingly chunky, while the button heavy layout reduces the need for interaction with the clunky infotainment system. Cabin space is excellent and, although the third-row seats are best left to kids, they're still handy.
Refined, comfortable and easy to drive, the Discovery Sport may lack the plush cabin of its Range Rover siblings, but it feels like a grown-up car on the move. Although the steering is a little numb, few cars today are so capable off road, as long as you avoid the front-wheel-drive eD4 model.
The easy-access choice: Skoda Superb Estate
For: Good value, vast boot, well equippedAgainst: Too sombre for some, no pet pack
A car that generates rave reports from our testers, and from readers in our Driver Power surveys, the Superb Estate is a model that arguably does it all, offering space, value, good equipment and a decent driving experience.
This Skoda is far from the last word in excitement, but £17,000 nets a 2017 car with 35,000 miles. The 2.0-litre TDI diesel offers strong performance and economy. Petrol Superbs are rarer, but the 1.4-litre and 2.0-litre engines are worth seeking out, as is Laurin & Klement trim.
While the Superb's interior is dull, it's bristling with kit, with some cars getting adaptive cruise control, leather, and a WiFi hotspot. The 660-litre boot is spacious enough for the largest of dogs, who may prefer its lower height relative to an SUV.
The Superb is sure-footed and relaxing, and its driver's seat is a good, if slightly unexciting, place to be. Given it's a long car, it isn't hugely agile in car parks, but get it out on the openroad and the Skoda wagon eats up miles like a proper grand tourer. Just don't expect to be thrilled on B-roads, however.
The all-round choice: Nissan X-Trail
For: Great dog pack, smart styling, easy to driveAgainst: Lesser engines lethargic, sub-par infotainment
Another comfortable, easy-to-drive SUV, the Nissan X-Trail has an ace up its sleeve in the form of the £350 Paw Pack. This includes a dog ramp, guard, bed and boot liner, as well as a seat-back tidy for leads plus other associated canine paraphernalia.
This budget gets you into a 2017 X-Trail with either the 161bhp 1.6-litre petrol or the 175bhp 2.0-litre diesel engine. We'd advise side-stepping the 128bhp 1.6-litre diesel, which even Rover might be able to outrun.
Inside, the X-Trail is confident, comfortable, and just a little bit underwhelming. The infotainment system feels its age against the Skoda's, but we can't argue with the strong equipment levels, especially if you go for range-topping Tekna trim.
If you're after a comfortable car that doesn't ask for much driver involvement, and doesn't reward with much feedback, the X-Trail won't disappoint. The diesels can get a little grumbly, though, while the automatic gearboxes are continuously variable transmissions, which won't be to all tastes.
Carbuyer's choice, as picked by deputy editor Ben Hodges
While all three of our picks are excellent all-round family cars, when it comes to transporting the family dog my personal pick would be the brilliant Skoda Superb estate. It may not look exciting but the sheer amount of space inside makes it a hugely practical choice, giving it the edge over its competitors.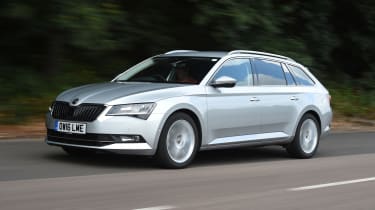 It's good to drive and easy enough to park despite its size, and is available with enough trim and engine choice to cater for most budgets. Running costs will be reasonable and, with Skoda finishing fifth in our 2020 Driver Power survey, it should prove both reliable and easy to live with.
Want to know more about the best new cars for dog owners? Why not read our full list for all you need to know.
Best tow cars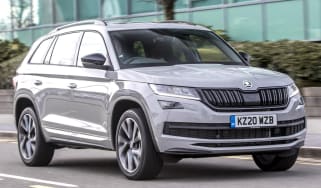 Updated Peugeot 5008 starts at £29,585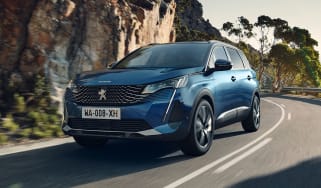 Updated Peugeot 5008 starts at £29,585
Best estate cars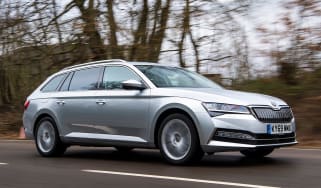 2020 scrappage schemes: the complete guide
2020 scrappage schemes: the complete guide
Best new car deals 2020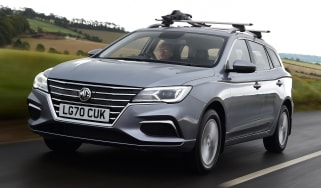 2022 Volvo XC100 SUV to rival BMW X7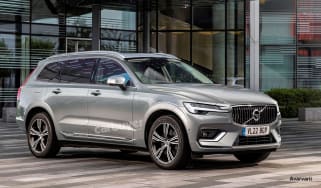 2022 Volvo XC100 SUV to rival BMW X7